Snorkeling in Biscayne National Park
A Stunning Underwater Paradise
Important! There is no park concessioner at the moment. Snorkeling trips are not available until further notice. This is a temporary interruption, stay tuned for futher developments.
In the meanwhile, check out other snorkeling options:
Snorkeling in Biscayne National Park is spectacular with crystal clear waters, colorful and healthy coral reefs brimming with marine life, and shipwrecks that lie in relatively shallow water.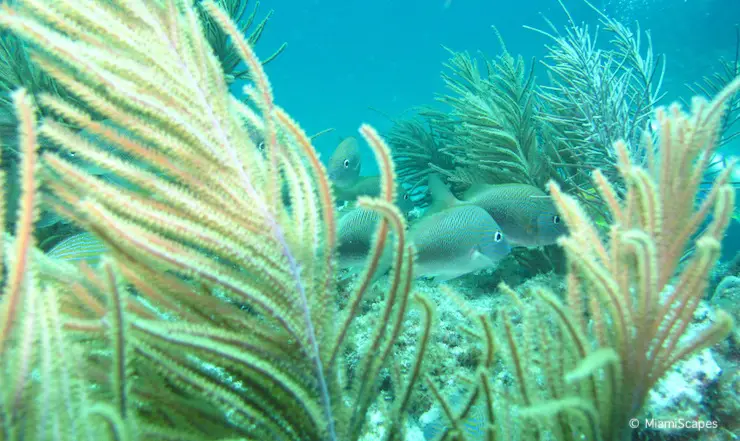 This underwater paradise is just the beginning of the third largest coral reef in the world (after Australia's and Belize's Barrier Reefs), and it extends southwards for another 170 miles into the Florida Keys National Marine Sanctuary.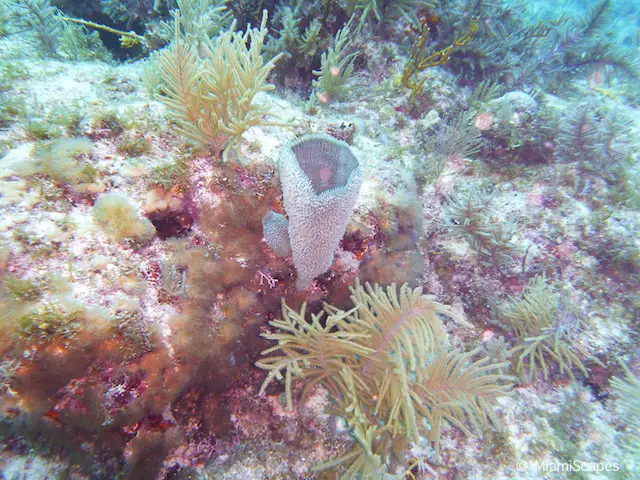 The offshore reefs within Biscayne National Park waters are only reachable by boat, there is no beach or shore diving at the park from either the mainland or the small keys.
The Park's Concessioner Biscayne Underwater provides year-round daily snorkel tours to the reefs. The boats leave from the jetty at the visitor center.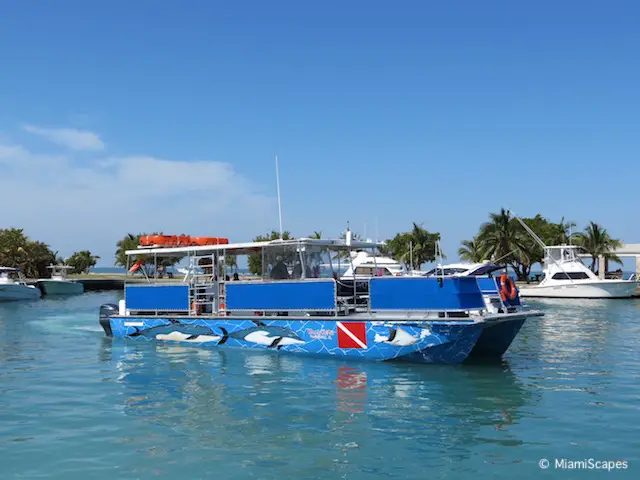 Before our snorkel tour, there was a short orientation about the Park, the reefs, conservation, marine life, do's and dont's to protect the reef and its inhabitants, etc. The orientations are provided by park staff or volunteers and are a great introduction of what you are about to see.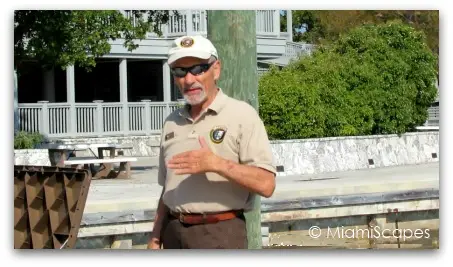 Then everyone was outfitted with mask, fins and snorkel and a snorkeling vest and we were off! There is plenty of room on board, the front section is not shaded if you want to catch some rays. The trip to the reef takes about one hour.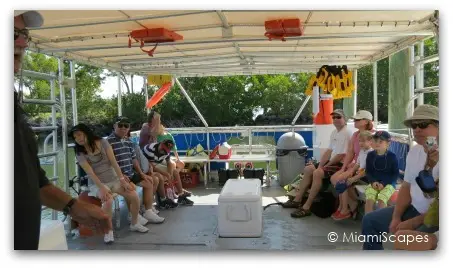 During our tour, they were combining both the snorkel trip with the Boca Chita Key trip. We first dropped off the folks that were going to the island and then the boat took us to the wonderful living corals where we readily jumped into these underwater gardens that exploded with color...
It is just amazing that so much color and life can exist so close to a mega city like Miami, the park is only a half-hour away from the hustle and bustle, practically next-door.
We spent approximately an hour on the reef and saw a lobster, many schools of pretty fish, beautiful hard and soft corals, little shrimps, fans and sponges, and what we think was a moray eel hiding in the rocks! There were parrot fish, squirrel fish, trumpet fish, angel fish, a whole school of what we call "Dorys" from the movie Finding Nemo the striking blue tangs...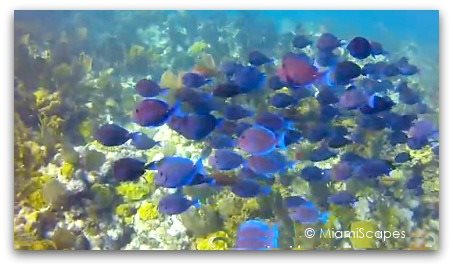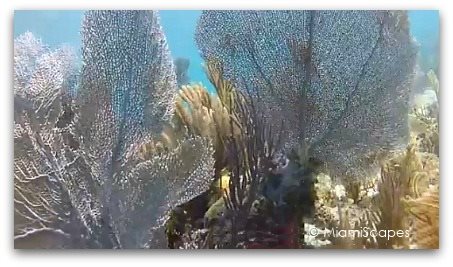 After our snorkel, it was time to get back on the boat. We stopped at Boca Chita to pick up the rest, and headed back to the dock at the Visitor Center. Overall, plan on minimum of three hours, maybe four, it is a great way to spend a morning or afternoon!
What to Bring Along
Sun protection: One hour in the water is a long time, even if it is overcast. A thin swim shirt that provides UV protection and is quick drying is great for snorkeling.
Towel, sunglasses, hat
Sunscreen
Lots of drinking water
You can bring a cooler onboard to keep snacks and drinks
And a waterproof camera of course!
Booking a Snorkel Trip at Biscayne National Park
For boat and trip schedules, rates and reservations: www.biscayneunderwater.com
Price: $45
FAQ - Biscayne Park or Pennekamp Park?
We often get asked which park is better, Biscayne Park or Pennekamp Park in Key Largo. There are plus and minuses to both. Here's our take:
The reefs and what you will see are comparable at both locations, it will depend on the conditions at the time of your excursion and luck, remember that each dive/snorkel is different.
Despite being slightly closer to Miami, Biscayne Park does not get the "tourist traffic" that Pennekamp does. On the plus side, boats at Biscayne are normally less crowded and the pace less hectic than at Pennekamp. On the minus side, if a minimum number of passengers is not reached, there is a chance the snorkel trip is cancelled or that the morning snorkel gets pushed to the afternoon to reach the numbers.
This has been a big problem in the past, specially for visitors that come to the park for the sole purpose of snorkeling the reefs.
Snorkel tours are also more expensive at Biscayne Park. Pennekamp snorkel tours for adults cost $29.95 vs $45 at Biscayne.
Please note that the Concessioner that provides the snorkel trips is separate from the National Park. There have been many different outfits filling the position over the years and at the moment there seems to be a new one under management.
If you are dead set on snorkeling, my advise is to call ahead and confirm that your scheduled trip is actually taking place. And as an alternative, head down to the Keys. Pennekamp is one of the popular options, but there are literally hundreds of operators along the Keys corridor.
Here's more on Snorkeling at John Pennekamp Coral Reef State Park.
FAQ - What about Scuba Diving Trips or Glass-Bottom Cruises?
Scuba Diving for certified divers and Glass-Bottom cruises are advertised on the website but the few times that we have been there, the trips were not running. Perhaps now with the new management they will resume normal operations, but it is best to check before venturing to the park if this is something you really want to do. Key Largo of course offers many alternatives for both activities.