More Things to Do at the Loxahatchee Refuge
A Fantastic Canoe/Kayak Trail, Biking Paths, Fishing...
Done wandering the Marsh Trail? Let's keep driving further West on Lee Road (the main Road where you entered the Refuge), and you come to the L-40 Canal.
Here we find:
The Fishing Dock
Boat Ramps
Bike Rentals and Biking Trail
Canoe/Kayak Rental and Canoe Trail
Fishing at the Refuge
You will see folks casting their lines at the Fishing Dock that stands at the end of Lee Road on the L-40 canal. Fishing with rods and reels or poles and lines is allowed, no cast nets are permitted in the Refuge and definitely no commercial fishing of any kind.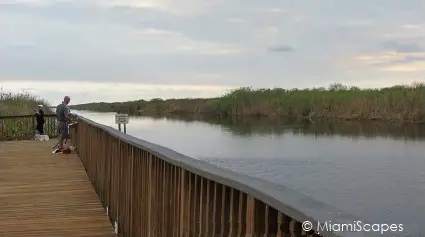 Biking Rentals and Trails
A Biking Trail runs parallel to the canal. It is a straight shot all the way to the Hillsboro area in the South. This 12-mile trail is recommended for mountain and hybrid bikes. Of course you can always go as far as you wish and come back the same way.
Helmets are required for children under 16 according to Florida Law.
There is not much shade along this trail, bring plenty of water and sunscreen.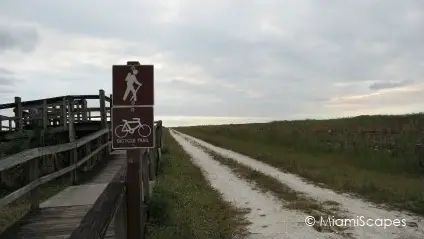 You can bring your own or rent a bike at the little concession stand.
Rates are $10 per hour or $25 for 4 hours. Give them a call to reserve at 561-733-0192.
Canoeing and Kayaking
Next to the canal is the concession stand with canoe and kayaks available for rent adjacent to an easy and convenient launching area.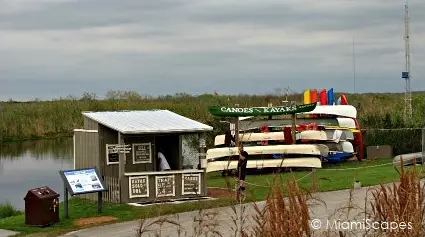 And just opposite the outpost on the other side of the canal, is the start of a 5.5 mile Canoe Trail. It's a great way to see wildlife close-up.
The trail loops around and would normally take between 3 and 4 hours to paddle through. There are informative signs all along the trail and who knows what you might run into, alligators, turtles, birds...
Canoe Rentals are $32 per boat which handle 2 adults and 2 small children
One-person kayaks are $25 per boat, tandem kayak (2-person) $35 per boat
Two-Hour Private Guided Canoe Tours are available for $65 plus the cost of the boat. The Refuge also conducts guided canoe tours on certain Saturdays, contact the Visitor Center for details at 561-734-8303.
And we definitely want to come back for the Full Moon Canoe Tour which Loxahatchee Canoeing holds every month, on full-moon night of course. It costs $32 per canoe for up to 3 adults per canoe and it lasts 2 hours from 7:00 p.m. to 9:00 p.m. What to bring? Long sleeve shirt and long pants recommended, bug repellent and a flashlight! Check the calendar for the next full moon this year and call for your reservation 561-733-0192!