Miami March 2018 Highlight Events
Miami International Film Festival - March 9 - 18, 2018
Celebrating its 35th year, the Miami Film Festival continues to bring the finest in world cinema to South Florida. Administered by Miami Dade College, film screenings and events take place in an array of venues throughout Miami and Miami Beach over a 10 day period.
The Miami Film Festival is considered a major launching pad for Ibero-American films and young and veteran talent flock to the festival to promote their latest works.
In the past few years, the Festival has screened films from more than 60 countries, including 300 World and U.S. Premieres.
The competition categories include Ibero-American feature films, Documentary, Ibero-American Opera Prima, CinemaSlam, Miami Encuentros, and Short films.
Among this year's venues we have the Olympia Theater with its stunning Moorish architecture, O Cinema in Miami Beach, MDC's Tower Theater in Little Havana, the Coral Gables Art Cinema and the Landmark Theatres in Coral Gables and the Regal South Beach Theaters.
Ticket prices for screenings are quite reasonable, tickets for general admission to the screenings are $13 and is a great way to get to see some of Miami's top venues and architecture from the inside!
Besides the screenings, there are also culinary cinema screenings and the gala parties for opening and award nights. Party and Film packages from $100
When? March 9 - 18, 2018
Where? Various Venues
How Much? Regular screenings from $13, discounts for seniors, students and Film Society members.
More Info: For tickets and full line-up of screenings and event schedule check the official site: www.MiamiFilmFestival.com.

Carnaval on the Mile Jazz and Art Festival - March 3 - 4, 2018
It's a free weekend of art, jazz and great food at Coral Gable's reknowned Miracle Mile.
Carnaval on the Mile is an annual event that features top Latin Jazz bands and fine foods from local eateries. In addition, there is the "Artist Village" with tents filled with paintings, sculptures, ceramics, photography, woodworks, jewelry, glassworks... you get the idea.
There are three stages set up for the live entertainment at Le Jeune, Douglas and Ponce.
When? Saturday and Sunday March 3 - 4, 2018 - 10:00 a.m. to 10:00 p.m.
Where? Miracle Mile, Coral Gables
How Much? Free!
For more info and this year's performers: www.carnavalmiami.com

Asian Culture Festival - March 3 - 4, 2018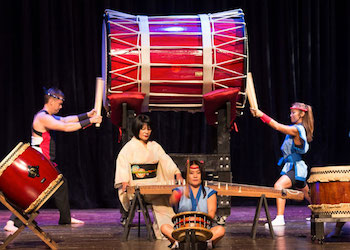 This fun-filled family event offers a virtual day trip to Asia featuring a variety of Asian arts, crafts, entertainment, plants and exotic cuisine. Highlights include Taiko drumming, Origami and Ikebana at the Japan tent; folk dance, classical music and fruit and vegetable carving from Thailand; games and puppet shows from Malaysia; authentic Persian arts, literature, crafts and dance from Iran; a traditional Lion Dance from China and much more.
Countries represented at this year's Asian Culture Festival include Bangladesh, Cambodia, China, India, Indonesia, Iran, Israel, Japan, Korea, Laos, Malaysia, Myanmar, Pakistan, the Philippines, Singapore, Sri-Lanka, Taiwan, Thailand, Tibet, Turkey and Vietnam.
When? Saturday and Sunday March 3 - 4, 2018 - 10:00 a.m. to 5:00 p.m.
Where? Fruit and Spice Park at 24801 S.W. 187th Ave. in Homestead
How Much? Adults $12, Children (6-12) $5, under 6 FREE
For more info and this year's program: www.asianculturefestival.net/
Veuve Clicquot Carnaval - March 10, 2018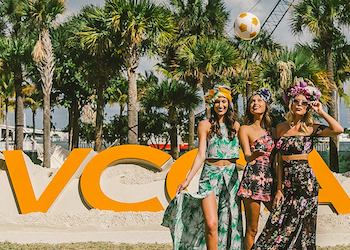 It's the electrifying spirit of samba dancers, drummers, and live music right in our stunning bayfront.
A star-studded event, bubbly and all, it's a fantastic day out in support of the Pérez Art Museum in Miami.
Live performances including salsa dancing, drumline, and more, and a parade featuring three unique Carnaval celebratory interpretations with classic Batucada dancers, drummers, Capoeira and samba dancers in exuberant feathered costumes.
Veuve Clicquot champagne will be available for purchase on-site, including Veuve Clicquot's newest champagne, Veuve Clicquot Rich and Rich Rosé, alongside delicious on-site food offerings. Event is 21+.
When? Saturday March 10, 2018 - 1:00 pm to 6:00 pm
Where? Museum Park at 1075 Biscayne Blvd, Miami, FL 33132
How Much? General admission $45 includes guest pass to visit PAMM valid 3/11/18-3/11/19, Rosé Garden $350
Fairchild's International Orchid Festival - March 9 - 11, 2018
Orchids galore! Beautiful, colorful, fragrant orchids, for sale and for show. This is one of Fairchild's signature events, well-attended by thousands of orchid lovers.
Highlights besides the colorful displays are the garden workshops, walking tours, rare species at the juried show, and of course great festival food and live entertainment.
When? Friday to Sunday March 9 - 11, 2018 - 9:30 a.m. to 4:30 p.m.
Where? Fairchild Tropical Botanic Garden
How Much? Included with Admission to Gardens, which is $25 for adults, $18 for seniors 65 and up and $12 for children 6-17. I know it's not cheap, but proceeds go to support work in conservation, science, and education.
More Info www.fairchildgarden.org
Homestead Carnival Parade & Flavors of the Caribbean Festival - March 10, 2018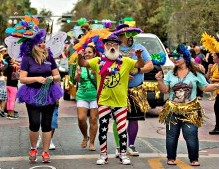 Homestead Main Street is hosting its Annual Carnival Parade &: Flavor of the Caribbean Festival.
Bring the whole family and enjoy the parade lead by Junkaroo Band, delicious food, authentic New Orleans Zydeco music, entertainment and much more!
When? Saturday March 10 from 4:00pm to 10:00pm (Parade begins at 5pm)
Where? Losner Park, Downtown Homestead at 104 N. Krome Avenue Homestead, FL 33030
How Much? FREE!
More Info http://homesteadmainst.org/
Calle Ocho Festival - March 11, 2018
The nation's largest street party is a celebration of latin heritage, food and unmistakeable latin beat, el Festival de la Ocho is definitely the place to be this Sunday.
Not your typical festival, Calle Ocho has earned a place in the Guinness World of Records five times (so far!) for:
The largest conga line in 1988
The biggest piñata in 1990
The longest cigar in 2000
The largest number of domino players at one place in 2008, and
More recently in 2012, for putting together the largest image made with flags, 422 flags from around the world were held together to form one giant "1" to simbolize unity, "One World", a world without borders.
We could only guess at what they will surprise us with this year!
So, yes, come for the food, tons of different dishes from the many Latin communities, the salsa and merengue on dozens of stages set up throughout, and the electric atmosphere that is Calle Ocho en Carnaval!
A hop-on hop-off trolley runs parallel on S.W. 7th Street with stops on Beacon Boulevard, 22nd Ave, 17th Ave, and 12th Ave.
When? Sunday March 11, 2018 - 10:00 a.m. to 7:00 p.m.
Where? Calle Ocho or S.W. 8th Street, most of the action between S.W. 11th Ave. and S.W. 27th Ave.
How Much? FREE!
More Info: Calle Ocho Festival
Jazz in the Gardens Music Festival - March 17 - 18, 2018
Two days and ten class acts, a weekend filled with R&B, soul, hip hop and jazz.
After previous years' smashing successes with stellar performances by Earth Wind & Fire, Najee, Boney James and many others, each year becomes an increasingly tough act to follow.
And this year's fantastic line-up certainly will not dissapoint.
Joining us on stage at the 13th Annual Jazz in the Gardens are: Smokey Robinson, Chaka khan, Anita Baker, Trombone Shorty, Fantasia, ... and more great names yet to be announced, stay tunned!
When? Saturday and Sunday March 17 - 18, 2018
Where? Hard Rock Stadium (Formerly Sun Life Stadium), 347 Don Shula Drive, Miami, FL 33056
How Much? General Admission (No reserved seating) advance purchase: Two Days $96,
Reserved Seats, one and two-day passes: $134, and VIP and Ambassador packages available $155 - $1,300
More Info: www.jazzinthegardens.com
The Miami Open, formerly the Sony Tennis Open
March 19 - April 1st, 2018
The world's top tennis players converge in Miami for this two week tournament, a great chance to see all your favorite ones in action!
Join us for the last time in beautiful Key Biscayne as the tournament will be relocating to Hard Rock Stadium starting next year.
When? March 19 - April 1st, 2018
Where? Tennis Center at Crandon Park in Key Biscayne
How Much? Tickets from $5 for the earlier sessions, Women's Finals from $49+, Men's Finals from $120+ Find Tickets You can find half-off tickets to the Miami Open via Goldstar, you must be a Goldstar member but membership is FREE! just sign up, it's definitely worth the savings!
More on the Miami Open, Getting There, Tips on Attending
Miami-Dade County Fair and Exposition
"The Fair" - March 15 - April 8, 2018
The Fair is in town! Rides, rides and more rides, oh and there's the cotton candy, funnel cakes, turkey legs, the roasted corn on the cob... no wonder this is one of the largest annual family events in the State.
This is more than one giant amusement park...
...although for kids, that's reason enough! There will be tons of live events and games, agriculture shows, a circus, a petting zoo, livestock exhibits, an ice show, skateboarding races, professional boxing matches, Grammy Award winning performers...
All live entertainment and concerts are included in your admission. This year's line up include TLC, Nelly, Gente de Zona, and many more.
When? March 15 to April 8, 2018 Open Daily Except March 19-20 and April 2-3
Where? Miami-Dade County Fair, 10901 SW 24th St. Miami. Coral Way (SW 24th St) and 112th Avenue
How Much? General Admission $12, 5 and under free. Tickets for rides are extra and the Fair will be using Magic Money, a digital ticket system held on a Magic Money Wristband using an RFID chip. Magic Money Wristbands are reusable and reloadable, so you can enjoy them throughout The Fair this year and for years to come! Reload your wristband using the Magic Money app, Magic Money Kiosks or Stations located throughout the fairgrounds.
Packages of 16, 36, 56 Digital Tickets for use for food, beverages, games and rides available online for $18, $38, $58. Unlimited ride package is $28. These are the online prices, they are higher at the fairgrounds. It can get pricey when you add up rides and food, but proceeds support scholarships that reward youth achievement in artistic, athletic and academic programs. Be there!
More info and tickets: The Fair
Ultra - the World's Premier Electronic Music Festival
March 23-25, 2018
On it's 20th year, ULTRA is the world's most famous outdoor electronic music event.
Taking place at Bayfront Park in Downtown Miami over a three-day weekend, this year's program promises to deliver a uniquely diverse, forward thinking line-up and is likely to be another sell-out.
When? Friday through Sunday March 23 - 25, 2018
Where? Bayfront Park, Downtown Miami
Tickets? 3-day passes as well as individual day tickets available. Find Tickets
More on Ultra and Spring Break in Miami
The 14th Annual Deering Seafood Festival On The Bay
Sunday March 25, 2018
Get ready for a non-stop celebration at the Annual Deering Seafood Festival on the Bay, complete with delicious catch from the sea, celebrity chef cooking demos, fun-filled adventures for kids, Virgin Island stilt walkers, a Bahamian Junkanoo musical parade and on-going live entertainment.
When? Sunday, March 25, 2018 - 10:00 a.m. to 6:00 p.m.
Where? The Deering Estate at 16701 SW 72nd Avenue in Palmetto Bay, Miami, FL 33157
How Much? Admission: Adults $20 in advance online/$25 the day of the event; children 4-14 years $7, $10 at the gate.
Here's more on the Deering Seafood Festival
Gables Bike Day - March 25, 2018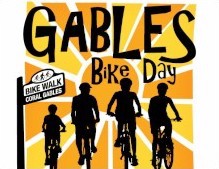 Come with bikes, skates, kids, and friends to enjoy this annual cyclovia event!
FREE bicycle tours - FREE kids' activities - FREE bicycle safety lessons - FREE exercise classes - FREE scavenger hunt - AND MORE!!
When? Sunday March 25, 2018 - 12:00 noon to 4:00 p.m.
Where? Merrick Park at 405 Biltmore Way Coral Gables, FL, 33134
How Much? FREE!
More Info www.bikewalkcoralgables.org
Miami For Kids And Families This March 2018
Family Fun Fest at Biscayne National Park
March 11, 2018
Family Fun Fest is a FREE program at Biscayne National Park brought to you thanks to the many volunteers and park sponsors. It is held on the second Sunday of the month during the "dry and cool" season, December through April with lots of fun and educational activities for kids and adults alike.
"Family Fun Fest Junior" is full of activities for toddlers and little ones!
When? March 11, 2018 - 1:00pm to 4:00 pm
Where? Biscayne National Park - Dante Fascell Visitor Center
How Much? FREE!
More info: Biscayne National Park Family Fun Fest
Miami Heat Family Festival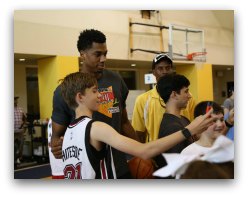 The Annual Miami Heat Family Festival is the place to be for all HEAT fans as HEAT players, coaches and their families, provide a memorable experience for guests of all ages.
The entire Miami HEAT team and coaching staff will participate in the festivities!
There will be interactive opportunities with the team, a food court with delicacies from over 50 of South Florida's finest restaurants, appearances by the Miami HEAT Dancers and of course Burnie the mascot.
When? Sunday March 4, 2018 - 2:00pm to 5:00 pm
Where? AmericanAirlines Arena
How Much? $300, family packages $1,000 for 5. All proceeds benefit the Miami HEAT Charitable Fund and local area charities.
UniverSoul Circus - March 13 - 25, 2018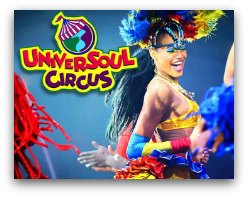 A big-top spectacle of global proportions, UniverSoul Circus takes fans of all ages on an unforgettable journey of light, sound and soul.
UniverSoul Circus celebrates its 25th Anniversary and will once again present a multicultural and multinational cast of rock-star performers, exclusively at Miramar Regional Park.
Extreme motorsports, mind-bending contortionists, fresh-faced clowns, disco-dancing pachyderms, free-flying aerial acts and more...
When? March 13 - 25, 2018
Where? Miramar Regional Park, 6801 Miramar Parkway, Miramar
How Much? Morning Shows $10, Evenings and Weekends $20. Savings for military and AARP. Parking $10.
More Info and Tickets: www.universoulcircus.com
Disney On Ice Reach For The Stars
March 28 - April 8, 2018
Two South Florida venues, tickets are going fast and likely to be a sell out.
Who's in town? Mickey and pals, all our Toy Story friends... Ariel and the Under The Sea gang... Princess Elsa, Belle and more...
When? March 28 - April 1, 2018
Where? BB&T Center, Sunrise
How Much? $40+
When? April 5 - 8, 2018
Where? AmericanAirlines Arena, Miami
How Much? $40+