South Beach Florida
Chic Art Deco, White Sand Beaches, Thriving Night Scene...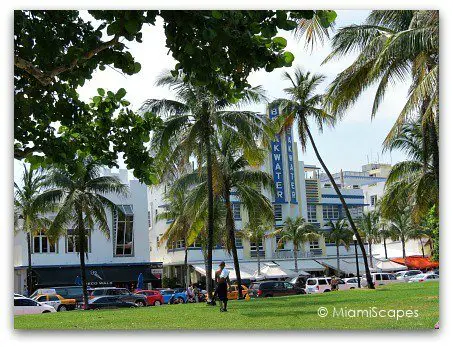 South Beach is really what most people refer to when they talk about "Miami Beach".
South Beach, or SoBe has become synonymous with glamour, chic Art Deco, mile-long sandy beaches, beautiful people and a thriving night scene.
Home to many world-class events with its year-round fantastic climate, it is one of Florida's main draws, SoBe is where the action is...

Top Attractions and Things To Do in South Beach
Ocean Drive: Miami's Celebrated Strip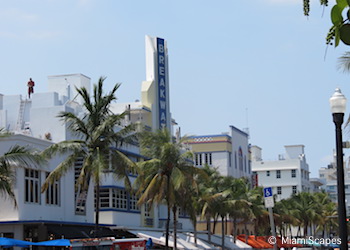 Ocean Drive is South Beach's Grand Central that manages to steal the limelight... this is where it all happens.
The bustling road that runs parallel to the Atlantic Ocean, lined with a fantastic array of Art Deco buildings, cafes and bars, shops, boutique hotels, and their legendary sizzling nightscene...

Fun and Sun: The Beach At Lummus Park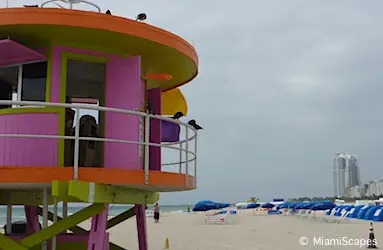 Accross the Street from Ocean Drive between 5th and 15th Streets, the stretch known as "Lummus Park", is where you come for a day in the sun and more.
A vivid blue ocean, wide sandy beaches that go on for miles, gentle waves... and a highly charged atmosphere.

Chic Architecture: Miami Art Deco District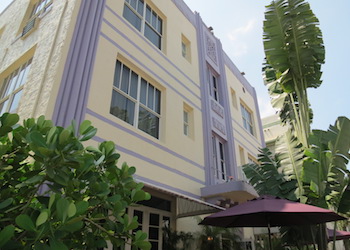 Miami's art deco district is the largest concentration of Art Deco buildings in the world.
With some 800 buildings gathered in roughly a square mile, this is an architectural treasure listed in the National Register of Historical Places.
The Art Deco Welcome Center is your starting point to explore our fantastic architectural treasures.

Art Deco At The Beach: Iconic Lifeguard Towers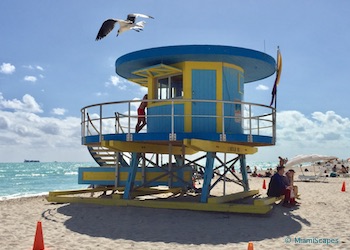 Examples of Art Deco on the beach abound. Dotting the shore in vivid contrast to the sparkling blue ocean, stands an array of bright colored lifeguard towers, each with a very unique art deco design and its own piece of history.
The popular structures besides providing support to the Miami Beach Patrol Lifeguard staff, have become a cherished symbol of Miami.

Let's Go For A Stroll: The Miami Beach Walk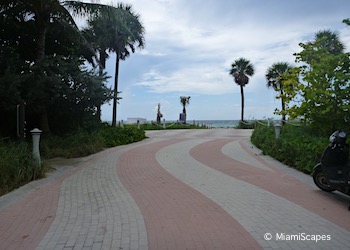 This has to be one of the most fantastic walks in the city running along the shore and giving you stunning views of the ocean. The Miami Beach Walk is the series of promenades, paved paths and elevated boardwalks which make possible to get from the very southern tip of the island to the very top.
The Miami Beach Walk starts in South Pointe, connects to South Beach via paved walks and the Lummus Park Promenades and bring you to the elevated boardwalk in Mid-Beach.

Shop, Eat, Play: Lincoln Road Mall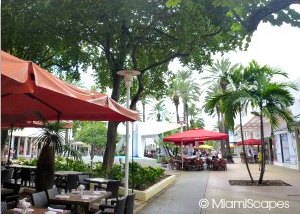 Another one of South Beach's walking promenades lined with shops, galleries and restaurants with a more relaxed vibe (for SoBe's standards).
There are fountains, open spaces, lush plants and trees and even a bandshell for events, all intermingled with the outdoor cafes and eateries running along the middle of the mall.
Miami Beach's only Apple Store is found here, as well as a Romero Britto Gallery and more than a few Starbucks.

A Quiet Space: The Botanical Gardens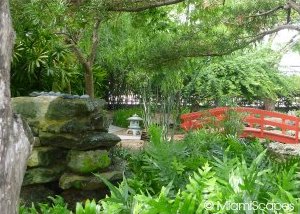 A little oasis of greenery and tranquility in the heart of hectic South Beach, the Botanical Gardens is an Asian style hidden gem with a gorgeous Japanese Koi Pond, and a variety of bamboos, orchids, tropical vegetation and trees.
This is a free open space, there are lounge chairs to relax with a good book or enjoy one of the many open air events.

Mediterranean Charm: Española Way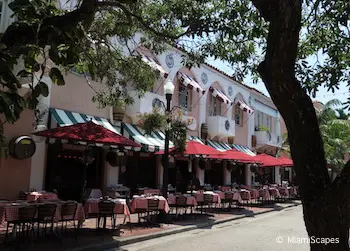 This is a small lane running parallel and just south of 15th Street in the heart of South Beach.
It is a pretty street with a Spanish colonial atmosphere that dates back to the 1920's and is lined with sidewalk restaurants and tapas bars.
There is a great range and variety of cuisine for al fresco or inside dinning: Cuban, Brazilian, Spanish, Italian, Mexican... Gorgeous architecture, live music and entertainment and a vibrant atmosphere round it all up at this pedestrian-only outdoor promenade.

Biking in South Beach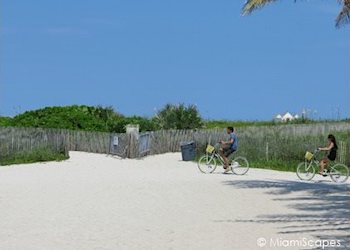 Biking is not only a great way to get around South Beach, it is a fantastic way to enjoy some of the most beautiful sights in the city.
One of the favorite bike rides is along the Miami Beach Walk which runs parallel to the waterfront.
There are plenty of bike rental options including the Citibike sharing and rental program that has hundreds of stations throughout the city and is very convenient for visitors, all you need is a credit card and off you go.

South Beach by Segway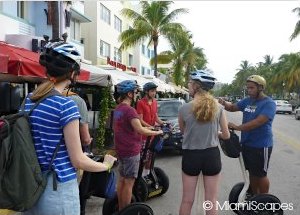 This has to be one of the funnest ways to sightsee. There are many tours that take you through the heart of the Art Deco District in South Beach, along South Pointe, the Miami Riverwalk... or simply rent a segway at one of the many outlets throughout the city and explore on your own!
New to Segwaying? (is that a verb?) No worries, friendly guides provide all the instruction and equipment for you to ramble through the popular spots safely and with confidence and make sure everyone has a good time.

South Beach Tour Top Pick: Food and Culture Walking Tour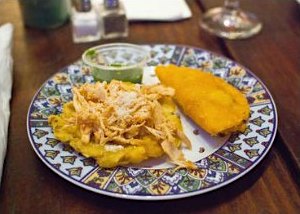 This is a great and fun way to enjoy two of South Beach's top attractions: the iconic styles of the Art Deco District and the many fascinating cuisines that this melting pot of cultures offers.
You start by walking through the historical and architectural highlights of the District with a small group and guides that share their knowledge and contagious enthusiasm for this corner of Miami.
And along the way, you also get a chance to try the different flavors of the area, there are some five to seven stops that will give you more than a taste of the region and mesh of cultures.
It's definitely good value for money, and if you don't know your empanadas from your patacones, this tour is the perfect introduction so you can explore the many restaurants and kitchens later on during your stay.

Parking in South Beach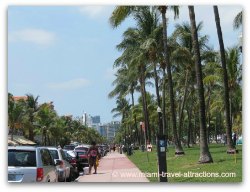 Parking anywhere around the beach and Ocean Drive is always a challenge, unless you come early, after noon it really becomes a matter of luck. And needless to say that weekends are specially busy.
There is metered parking on the streets and several public lots.
Parking rates start at $1 per hour. Flat day rate is $15.
There are also a couple of parking garages where we always have had good luck and are only a short walk to the beach:
13th Street and Collins
7th Street and Collins
And of course, there is always valet parking, available at the many restaurants and hotels along Ocean Drive.