Miami Boat Tours Options
Sightseeing Boats, Party Boats, Pirate Boats, Speedboats...
There are plenty of Miami Boat Tours on offer, and it is a great way to spend a few hours, enjoying the ocean breeze and the fabulous sights along the water.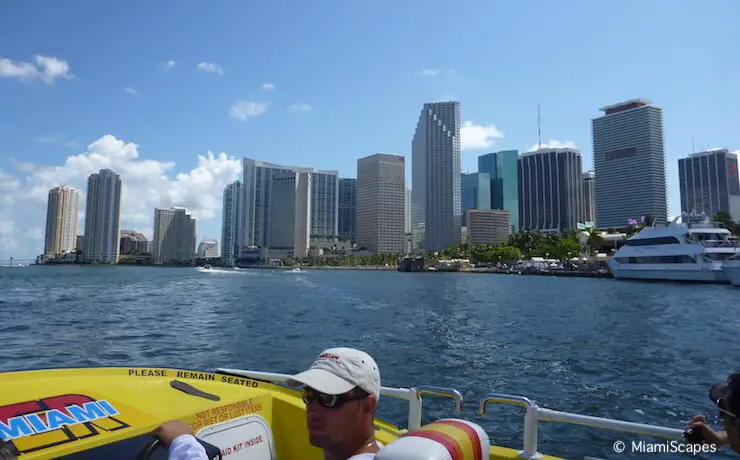 Check out the Biscayne Bay Cruise page for the sights most typically covered during the tours, departure points and tips for booking a cruise.
Limited Time Boat Tours Hot Offers
$18 Sightseeing Boat Cruise for one, $35 for two
90-minute Bayride tour of Biscayne Bay, departs from Bayside, use within 120 days (Reg $26)
$18 Jet Boat Miami for one, $35 for two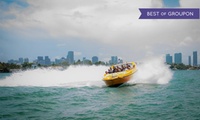 30-minute adrenaline junky twister ride from Jet Boat Miami, leaves from Sea Isle Marina (Reg $29.95)
These are some of the most popular options for which we also see discount offers frequently (follow the links), and unless stated otherwise leave conveniently from Bayside Marketplace. There are the regular sightseeing cruises, speedboat tours, night and party cruises, even pirate boats for families with kids, and the amphibious Duck Tours. Check them out!
Please note that tour times are subject to change due to seasonal needs, always double-check before booking.
Miami Boat Tours

Cruise Type
Description
Times *
Departs
Cost

* Times subject to seasonal changes, please check with operator

Biscayne Bay Sightseeing Cruise
90 minutes, large boats, relaxed and comfortable ride. Wheelchair accesible.
Daily from 11:00 am to 6:00 pm
Bayside Marketplace
Adults $27.99
Children $19.99
Book
Thriller Miami Speedboat Adventures
Fast and fun 45-minute Speedboat ride, great for kids. Smaller boats, reservations recommended
11:00am to sunset
Mon - Fri hourly
Weekends every 30 min.
Bayside Marketplace
Adults $38.00
Children $24.00
Book
Jet Boat Miami
Fast and fun 30-minute Speedboat ride, great for kids. Smaller boats, reservations recommended
11:00am 1:00pm 3:00pm 5:00pm
Sea Isle Marina
Adults $29.89
Children $15.89
Book
Small Group Miami SpeedBoat Tour
Fantastic 90-minute Speedboat ride on 6-passenger jetboat
Daily at 12:00pm 2:00pm
Watson Island
Adults $118.99
Children $48.99
Book
Pirate Boat Tours
An 80-minute tour around the bay aboard a pirate ship
Weekends 1:00pm 3:00pm 5:00pm
Bayside Marketplace
Adult $26.00
Children $15.99
Book
Miami Night and Dance Cruise
A one-hour cruise with gorgeous city lights, music, dancing
Fri to Sun 9:00pm 10:00pm 11:00pm 12:00am
Bayside Marketplace
Adults $18.99
Children $13.99
Book
Miami Duck Tours
90-minute quacky ride on land and water, kids love this one
11am, 1pm, 3pm and 5pm
South Beach
Adult $34.24
Children $19.26
Senior $27.82
Book
Biscayne Bay Sightseeing Cruise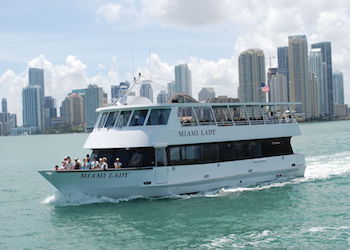 The most popular and no-frills option, very convenient as they have departures throughout the day.
Sit back, relax and enjoy the spectacular views, the tour lasts one and a half hours. Great photo opportunities throughout. Take the latest cruise in the afternoon for spectacular sunset views.
These are larger boats with plenty of room and offer a very relaxing ride. They can also accomodate wheelchairs easily.
When?: Every Day departures, from 11:00 am to 6:00 pm
Where?: Bayside Marketplace Marina
How Much?: Adults $27.99 Children (4-12) $19.99 (0-3) Free
Thriller Miami Speedboat Adventures

Hang on to your hats, caps and sun-glasses! Definitely the way to go if you have kids and teenagers. 45-minute ride.

Our kids loved it as the sleek speedboat whizzed past the islands, the port and the Miami skyline.



A super fun ride, it covers the rich and famous spots and is as far as we know, the only tour that ventures out in the Ocean and along South Beach.
These are small boats and they fill up quick. When we arrived around noon they were booked up for the next two sailings, so we had plenty of time for lunch and browse around Bayside, but if your time is limited, it is best to book in advance.
When?: Daily at (10:00am with reservation only) 11:00am, 12:30pm, 2:00pm, 3:30pm, 5:00pm, 6:30pm (spring and fall), 8:00pm in summer.
Where?: Bayside Marketplace Marina
How Much?: Adult $38.00 Children Under 12 $24.00
Jet Boat Miami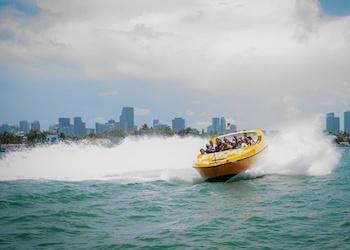 Jet Boat Miami is another "adrenaline junky ride" and certainly one of the most exciting ways to see Miami.
Be ready for speed, spins, and to get a little wet! Rides last 30 minutes.
Boats leave from Sea Isle Marina.
When?: Daily 11:00am 1:00pm 3:00pm 5:00pm
Where?: Sea Isle Marina at 1635 N Bayshore Dr, Miami, FL 33132
How Much?: Adults $29.89 Children (0-11) $15.89
6-Passenger Miami Speedboat Tour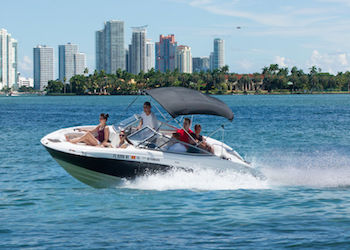 These are smaller 6-passenger jet boats that zip you around Biscayne Bay and the coastline giving you a thrilling ride along our stunning skyline and the area's splendid mansions.
It's a 90 minute ride that starts with a short safety briefing, a great way to see the sights and enjoy our sunny South Florida weather with what feels like your own private guide!
When?: Departures at 12:00pm and 2:00pm
Where?: Watson Island
How Much?: Adult $118.99 Children (3-12) $48.99 Minimum of 2 adults required
Miami's Pirate Boat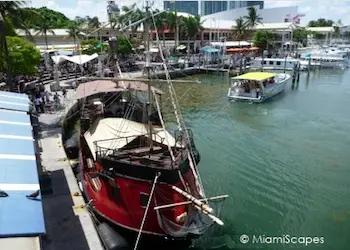 If you want a tour around the bay on an adventure-like ship, then this is your answer, and it's a very popular one with the kids. However, this is not a Pirate experience where kids look for hidden treasures or fire off the water cannons. It is a sightseeing tour with crew dressed as pirates and a fun atmosphere.
You get the splendid views of the bay, the Miami skyline, the expensive homes of the rich and famous, the Cruise Port, and the tour takes approximately one hour and 20 minutes.
When?: Weekends at 1:00 pm 3:00 pm and 5:00 pm
Where?: Bayside Marketplace Marina
How Much?: Adult $26.00 Children 3-11 $15.99
Miami Dance Cruise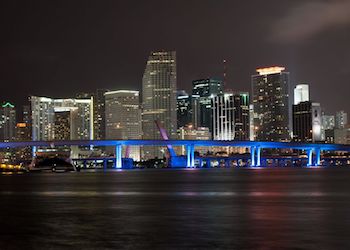 If the views are splendid during the day, at night, the Miami skyline really comes to life. Dazzling lights, the latest music, fun people, a great way to spend a Miami tropical evening.
The cruise lasts one hour and there are drinks and snacks for sale on board.
Note that children are allowed if accompanied by an adult, and on the earlier cruises in particular you will spot many families with youngsters.
When?: Fridays, Saturdays and Sundays at 9:00 pm, 10:00 pm, 11:00 pm and 12:00 am.
Where?: Bayside Marketplace Marina
How Much?: Adults $18.99 Children (4-12) $13.99
Land and Sea: The Miami Duck Tour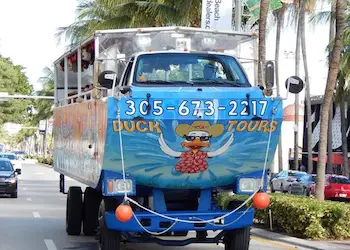 What is a Duck Tour? "The Duck" is a mix between bus and boat, it goes on land as well as on water, well, like a duck.
The 90-minute tour aboard this state-of-the-art vehicle, is your best bet if you want to see a lot and in a very lively and unique way with funny and quacky guides that certainly know their city.
The tour starts from South Beach, and brings you to the highlights of the Art Deco Center and South Beach main attractions before making a splash into Biscayne Bay for a wade through the marinas, the ritzy islands and the celebrities' homes.
The Duck Tours fill up quick, so try to book in advance for this one.
When?: Daily every hour from 10:00 am to 4:00 pm except Tuesdays until 3:00 pm
Where?: Departing from Lincoln Road, 1661 James Avenue, Miami Beach, FL 33139
How Much?: Adults $34.24 Children 3-12 $19.26 Senior +65 $27.82