Bayside Miami
Splendid Views and the Biscayne Bay Cruise Grand Central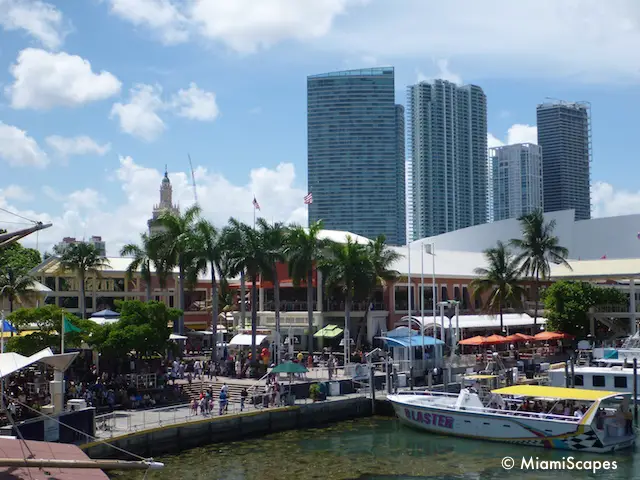 Bayside Miami or the Bayside Marketplace is a combination shopping-mall-marina-dining-entertainment center all rolled into one complex in the heart of Miami and overlooking Biscayne Bay.
Although calling this an "attraction" might be a stretch, this is certainly a great place to hang out if you have a couple of hours and also if you are planning on a Biscayne Bay Cruise. Bayside is the starting point for most of many different boat tours and you can easily catch one without any advance reservations.
There is certainly a bit of everything here and the views are worth the trip. There are splendid vistas of the Bay and the Marina. You can watch the water traffic come and go while sipping a cocktail at one of the many waterfront joints.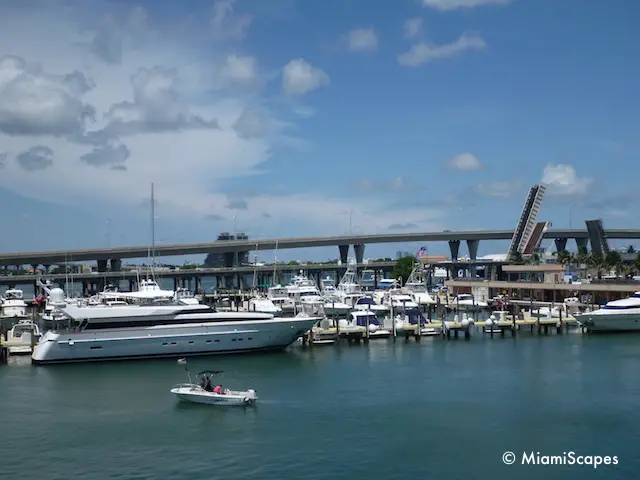 Downtown Miami is only a stone-throw away and you can enjoy sweeping skyline views, the Freedom Tower, and the American Airlines Marina which is accross the street.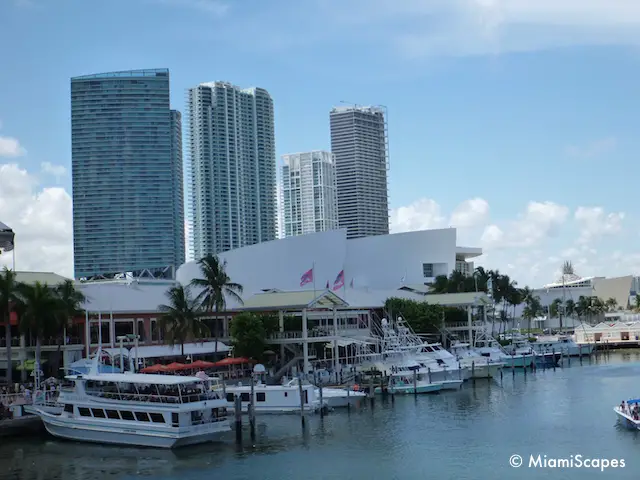 Shopping at Bayside Marketplace
As far as shopping goes, you will find here the same stores you find in a regular American mall: Gap, Victoria's Secret, Disney Store and so on.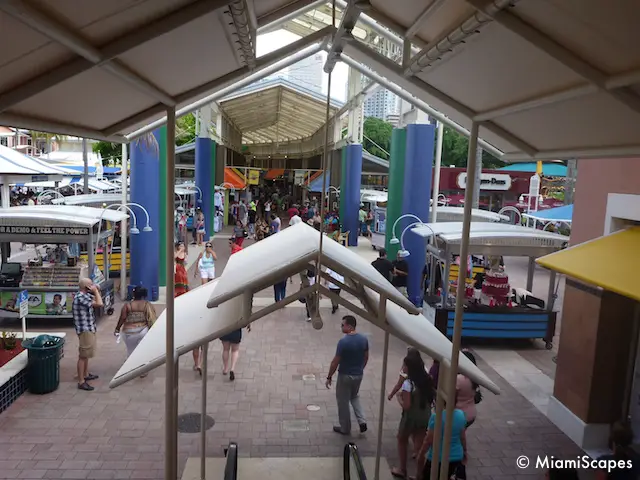 In addition, there are many local specialty shops and cheap touristy souvenir shops, this is probably a great place to load up on t-shirts and stuff to take home, or if you left your flip flops behind or need a sun dress for dinner, Bayside is a good bet.
Food at Bayside
There are over 40 outdoor cafes and restaurants and although it might be the same chain restaurant you find back at home, the setting on Biscayne Bay and waterfront al fresco dining experience make the difference.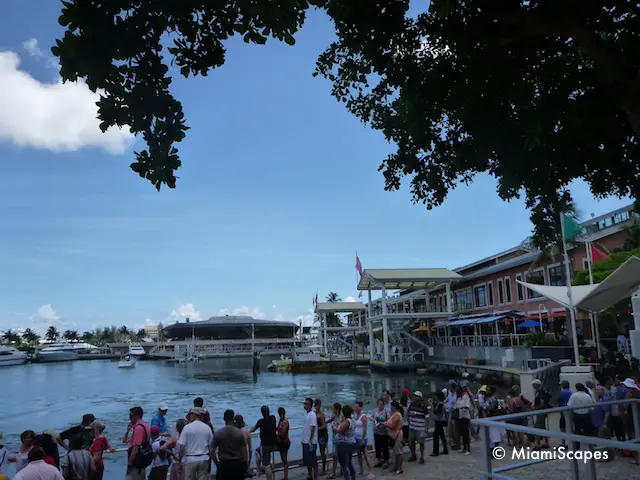 You will find all types of cuisine for all types of budgets, from food court outlets to white tablecloth dining, to Chinese, Cuban, and burgers.
There is also a Hard Rock Cafe, occupying a prime spot on the water at the very south end of Bayside.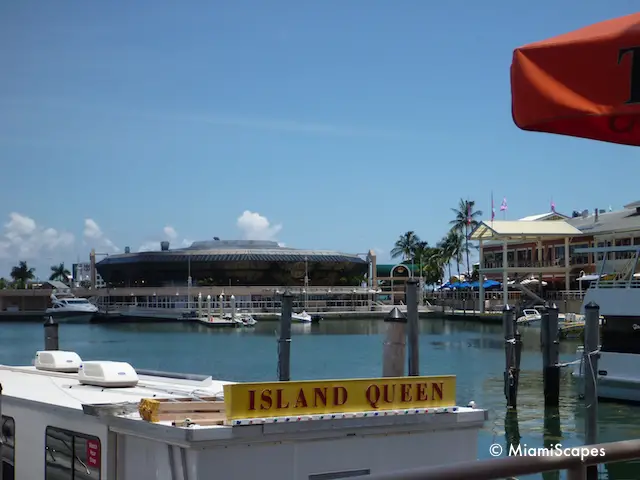 Live Entertainment, Concerts, etc.
There are live concerts and all sorts of entertainment at the outdoor stage facing the Marina, you can just sit and enjoy the latin beats, salsa, reggae, jazz, rock 'n roll... Many local bands and groups perform here daily, mostly in the afternoons and evenings.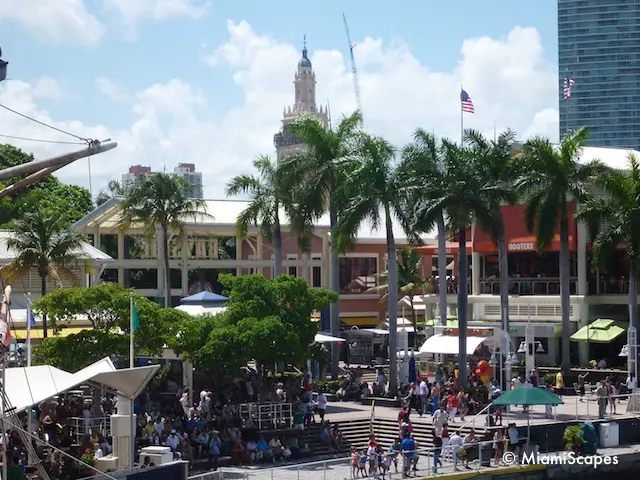 Throughout the mall, there are kiosks with all sorts of entertainment, you can get a temporary tatto, have your picture taken with a parrot, hold a snake, there's even a carousel for kids.
Starting Point for Biscayne Bay Cruises
Bayside Marketplace is the Grand Central station for Biscayne Bay cruises. There are many boat and tour operators offering trips from here. You will see the signs all along the marina with the "Next Cruise Departing" times posted.
A typical cruise is an hour-and-a-half long, and takes you around the coastline and the many islands giving you stunning views of the Miami skyline, the Port of Miami and the cruiseliners, the homes of the rich and famous and some even venture out in the Ocean along Miami Beach. It is definitely worth your time and money specially if this is the first time in the city.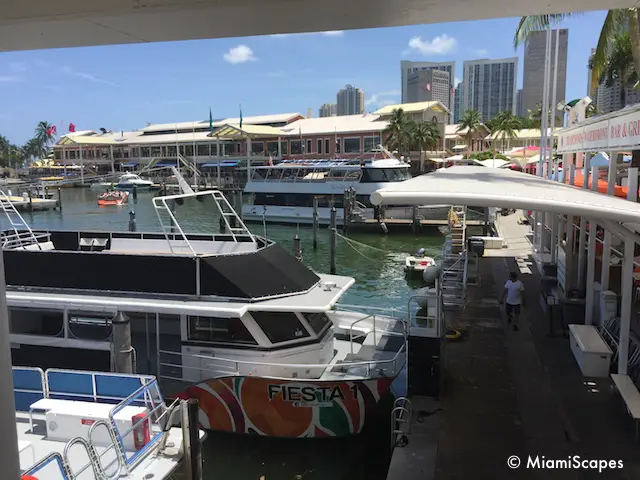 There are many options to choose from and a variety of vessels, speed-boats, "pirate boats", party boats, etc. and is normally quite easy to just walk in and get on the one departing next with a few exceptions. Some of the smaller speed-boats have limited seating so those fill up quick, booking ahead is necessary if you are set on this kind of trip or have a large group (highly recommended for kids and teenagers).
Another instance where booking ahead is a good idea is if you will be combining any other activities like a city tour, or an Everglades boat tour, then you can save some money by booking a combined package.
Here's more on Biscayne Bay Cruises.
Bayside Miami at a Glance
Where?: 401 Biscayne Blvd., Miami, Florida 33132-1924
Opening Hours: Monday-Thursday: 10:00am-10:00pm, Friday-Saturday: 10:00am-11:00pm, Sunday: 11:00am-9:00pm
Parking: At Parking Garage, plentiful except holidays or during events at the American Airlines Arena. Parking Rates are $3 per hour, 2 hours minimum, on weekends, holidays and events there is a $10 flat rate
If you are staying around the Miami Beach area, Bayside Marketplace can also be reached with the Hop On Hop Off Water Taxi