The Best Miami Beaches
Where are they, how to get there, where to park,
things to do...
Beaches have long been a magnet to the city, for a lot of travelers, the beach is what Miami is all about. And there is no doubt that the year-round sunshine, crystal clear waters and wide assortment of water sports and recreation options will keep drawing locals and visitors alike.
For those looking for more than just a day of sunbathing, Miami beaches also offer plenty of opportunities for outdoor activities: parasailing, jet skis, banana boats, volleyball games, biking, snorkeling, etc.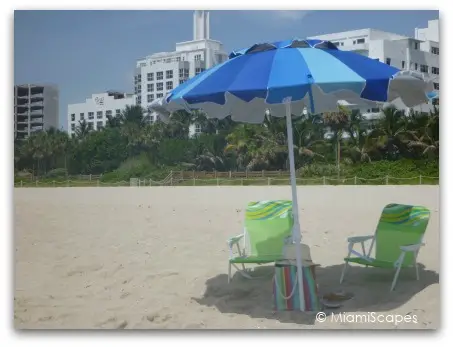 There are several beaches lining miles of coastline along the city and the small islands or "keys" that surround it.
Each one is different in its own way, there is "family-friendly" Crandon Park Beach, "ritzy and trendy" South Beach, and "clothing optional" Haulover Beach, for example.
Beaches are free for all to enjoy, although there might be a parking fee at some of them.

Facilities also vary but most include showers, restrooms and lifeguards.
Other amenities include picnic tables, barbeque grills and children play areas.
Here are some of our Best Miami beaches and what they have to offer.
Miami Beach
From South Pointe to North Shore...
At the heart of it all and the most well-known beach is of course Miami Beach, which is not "one beach" but rather a seven-mile strip of sun-drenched sandy seashore with several beaches and parks, a stretch lined with a mix of boutique art deco hotels, sprawling resorts, restaurants, shops, sports and recreation areas.
The North Beaches
Beyond Miami Beach, the stretches of white sand and turquoise waters continue all along the barrier islands that hug the Miami coastline leading up to Broward county and the Ft. Lauderdale beaches. Here are some of the favorites:
Key Biscayne Beaches
---
Most Popular Miami Beaches... Where are they?
---
Best pick for...