Spring Break in Miami 2018
Hot Beaches... Hotter Nightlife...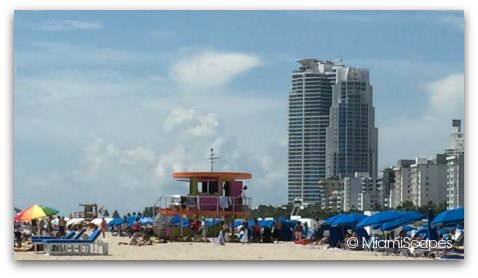 Spring Break in Miami is once again calling... Beautiful stretches of white sand beaches are bustling during the day...
...And in the evenings, the hordes turn to the streets lined with vibrant and super-chic bars, clubs, pool parties dotted with the not uncommon artist and sport celebrity sighting here and there.
For spring-breakers, Miami ticks all the boxes, sun, warmth, palm trees, sizzling night scene, and a host of top notch events throughout the city.
So it's time to perfecting your tan during the day or trying out flyboarding or scuba diving, the waters are calling...
And as the sun goes down, get ready to hit the clubs and parties all over South Beach. Miami in Spring Break is the epicenter of some major world-class partying with Miami Music Week, the Winter Music Conference and ULTRA, offering literally hundreds of events... take your pick, beach parties, trendy nightclubs, mega-yacht parties, pool parties, concerts...
Here's what's hot this Spring Break in Miami!

Spring Break Concerts, Parties, Club Events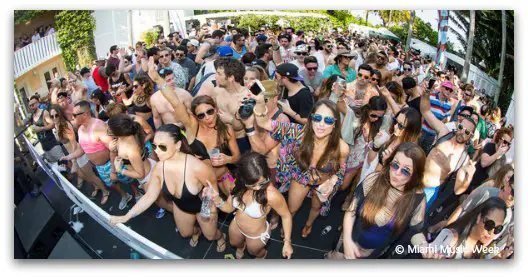 Miami during Spring Break is the epicenter of some high-octane partying and electronic music and dance events.
With the Winter Music Conference and Miami Music Week converging in the Magic City, together they spawn hundreds of parties, concerts, workshops... attracting hundreds of thousands, that's right, hundreds of thousands of music lovers, performers, artists, DJs, and industry reps from all over the world.
It all culminates with ULTRA, the world's most famous outdoor electronic music event.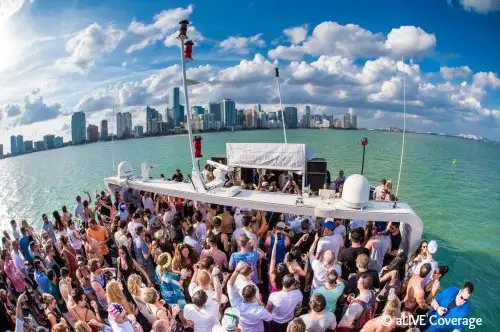 What Is Miami Music Week?
To call this "Music Week" is a major understatement. This is party central in steroids over a week long and then some, of highly charged events, a collection that keeps growing year after year. This week-long affair features almost every major artist in the electronic dance music scene. Hundreds of thousands of revelers converging in dozens of venues from South Beach, Miami Beach, Wynwood and beyond. This year, it's all happening from March 20 to 25, 2018.
Official MMW events are featured at the Delano Hotel, the "Miami Music Week Hotel" at two venues: FDR the boutique hotel's subterranean lounge and at the Beach Club for the open air, beach and pool parties.
Much like Art Basel, the fun spreads around as hundreds of parties and events, official and unofficial pop up during the week in many of the surrounding hotels.
Miami Winter Music Conference
On its 33rd year, this is the Electronic Dance and Music Industry top gathering and the largest of its kind and happening concurrently with Miami Music Week.
It features hundreds of DJs and artists and an in-depth schedule of panel discussions, workshops and seminars for industry delegates, and of course, parties.
Whether it is a Miami Music Week or Winter Music Conference event seems irrelevant, there are hundreds of events, so how do you work your way through that maze? If you are set on a specific number or artist, you need to plan in advance. Check the line-ups to see who, what, where is happening when, and if anything calls, get tickets ASAP! However, many of the line-ups are announced quite late, you need to keep checking.
In terms of venues, you will be partying in some fantastic settings: our stunning beaches, the epic night clubs, on the water aboard a mega yacht, hotel pools...

Ultra - the World's Premier Electronic Music Festival
March 23 - 25, 2018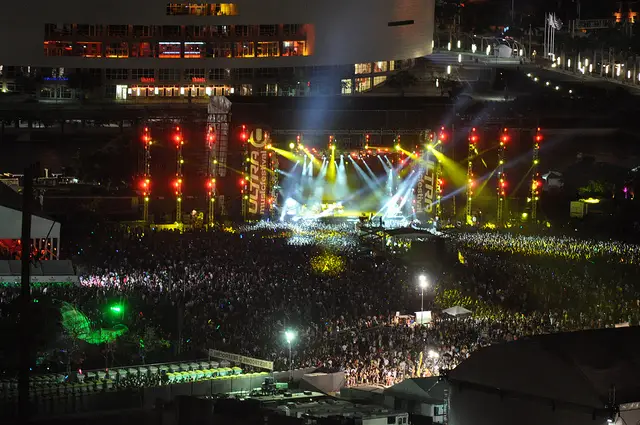 On it's 20th year, ULTRA is the world's most famous outdoor electronic music event.
Taking place at Bayfront Park in Downtown Miami over a three-day weekend, this year's program promises to deliver a uniquely diverse, forward thinking line-up and is likely to be another sell-out.
When? Friday through Sunday March 23 - 25, 2018
Where? Bayfront Park, Downtown Miami
Tickets? 3-day passes as well as individual day tickets available. Find Tickets
For this year's line-up and more info: www.ultramusicfestival.com
Grab one of these great offers for select events, while they last!
Adrenaline Junkies: What To Try Next!
Here's a handful of fun things to do in Miami for spring-breakers and check the offers at the bottom for some great discounts and limited-time offers for fun things to do in Miami.
Flyboarding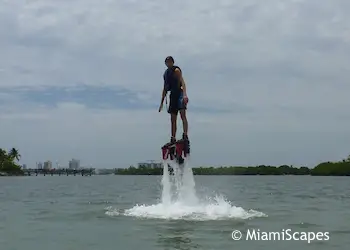 The newest craze in watersports, this is something you just HAVE to try!
With the right instruction, (which we had and we tell you all about it) you can be up and flying in no time and it's a feeling like no other...
There are a few places in Miami where flyboarding is available as well as many operators that will come to you, just agree on a time and place, the ultimate in convenience, reservations are of course a must.

Cruising Around On A Segway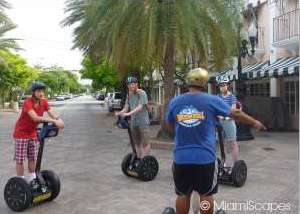 This has to be one of the funnest ways to sightsee. There are many tours that take you through the heart of the Art Deco District in South Beach, along South Pointe, the Miami Riverwalk... or simply rent a segway at one of the many outlets throughout the city and explore on your own!
New to Segwaying? (is that a verb?) No worries, friendly guides provide all the instruction and equipment for you to ramble through the popular spots safely and with confidence and make sure everyone has a good time.

Jetskiing in Miami: The rules have changed, if you were born after January 1, 1988, read this!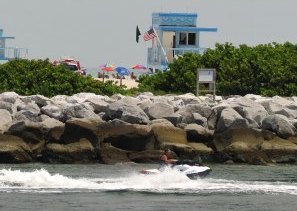 There are new rules for operating Personal Watercrafts such as Jet Skis and Wave Runners. Per Florida law, anyone born on or after January 1, 1988 must take a boating test. Luckily, the courses can be taken online so anyone that needs to meet this requirement can do so before arriving in Miami.
Here's a list of approved Boating Safety Education courses. The online course offered at www.boatus.org is free, others charge a small fee between $14.99 and $29.95.
And make sure you know the rules, there are a lot of no wake zones for the manatees as well as in the busy areas.

Private Sailing Charter For Up To Six
Your Own Private Sail Boat For A Fantastic 2-hour Tour On Biscayne Bay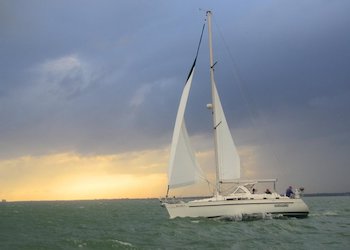 Itineraries can be customized and you can choose to stop at an or visit "No Name Harbor" where calm waters makes it a great smooth sail. The choice is yours!
Refreshments and non-alcoholic beverages are included. You can bring your own champagne and meals or request a catered lunch/dinner for an extra fee.
How Much? $425 per charter
When? Departures 10:00 am, 2:30 pm, 4:30 pm, 5:00 pm
Where? Cruises depart from Dinner Key Marina
›› More Info and Booking Private Sailing Trip in Miami.
›› More Miami Water Sports and Boating Activities
Catch a Heat Game!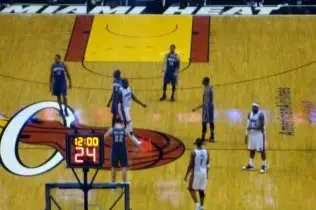 American Airlines Arena is where awesowe happens!
Don't miss your chance to see the Miami Heat during the break... who will be in town? The Knicks on March 21, LeBron with the Cavaliers make an appearance on March 27, the Chicago Bulls on March 29, 2018!
Here's the month's schedule:

Tennis Lovers! Miami Open Is Here! March 19 - April 1st, 2018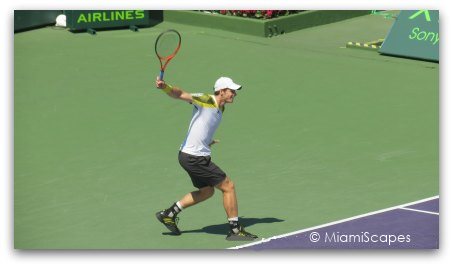 An electrifying two weeks of tennis gets underway during Spring Break in Miami, a great chance to see the world's top-ranked players close-up and in action. What's more, delightful weather, celebrity galore, a stunning setting by the beach, great food, and most of all, a relaxed beach setting, where else can you enjoy the best of tennis with your feet in the sand?
Considering the glitz and glam overload this event packs, tickets for the Miami Open are quite reasonable, starting as low as $5 for the early qualifying rounds and increasing as the tournament progresses. Don't miss this chance!

And don't forget to check all March Events for 2018.
Limited Time hot offers and half-price tickets
Spring Break Miami - Know Before You Go
Legal drinking age in the State of Florida is 21.
Drinking is allowed on the beach but no glass containers are allowed Special regulations likely during Spring Break 2018: As in prior years, the city will ban alcohol, coolers, speakers, inflatable devices, and tents on the beach.
New this year: Miami Beach Police will have through the end of March, two police DJs at the lifeguard stands playing music for all of the visitors. The police department will also be giving out T-shirts to those who volunteer to stay behind and help clean up the beach. #KeepMBClean
Temporary license plate readers will be installed throughout the city during this period
Open containers of alcoholic beverages are not allowed in vehicles at any time