The 13th Annual Deering Seafood Festival On The Bay
Sunday, March 26, 2017: Celebrity Chefs, Live Bands, Kids Zone, Non-Stop Seafood...
Mark your calendars! The 13th Annual Deering Seafood Festival on the Bay will take place on Sunday, March 26, 2017 from 10 AM to 6 PM at the Deering Estate.
A celebration renown for delicious catches from the sea, celebrity chefs and fun-filled adventures for the kids, the Festival features Florida's freshest fish and seafood, with area restaurants and caterers providing sumptuous delights.
This event is fun for the whole family, so bring them on down and everyone can enjoy delicious Florida seafood, chef demonstrations and entertainment for the adults and for the kids!
Here's what's happening!

Chef Demonstrations - Presented by Whole Foods Market
Renowned chefs from some of South Florida's finest restaurants have been invited to present their culinary expertise at the Deering Seafood Festival this year.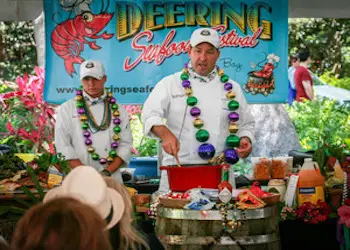 Also present this year is the winner of Johnson & Wales University's Student Seafood Competition, who will recreate the winning recipe.
The chefs will present their favorite seafood recipes using the freshest Florida seafood and accompaniments.
There are free tastings and quite a few people are excited to see the chef demonstrations, so remember, the demos are limited to 100 people each, first come, first served.
This year's chefs include:
Jeff Maxwell of BRAVA by Brad Kilgore at the Adrienne Arsht Center for the Performing Arts
David Hackett from the Biltmore Hotel
Jeffrey Ross and Wilfred Charles from Captain Jim's Seafood
Damien Gilchrist from Ocean Reef Club
Jorge Mijangos from Pubbelly Sushi
Non-Stop Entertainment
Presented by Palmetto Ford Truck, entertainment will be ongoing throughout the Festival and will feature Big Harvest, a Marley-style reggae band with an English-Spanish soul flavor; Caribbean Crew, an award-winning Orlando-based steel drum band, and the five-person band Blackstar, which specializes in favorite cover songs, from Top 40 to lost oldies.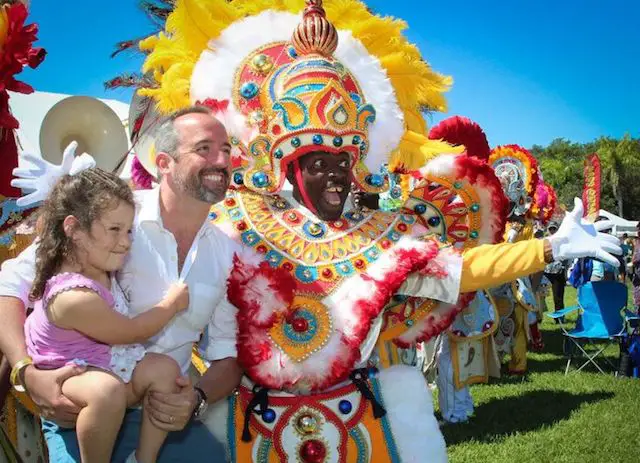 Throughout the day, you will hear the sounds of the steel drum and a Bahamian Junkanoo band, while dancing with fanciful stilt walkers.
Kids Zone
The kids will be over the moon playing at the Li'l Shrimp Kids Zone, which features inflatables, creative activities, healthy tastings and a kid-friendly menu when hunger strikes.
But there's even more in store for kids this year! First, there's the Deering Discovery Cove Adventure, with fun, educational programming that incorporates interactive event stations with microscopes, dissections, touch tanks and art, all geared to teaching the importance of the world's oceans.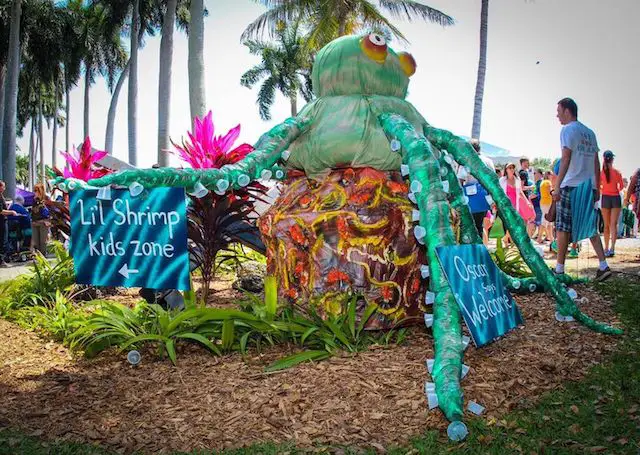 These activities highlight the Deering Estate's ongoing, hands-on Environmental Education Programs and Camps that serve more than 17,000 children annually.
In addition, there are activities for children unique to each of the world's oceans:
Children will get to experience squid adaptation and lionfish dissection (Atlantic Ocean)
A hands-on lesson on coral reefs and sea grasses (Pacific Ocean)
A storm surge experiment highlighting environmental services (Indian Ocean)
A microscope and blubber experiment called "from plankton to whales" (Southern Ocean), and
An eco-art interactive mural painting (Arctic Ocean)
The whole family can enjoy activities such as the rock-climbing wall, the Pelican Skipper pontoon boat rides to Chicken Key, and Artist Lane, featuring unique creations by local artisans.
And of course, the festival would not be complete without its very own Seafood Alley, presented by Golden Rule Seafood.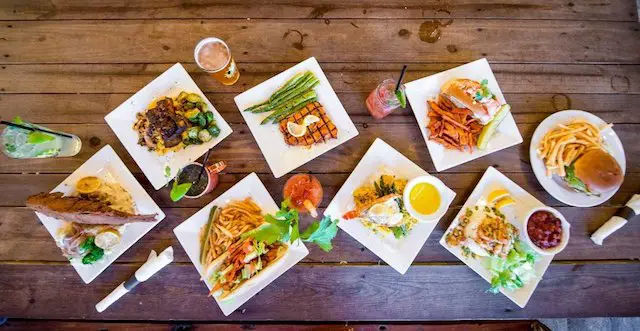 Deering Seafood Festival 2017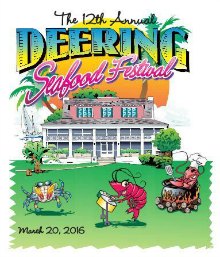 When? Sunday, March 26, 2017 - 10:00 a.m. to 6:00 p.m.
Where? The Deering Estate at 16701 SW 72nd Avenue in Palmetto Bay, Miami, FL 33157
How Much? Adults $15 in advance online, $25 the day of the event; children 4-14 years $5.
Deering Estate Foundation members enjoy complimentary admission.
Ticket includes park entrance and all activities, excluding food, drink, pontoon rides and rock wall. Menu items at the booths range from $7 to $15 (with some exceptions, such as stone crabs).
Proceeds from the Deering Seafood Festival benefit the Deering Estate Foundation and are used for environmental education, preservation and programming.
More info and event schedule: Deering Seafood Festival or call (305) 235-1668, ext. 263.