Big Cypress National Park
Cypress Swamps and Mangrove Tunnels: Alligators, Manatees, and Birds, Birds, Birds...
Big Cypress National Park or rather, National Preserve, as it's officially named, is often unjustly overshadowed by its next door famous cousin Everglades National Park, even though both parks are within the Greater Everglades ecosystem and share much in common, in fact, the wildlife and landscapes are just as striking and will certainly astound you.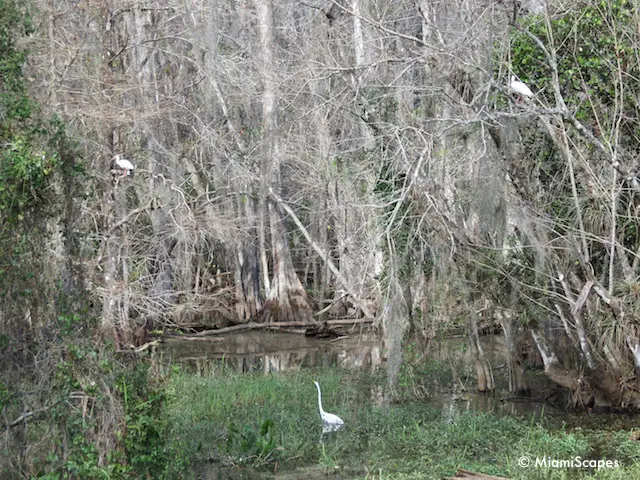 So why the different "Parks"? What is the difference between a "Preserve" and a "National Park"? Technically, a Preserve allows a broader range of activities than the National Park, activities that existed prior to the establishment of the preserve.
At Big Cypress, hunting and off-road vehicles are allowed, you will find airboat tours and swamp buggy rides at the Preserve, but not at Everglades National Park. Here's more about National Park vs. Preserve vs. Wildlife Refuge within the Greater Florida Everglades.
Big Cypress is practically surrounded by Everglades Park on the South end, and one advantage of being the lesser-known counterpart is that it doesn't get the crowds that flock to the boardwalks and Visitor Centers of Everglades Park.
US Highway 41 or Tamiami Trail cuts through the heart of the Preserve, and it is along this road that you find many of the main points of interest.
There are two Visitor Centers, one at each end of the main corridor, and enjoying the preserve is as easy as taking one of the boardwalks or viewing platforms which are conveniently located off Tamiami Trail and have plenty of parking.
Visiting Big Cypress Preserve
Access to the Preserve is via Tamiami Trail or Highway 41, definitely the scenic route and the way to come. A faster route is via I-75 in the north and then south on SR 829, but you miss out on all the action on US 41, I-75 is still a good option to consider going back after a day of sightseeing. See the map here.
Below are some of our favorite stops at Big Cypress National Park along the Tamiami Trail, they are all easy boardwalks with handicap access.
Except for Kirby Storter which is a half-mile trail, (one mile roundtrip) all the other boardwalks are short and more like viewing platforms where you can spend a few minutes or a few hours, different wildlife concentrates in each and in any one day, from alligators, turtles, anhingas, ibis, wood stork, herons, manatees... try to hit at least a couple.
So grab a map at the first Visitor Center you come to, either at Oasis or the Welcome Center and start exploring! Follow the links for more on each spot, location, directions, wildlife, features, short videos and pictures.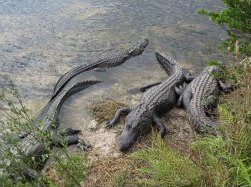 Oasis Visitor Center and Boardwalk
Alligator Grand Central here! Many kinds
of birds as well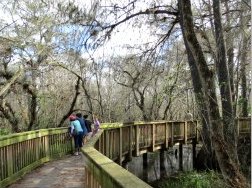 Kirby Storter Boardwalk
Walk through an amazing cypress hammock, birdwatcher's paradise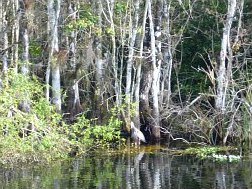 H.P.Williams Roadside Park
Alligators and plenty of birds, great place
for a picnic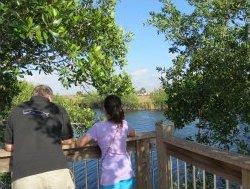 Grand Cypress Welcome Center
Full Service Visitor Center and Manatees
at the viewing platform
There are also several kayak and canoe trails and this is perhaps one of the best areas in the State for this activity. The mangrove tunnels are teeming with wildlife and vegetation. You can arrange tours and rentals from one of the many operators in Everglades City.
Make sure to bring drinks and refreshments if you're staying for the day as there are no restaurants or cafeterias at the Preserve. In fact, there isn't much until you make it all the way to the other end in Everglades City, so bringing a picnic is a safer bet. There are picnic tables at Oasis, Kirby Storter and H.P. Williams.
Likewise, there are no gasoline stations so make sure you have a full tank of gas before you set off for the day.
Best time of the year to visit is during the dry season, mid-November through April.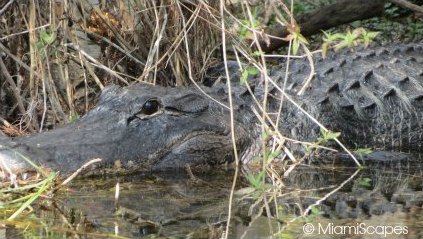 Big Cypress National Preserve at a Glance
Where?: Access via Tamiami Trail. 52105 Tamiami Trail East Ochopee, FL 34141
The Oasis Center is closest to Miami, about 50+ miles from the airport, it will take you about an hour and a half to drive depending on the stops you make along the way. US Hwy 41 is full of wildlife, but be extremely cautious as traffic is heavy, cars and trucks go extremely fast and stopping on the side of the road is not advisable. See the Tamiami Trail Map here.
Entrance Fee: Free!
Public Use Opportunities: Hiking, Wildlife Observation, Canoeing and Kayaking, Photography, Hunting, Camping, Biking, Off-Road vehicle use with a permit.
More Info: Official Site of the Big Cypress National Preserve