Common Mangrove Animals
Our Florida mangroves support a great variety of species, from the swamp animals roaming the wetlands, the shorebirds making their homes in the branches and taking refuge amongst the roots, and tons of marine species big and small that thrive along the mangrove coastline and muddy flats supported by the nutrient rich waters. Here's what to look for and where.
Some of the most often seen animals in the mangrove swamps are:
Crocodiles
are found along the mangrove-lined shores of Everglades National Park, we have seen them at the Flamingo area, at the southern tip of the park, resting nearby the marina and also the Mangrove Backcountry tour offers a great chance to see them. Crocodiles inhabit salt water coastlines as opposed to the alligators which live in fresh water terrain.
Racoons
are quite common, not only around the mangrove areas but also around the pine forests and swamps and just about any habitat where water is available. You will often see them scavenging food around beach parks and picnic areas, but as cute as they might look, stay away as they could carry rabbies. Do not feed them and secure your trash.
Iguanas
are not native to Florida and in fact considered invasive. They are highly adaptable and often seen in the mangrove trees resting on top of the branches. You can see them while canoeing, just strolling around the boardwalks and sometimes you spot them just sitting by the side of the road, like this one we encountered at John Pennekamp Park.
Mangrove Shorebirds and Nesting Birds
These are some of the most common shorebirds that live in the mangrove habitat. You find these coastal birds often in the shallow water looking for fish. If you look up, then you see the birds that have made their homes in the mangrove branches.
Best times when birds are in abundance are in the winter dry months, November through April.
Great places for finding these common mangrove birds are Biscayne National Park and the mangrove shores of Everglades National Park at Flamingo. So stroll the boardwalks or take a canoe out, bring some binoculars and enjoy the wilderness:
Ibis
Egret
Green Heron
Blue Heron
White Pelican
Anhinga
Brown Pelican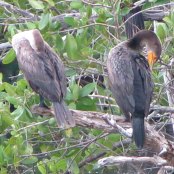 Cormorant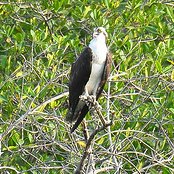 Osprey
Rich Marine Life in the Mangrove Coast
Besides sheltering animals and birds, mangroves also provide protected areas for fish, crabs, shrimps and all sorts of small critters. They contribute to the food web and provide a rich environment for many marine species. Get a snorkel and start exploring. Our favorite place to find all sorts of critters big and small is off the beaches of John Pennekamp State Park. This is what you're likely to see:
Small Critters: Crabs, Sea Stars, Soft Corals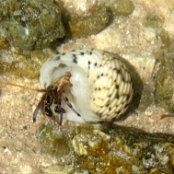 Hermit Crabs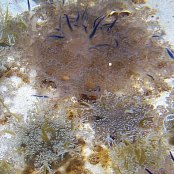 Upsidedown Jellyfish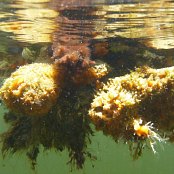 Sponges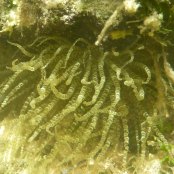 Anemones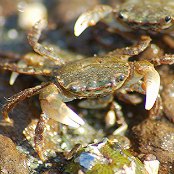 Mangrove Crabs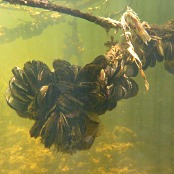 Clams, Mussels, Oysters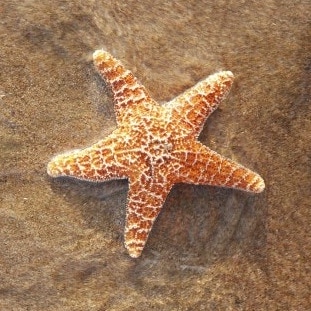 Sea Stars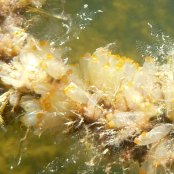 Tunicates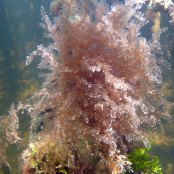 Soft Corals
Algae and Grasses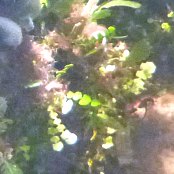 Three Finger Leaf Alga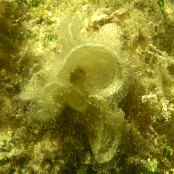 White Scroll Alga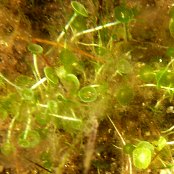 Mermaid's Wineglass Alga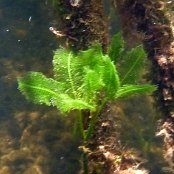 Fern Alga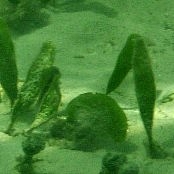 Mermaid's Fan Alga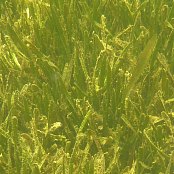 Sea Grasses
The Big Guys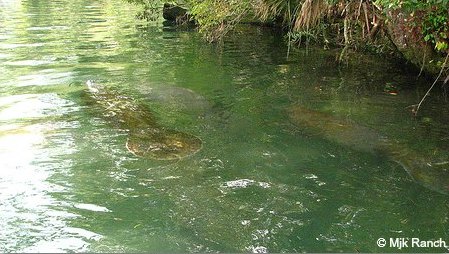 What are the chances of being face to face with one of the big guys? Quite good, I would say.
Nurse sharks we see often but not so much in the shallow water. We have seen plenty of barracuda snorkeling off John Pennekamp's beach, and for some of the big critters it's a matter of knowing WHEN the best chances of sightings are. Manatees congregate in the winter months when they are looking for warmer waters for example.
For some, it's just a matter of luck, we love the stingrays gliding by, and the snook darting off in a hurry, you never know what you will run into, such is life in the mangroves...
And remember you don't even have to get wet, you can often see manatee, stingrays and some of the big fish from the boardwalks and on kayak or canoe.
Manatees
Nurse Sharks
Southern Stingrays
Yellow Stingray
Barracuda
Snook
Tropical Fish
Although we do see some of the little colorful fish around the mangrove coast, your best bet if you want to see tropical fish are the offshore coral reefs.
We see angelfish and yellow grunts often, many times trunkfish as well and parrotfish, and almost always the sergeant majors appear, the little zebra-like striped ones.
Sergeant Majors
Gray Angelfish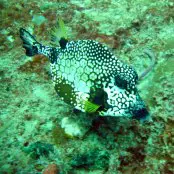 Trunkfish