Biscayne Bay National Park
A string of islands, pristine coral reefs and a mangrove coastline
Biscayne Bay National Park is unique as National Parks go as over 95% of the park is in the waters of Biscayne Bay. Naturally, most activities to enjoy what the park offers revolve around water-based activities: snorkeling, kayaking, paddleboarding, canoeing, scuba diving, boating, sailing... so it is in fact, a paradise for outdoor and water lovers.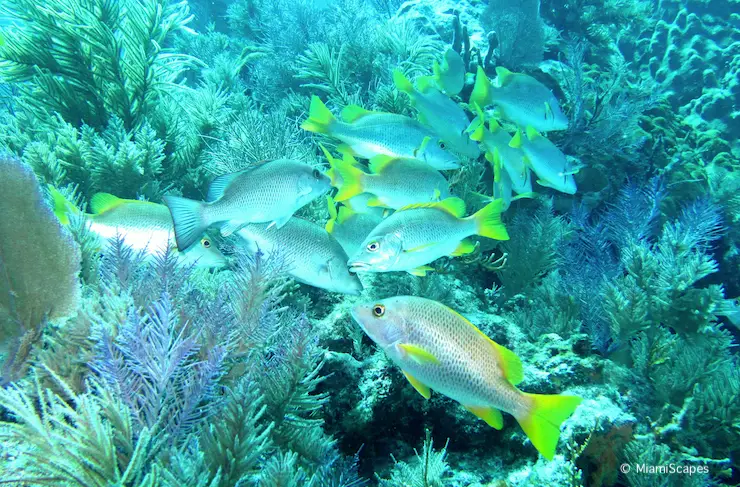 Biscayne National Park is a relatively "newer" National Park which was only established in 1980 in order to protect and preserve the marine ecosystem in and around Biscayne Bay.
There are four main components to this ecosystem:
So what is the highlight of the park? This is a great one-stop park to learn and experience all of the above habitats, all in one place. Our favorite activities here are taking a boat to the keys and having a picnic, canoeing along the mangrove coastline to look for manatees, rays and beautiful birds, walking along the trails and boardwalks near the visitor center and snorkeling the reefs.
Exploring Biscayne Bay National Park
So where to start exploring?

Unless you have your own boat, your starting point will be the park's main information center, the Dante Fascell Visitor Center located in the mainland at Convoy Point.
Here's more on the Biscayne National Park Visitor Center, facilities and things to do.

Less than 5% of the park is on land, this section contains the mangrove shorelines which are best seen by canoe, paddleboard or kayak.
There are rentals available from the park's concessioners or you can launch your own.
Here's more on Canoeing and Kayaking at Biscayne Park.

As most of the park consists of water, access to a boat is of course essential to get to the islands and the underwater reefs. If you have your own boat, there are five boat ramps/marinas nearby from which to launch that are convenient to Biscayne Park: Homestead Bayfront Park, Black Point Marina, Matheson Hammock Park, Dinner Key and Crandon Park Marina in Key Biscayne.
Note that there is no launching facilities for private boaters at Convoy Point where the Park's Visitor Center is located.

There are several small islands or keys, the park maintains harbors at Elliot Key and Boca Chita Keys. For visitors, the Park and its concessionaires provide boat trips and transportation to the islands during the main season.
At the keys, there is tent camping, picnic tables, and restroom facilities.
Biscayne National Park Ecosystems
The Mangrove Coastline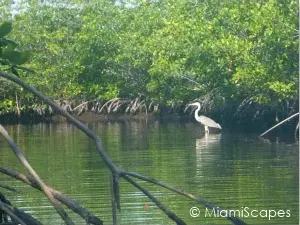 Just by looking at the murky brackish waters that surround the "swamp-like" mangrove areas, it is hard to get excited about this habitat, but in closer look there is plenty hidden in and about the mangroves. We learned during our visit that mangrove forests and their complex root systems are instrumental in protecting our shorelines from erosion and hurricanes.
They also provide shelter and food for many kinds of birds and marine life.
Mangrove forests line the shoreline around the park and a great way to explore this area is by canoe, paddleboard or kayak. During the cool dry season, the mangrove coastlines are teeming with wildlife, specially the migratory birds that have come to spend the winter. Manatees seek refuge in the warmer waters as well, so opportunities to enjoy sightings will be at every corner.
Canoe, paddleboard and kayak rentals are available from the park concessioner at the Visitor Center and you are also welcome to launch your own.
If you don't have time for a paddling trip, you can go for a stroll at the elevated boardwalks that start from the Visitor Center and bring you along the coastline.
Check out our mini-guide with a brief introduction to this beautiful and crucial ecosystem and the importance of its conservation. About our Mangrove Wilderness and Life in the Florida Mangroves
The Waters of Biscayne Bay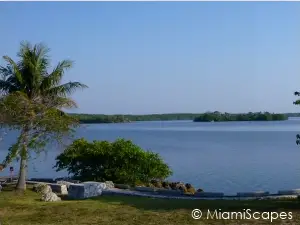 Water dominates the park. The waters of Biscayne Bay within the National Park have been designated a Marine Sanctuary.
In these waters, many species like Florida lobster, manatees, and sea turtles thrive and are protected year-round. And all this, just a stone-throw away from Miami's sprawling metropolis which is nothing short of amazing.
There are fantastic views of the bay from the Visitor Center, and from just about anywhere along the coastline in Miami.
But really, you need to get out there, this is a paradise not only for the marine life and the wading birds, these waters and our fantastic year-round weather were made for boating, sailing, snorkeling, diving...
Tour availability from the Park and operators change constantly. For the 2017 season, boat trips and sailing trips that include hiking, paddling and snorkeling are available from independent tour operators under permit from the park.
Boat tours to Boca Chita provided by the Biscayne National Park Institute are running on Mondays, Fridays, Saturdays and Sundays.
Tours depart from the Main Visitor Center, more info here.
Buy beyond the park, there are also many Biscayne Bay Cruise operators in Miami. These Biscayne Bay cruises offer fantastic views of the Miami skyline, the port and the "rich and famous" homes.
Here's more on Biscayne Bay Cruises from Miami.
The Upper Florida Keys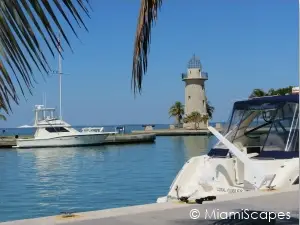 A string of small islands line the eastern edge of Biscayne Bay, these little islands or keys, remain undeveloped, unlike their counterparts in the south, which we normally refer to as the Florida Keys, from Key Largo to Key West.
These small islands within the Park are only accessible by boat, either your own private boat, or through one of the boat tours that will bring you here for the day.
Park facilities are at Boca Chita Key and Elliott Key only. By facilities I mean picnic tables, the dock, restrooms and not much else. No restaurant/cafeterias, no gift shop, no supplies of any kind. In fact, you bring everything and you take back everything you bring, including your garbage.
It is possible to camp out at both places, bring your own tent and supplies. It is quieter during the week, and camping under the stars is just heavenly. During weekends it is a different story altogether.
Boat Tours to Boca Chita Key run during the main season, they last about two and a half to three hours and are a great way to spend a morning or afternoon and pack a picnic. Currently for the 2017 season, the Park is operating tours to Boca Chita Key on Mondays, Fridays, Saturdays and Sundays.
Here's more on Boca Chita Key.
For the 2017 season transportation to Elliott Key is available daily through the park's concessionaire and costs $59 per person roundtrip, $300 for a boat for up to 6. Park camp fees are $15 per night. More info and booking here.
Don't forget mosquito repellent!
The Coral Reefs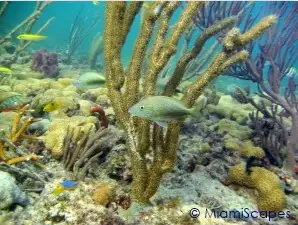 Along the eastern side of the Keys lies the beginning of the third largest coral barrier reef in the world (after Australia's Great Barrier Reef and the Belize Barrier Reef). It extends southward for 170 miles, and it is one of nature's mind-blowing gifts.
Teeming with life and color, the Florida Keys Reef contains an abundance and variety of marine life...
...Sponges, corals, sea fans, fish, sea grasses... over 1,300 species of marine plants and animals thrive in this tropical paradise.
For the 2017 season, snorkeling is being offered by the park concessioner as part of a full-day or half-day sailing excursion.
The trips include an orientation by a Park ranger or volunteer, and it is a great introduction to the underwater marvels just below the surface.
Here's more on Snorkeling in Biscayne Park.
Although glass-bottom boats and scuba diving trips are occasionally advertised, these activities do not run regularly, if you are interested on either one of these activities is best to inquire before you head out there. Alternatively, Key Largo is only a few miles further and offers many more options for scuba, glass-bottom boats as well as snorkeling trips. One great alternative is John Pennekamp Coral Reef State Park.
Tips for Visiting and Directions
When to Visit Biscayne Park
As a general rule, the best time to visit and the main season at the park is during the cooler drier months, our winter, that is basically Thanksgiving (end of November) to Easter (April - May).
Temperatures are more pleasant, mosquitos and humidity although always present are less of a nuisance, migratory birds are in abundance to be seen. If you come during the summer, we recommend sticking to the coral reefs, snorkeling the clear waters during the warmer months is a treat!
How to get to the Park?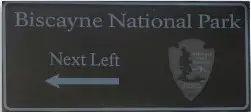 Getting to the Park's Visitor Center in Convoy Point is easy. It is located south of Miami, approximately nine miles east from the city of Homestead at:
Biscayne National Park
9700 SW 328th Street
Homestead, FL 33033
From Miami, take US 1 heading south to SW 328th Street, follow SW 328th Street all the way east until you reach the visitor center.
Or take the Florida Turnpike South (toll road) exit 6 Speedway Blvd or SW 137th Avenue and follow the signs heading South to 328th SW Street and following 328th Street east to the VC.
FREE City of Homestead Trolley
There is now a FREE National Parks Homestead Trolley Service that runs weekends during the "high" season through April. It includes stops at Everglades National Park as well as the Dante Fascell Visitor Center in Biscayne National Park from the City of Homestead downtown stop which connects with Miami-Dade public transport.
Opening Hours and Fees
The Visitor Center is open year-round 9:00 am to 5:00 pm
There are no entrance fees at the park.
There is a $20 overnight boat docking fee at Elliott and Boca Chita Keys, park camp fees are $15 per night
More Info
Official Website: NPS: Biscayne National Park
Call: (305) 230-7275
Biscayne Bay National Park at a Glance
Where?: 9700 SW 328th Street, Homestead FL 33033
Parking: Plentiful
Entrance Fee: FREE!
Restrooms and Showers: Restrooms only
Other ammenities: canoe and kayak rental and launch, mangrove trails and boardwalks, visitor center, boat tours to the keys, snorkeling tours.