Miami 4th of July 2017 Celebrations
Picnics, Fairs, Live Entertainment, Cruises, Parades...
...and of course Fireworks!
It's America's Birthday! Join in the parties and the celebrations, the 4th of July has long been a family tradition...
...The hot dogs and barbeques, outdoor concerts, fairs, parades, cruises and a myriad of activities which all culminate with a brilliant splash over the city skies.
The 4th of July fireworks in Miami are spectacular, watching the sky lit up above the water in a stunning array of colors and sparks is a mind-blowing and affecting way to end the day, a stirring reflection of what our country stands for.
Independence Day is of course a public holiday.
Federal government offices are closed on the 4th of July, National parks remain open.
You can expect the following to be open and closed during the holiday:

Closed
Government Offices
Schools
Post Offices
Banks
Public Libraries
Open
Shopping centers and malls
Grocery Stores
Restaurants
Federal, State, Regional Parks
Public Transportation, check for special holiday schedules
4th of July Celebrations and Fireworks
We are celebrating the 4th of July with an array of family fun bashes througout the city going on all day way before the first fireworks lit the skies. Here are some great spots to come celebrate Independence Day this year:
America's Birthday Bash at Bayfront Park
What?: Music, Food and Drink, Kids' Zone, and one of the largest fireworks displays in the city overlooking beautiful Biscayne Bay.
When?: Park opens at 10:00 a.m.
Live music begins at 2:00 pm
Sam Adams Beer Garden opens at 2:00 pm
Kids Zone (ages 2-16): 3:00pm - 7:00pm
Fireworks: 9:00 pm (approx. 30 minutes)
Where?: Bayfront Park 301 N. Biscayne Blvd., Miami, FL 33132
How Much?: FREE
Where to Park?: There is limited, paid parking at Bayfront Park. You can also park at Bayside Marketplace nextdoor or take the Metrorail to the Government Center Station then transfer to the Metromover Inner Loop to Bayfront Park. You can watch the Fireworks from Bayside.
No bottles, cans, coolers or personal fireworks are allowed at the park.
More info: www.miami4thofjuly.com
Directions and Parking
Miami Beach Fire on the Fourth Festival
What?: An all-day festival with live entertainment, food trucks, yoga, DJs, fireworks and more.
When?: 11:00 a.m. - 9:00 p.m.
11:00 am: Food Trucks
4:00 pm: Spam Allstars
6:00 pm: Inner Circle
7:30 pm: The Wailers
9:00 pm: Fireworks

Where?: North Shore Park Bandshell, Collins Avenue and 73 Street.
How Much?: FREE
Free Shuttles: Two park and ride locations where drop-off/pick-up will be taking place (North Shore Bandshell Park and 41st Street/Royal Palm Avenue). Free shuttles may be flagged down at any MDT stop along this route. Service will be from 11 a.m. to 10 p.m. Headways will be 30 minutes.
Free Trolleys: There is a fleet of Trolleys covering four different routes: North Beach Loop, Collins Link, Middle Beach Loop and Alton/West Loop. They run continuously every 10 to 15 minutes until midnight. See the Trolley Route Maps and Loop connections here.
More info and shuttle route: City of Miami Beach Fire on the Fourth
Ocean Drive 4th Of July Fireworks
What?: If you are in South Beach, you can enjoy a fantastic display from the sidewalk cafes or rooftop venues.
When?: Fireworks at 9:00 pm
Where?: Ocean Drive between 5th and 15th Streets
How Much?: FREE
Getting There?: Uber and Lyft are your best bets. If you must drive, dowload the ParkMe App. If you are nearby, ride free with Swoop or Freebee.
Open containers of alcoholic beverages and styrofoam are NOT allowed.
More info: Ocean Drive Association FB Page
Key Biscayne 4th of July Parade and Fireworks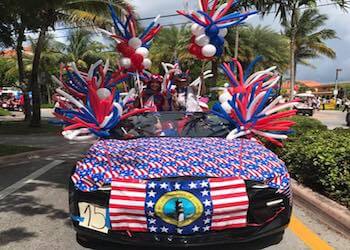 What?: Jets flying over, marching bands, marching golf carts.. red-white-and-blue floats and tons of special entertainment!
When?: Parade starts at 11:00 am
Where?: Crandon Boulevard, from Harbor Drive to West Enid Drive.
Kiwanis Picnic on the Village Green following the parade.
Fireworks: 9:00 pm, watch from the Village Green or anywhere with a view of the Atlantic Ocean.
How Much?: FREE
Where to Park?: Key Biscayne is a small community, there are many shopping centers, grocery stores, etc along Crandon Blvd. Make sure you arrive early as the streets might be blocked. OR, make it a day outing. Park at Crandon Park Beach, it's only a half-mile from the southern end of the beach to the start of the parade, then spend the rest of the day relaxing at the park, bring a picnic, have a bar-b-que... After sundown the city of Key Biscayne puts on a spectacular fireworks display.
More info: Key Biscayne 4th of July Parade
City of Coral Gables July 4th Fireworks Celebration at the Biltmore Hotel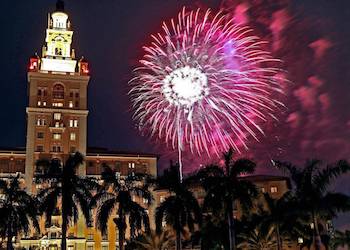 What?: Special concert by the Greater Miami Symphonic Band, concessions and a spectacular fireworks display.
When?: Grounds open at 5 p.m., live concert at 7 p.m. and fireworks show at 9 p.m.
Where?: Biltmore Hotel, 1200 Anastasia Avenue
How Much?: FREE fireworks viewing on golf course
Where to Park?: The City will offer free parking and continuous shuttle service throughout the evening to and from the Biltmore Hotel. Shuttle service begins at 5 p.m. from the following locations:
University of Miami – Ponce garage and BankUnited Center surface lot
Coral Gables Youth Center – 405 University Drive
Garage 4 - 345 Andalusia Avenue
Last shuttle departs for the fireworks at 8:30 p.m.
FREE Bike Valet: From 5:00 pm to 11:00 pm, provided by Green Mobility Network
More info: City of Coral Gables 4th of July Celebrations
Coconut Grove 4th of July Celebrations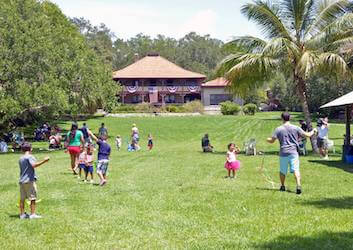 The Barnacle Old Fashioned 4th of July Picnic
What?: Bring a picnic or purchase burgers and hot dogs from The Barnacle Society, live music, lawn, table and board games, kids' crafts, a scavenger hunt, make and fly a kite and more!
When?: 11:00 am to 4:00 pm
Where?: The Barnacle Historic State Park at 3485 Main Highway, Coconut Grove
How Much?: Adults $5, children 6-11 $3, under 6 free
More Info: www.thebarnacle.org

CocoWalk's Annual Independence Day
What?: Live music and fun activities for the entire family, face painting, appearance by Lady Liberty, and of course, the annual hot dog eating competition. Bring picnic, lawn chairs and blankets, coolers, no alcohol please.
When?: 3:00pm - 7:00 pm, hot dog eating contest at 6:00 pm
Where?: CocoWalk at 3015 Grand Avenue, Coconut Grove
How Much?: FREE
More Info: www.cocowalk.net
Picnic and Fireworks at Peacock Park
What?: Bring picnic, lawn chairs and blankets and enjoy the fantastic fireworks show
When?: 6:00 to 9:00 pm Fireworks at 9:00 pm
Where?: Peacock Park at 2820 McFarlane Road, Coconut Grove
How Much?: FREE
Where to Park?: Street parking will be tight. There are a couple of City Lots nearby on Bayshore Drive, otherwise try the Parking Garages on Oak Ave. or Coco Walk. See map here.
Follow www.coconutgrove.com.
Frost Science Museum Independence Day Celebration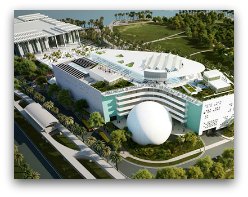 What?: Enjoy Miami's newest museum and its innovative and state-of-the-art exhibits prior to joining in the festivities. The Museum will open the Vista Level after regular hours for fantastic panoramic views of the bay, a barbecue party (food for purchase), DJ, laser shows, and of course Biscayne Bay's stunning fireworks displays at 9:00 pm.

When?: 6:00 pm to 9:30 pm
Fireworks: 9:00 pm
Where?: Vista Level at the Phillip & Patricia Frost Museum of Science at 1101 Biscayne Blvd., Miami
How Much?: Adults $21, Children (3-11) $21, Frost Members FREE
Note that regular museum hours are from 9:00 am to 6:00 pm, admission is $28 for adults, $20 for children.
More Info: www.frostsicence.org
City of Homestead Celebrations "Race to the 4th" at Miami Speedway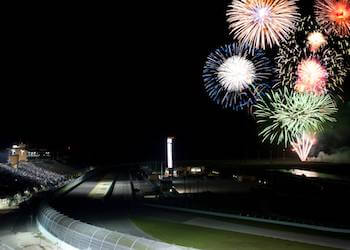 What?: A family event and a community tradition featuring live music, rides and rock walls for children, foodtrucks and drink vendors, games and of course fireworks! Live entertainment will feature local staple, Main Highway, covering everything from The Animals to ZZ Top and up and coming country artist Ricky Valido along with his band "The Hialeah Hillbillies."
When?: 6:00 pm to 10:00 pm Fireworks at 9:00 pm
Where?: Homestead Miami Speedway, One Speedway Blvd, Homestead FL
How Much?: FREE
Limited number of VIP "4th of July Champions Club" tickets which include food and drinks, VIP parking at the stadium and preferred viewing for the fireworks, adults $20, children 7-12 $10, call the Parks and Recreations Department at (305) 224-4570.
Where to Park?: Parking on Homestead-Miami Speedway property is free of charge. For inbound directions to general parking click here.
More Info: City of Homestead
Black Point Park Marina 4th Of July Spectacular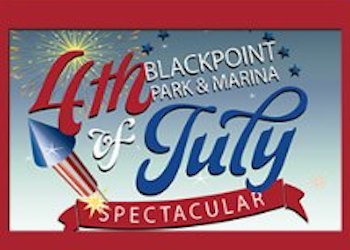 What?: All-day family fun! Enjoy the great outdoors while exploring the park's bikeways, scenic jogging trails, or 1.5 mile long jetty into the Bay. Grab a delicious bite to eat and raise a glass to Old Glory at Black Point Ocean Grill, the dockside restaurant and bar; or bring a blanket or lawn chair and enjoy a family picnic. End the day with the spectacular fireworks display!

When?: Park and Marina Hours - Open 24 hours,
Fireworks: 9:00 pm
Where?: Black Point Park and Marina at 24775 SW 87th Avenue Miami
More Info: Black Point Marina
Things To Do This 4th Of July
More 4th of July Weekend Parties and Events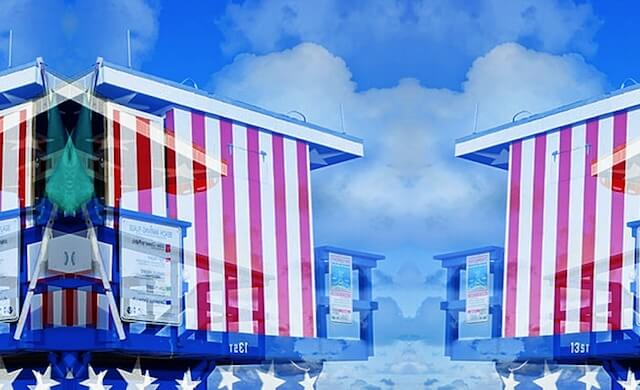 Rock Your Independence Festival in Wynwood
What?: Patriotic revelers blow off steam and celebrate the 4th of July with games and much more. Live music and a DJ pump out jams, setting a celebratory tone throughout the bash.
Make a toast to the red, white, and blue with the on-site beer. Each ticket includes a drink to get things started.
When?: Monday, July 3, 2017 at 4:00 pm
Where?: The Wynwood Yard at 56 Northwest 29th Street, Miami, FL 33127
How Much?: $21 - $55 $9 - $25 at Groupon
Red, White, & Booze Bar Crawl in Brickell
What?: Walk around the Brickell neighborhood visiting the best bars and having a great time along the way. There will be 5 different Brickell venues participating in this year's Red, White, and Booze Bar Crawl: American Social, Fado Irish Pub, RedBar, Baru, and 5th venue TBA.
When?: Saturday July 1, 2017 at 6:00 pm
Where?: Meet at American Social at 690 SW 1st Ct., Miami, FL 33130
How Much?: $20 $10 at Groupon
Sonesta Coconut Grove Miami's Star-Spangled Party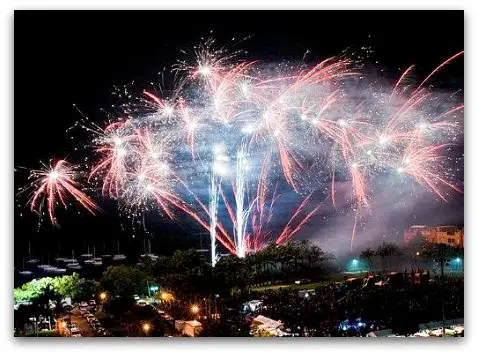 What?: Let freedom ring as you enjoy a buffet-style menu from Panorama Restaurant & Sky Lounge, featuring classic holiday dishes, sounds from a live DJ and an unobstructed view of the fantastic Coconut Grove fireworks, one of the best shows in Miami - all from the comfort of your dining table or chaise lounge.
When?: July 4, 2017 from 6:00- 10:00 p.m
Where?: Sonesta Coconut Grove at 2889 Mcfarlane Road
How Much?: Adults $49, Children 12 and under $15
More Info and Reservations: Sonesta Coconut Grove or call 305-447-8264
Miami's 3rd Annual Bacon and Beer Crawl in Wynwood
What?: A leisurely stroll on the weekend before Independence Day to a number of delightful locations in Miami's up and coming neighborhood of Wynwood, with plenty of refreshments at every stop along the way.
When?: Saturday July 1, 2017 at 4:00 pm
Where?: Meet at El Patio Wynwood at 167 Northwest 23rd Street, Miami, FL 33127
How Much?: $33.67 $15 at Groupon
---