Jungle Island
Tropical Oasis... Wild Encounters...
We have known Jungle Island from the early days when it was "Parrot Jungle" in South Miami. In the early days it was known for the gigantic variety of colorful birds, the parrots, macaws, flamingos... now, Jungle Island has branched out to encompass a wide collection of animals beyond the feathered kind, some unusual and exotic like the white lion, and an array of unique encounters which are one of the main attractions of the park.
Its new location in Watson Island, just minutes from downtown Miami is a beautiful tropical setting with killer views of the bay and the Miami skyline.
The park is small and compact, so you can cover most of it in a couple of hours, but like mentioned before, there are a lot of activities, shows, animal encounters, even a beach and a water park, so you can easily spend the whole day.
The grounds are beautiful and carefully landscaped with lots of shaded areas...

And along the paths throughout the park you are likely to find free-roaming cranes, iguanas, turtles, and lots of parrots and macaws perched on trees or stations all over, they are cageless and you can feed them and really get up close.
Also throughout the exhibits, watch for keeper talks and presentations where you can learn about the animals, their habitats and their daily routines.
One thing to keep in mind when you visit Jungle Island is that while many of the activities and exhibits are free with admission, many activities carry an extra fee, and in some cases as in the premium interaction and encounters, reservations are necessary. Check out our summary below of all activities and additional fees if any, know what to expect and plan your day.
Here are some of the highlights:
Three Fantastic Animal Shows
First thing we do upon arriving at the park is check out the day's schedule for show times and plan the day accordingly. There are three shows with several acts throughout the day. Shows are free with admission to the park.
"Winged Wonders" Show
The Bird Show "Winged Wonders" is where our feathered animals perform their little stunts from huge impressive condors soaring above the audience to adorable little macaws riding their bikes and answering phones...
"Wild Encounter" Show
The Big Cats Show "Wild Encounter" where tiger cubs are the stars, totally adorable! Also the orangutans are playful and really fun to watch and interact with the trainers. If you stick around the show you have a chance to have pictures taken with the tiger cubs or the orangutans.
"Wild Adventures" Show
"Wild Adventures" at the Serpentarium... yes, reptiles... snakes... AND audience participation! Sit close to the front... if you dare...
The Animal Exhibits
The exhibits are scattered throughout the park in no logical arrangement so just make sure you get a map and find everything that interests you. There are some unusual and exotic animals you should not miss, for example the "Liger" a cross between a Lion and a Tiger. The White Lion and Tigers are also fantastic, you can see them very close from behind the fence.
Most of the big wild animals in the exhibits are in cages or behind fences, unlike some of the other zoos, Zoo Miami or Lion Country Safari where the animals roam freely.
There are exhibits for exotic birds, penguins, kangaroos, lemurs, baboons... and also a Petting Zoo, and many offer interactive activities where you get to play with and feed the animals.
Animal Encounters and Interactions
This is where Jungle Island really excels, from cuddling with Lemurs and Kangaroos, feeding llamas and birds, holding snakes and alligators... even bottle feeding a tiger cub, the range of their interactive activities and encounters is really superb.
As you can guess, many of these activities come with an extra fee, ranging from a couple of dollars to buy feed for the animals, $5 to cuddle with Kangaroos, to several hundred dollars for some of the more exclusive VIP experiences, the backstage tour of Jungle Island so to speak.
Playing with the Lemurs has been a favorite of ours. My nieces really enjoyed cuddling with the fluffy critters, you have them climbing all over you, sitting in your lap, your shoulders, your head... You need to make a reservation for the Lemurs and for some of the other encounters.
Here is a summary of all interactions, fees and age requirements for each activity.
Parrot Cove: A Beach and Water Park
At the tip of the island with sweeping views of the Miami skyline is Parrot Cove, a private beach within the park. And at Parrot Cove, one of Jungle Island's latest additions is the Rainforest Riptide, a humongous floating water park-bounce house-obstacle course, together with trampolines, swings, water slides and certified lifeguards.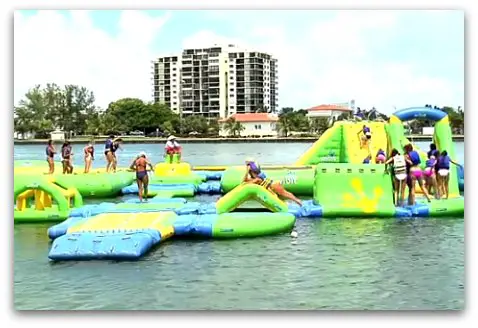 Parrot Cove is free with admission; however, there is an extra fee for Rainforest Riptide, a day-pass is $15.
Jungle Island - What - Where - How Much?
Jungle Island Activities and Fees

What?
Where?
How Much?
Reservation?
Requirement?
General Admission
Jungle Island Ground and Exhibits
Adults $34.95 Children $26.95 (plus tax)
No
None
Parking
Covered Garage
$10 per vehicle
No
None
"Winged Wonders" Show
Parrot Bowl
Free
No
None
"Wild Encounter" Show
Jungle Theatre
Free
No
None
"Wild Adventures" Show
Serpentarium
Free
No
None
Petting Zoo: Barnyard Animals, Goats, Turtles, Llama
Petting Barn
$2
No
None
Kangaroos
Kangaroo Paddock
$5
No
None
Critter Combo: Kangaroos, Petting Barn + One Animal Interaction
Petting Barn / Kangaroo Paddock
$10
No
None
Lemurs
Lemur Nursery behind the Gift Shop
$20-$30
Yes Buy Park Admission with Lemur Experience Combo Adult $56.29 Child $47.29 Inc. Tax
Children 6 and older, under 16 must be accompanied by adult
Go Wild 90-minute Safari Tour: General Admission, Parking, Private Park Tour, encounters with Kangaroos, Reptiles, Tortoises, Lemurs
Meet at Guest Relations
$299 plus tax
Yes Book
Children under 3 not permitted, must be 6 and older for Lemur interaction, under 18 must be accompanied by adult
"Go Wilder" 3-hour Safari Tour: General Admission, Parking, Private Park Tour, 4 of the finest of Jungle Island encounters: Lemurs, Exotic Bird, Reptile, and Tiger
Meet at Guest Relations
$499 plus tax
Yes Book
Children under 3 not permitted, must be 6 and older for Lemur interaction, under 18 must be accompanied by adult
Parrot Cove Beach
Parrot Cove
Free
No
None
Rainforest Riptide
Parrot Cove
$15
No
Children must be 3 years old, 3-8 must be accompanied by adult