Our Airboat Tour at Everglades Safari Park
What a Fun Way to Explore the River of Grass...
An Everglades Airboat Tour is often on our "to do list" when we have family or friends visiting, this is certainly one of the highlights of their Florida visit, specially for the kids.
Recently we went on the Airboat ride at Everglades Safari Park on Tamiami Trail. There are many operators all along this road, from Miami all the way to Naples on the Gulf Coast.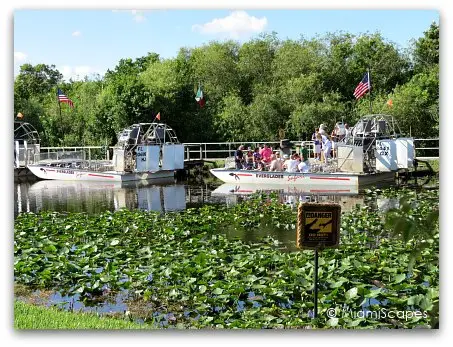 This visit was in mid-April, almost at the end of the season. Water levels were low, perhaps too low, any lower and the boats would not have been able to make it. Luckily, we got to see quite a lot, it was a very enjoyable ride as always.
We opted for one of the large boats this time since my parents 79 and 82, even though in quite great shape, are not too keen on zipping around in the small airboats any more. The ride was comfortable and we quite enjoyed all the explanations and narration provided by our guide.
Here is a recap of our late-in-the-season Everglades Airboat Tour, regardless of how many times we do this, it never gets old!
While Getting Ready to Board...
You will spot wildlife as soon as you step in the park so keep your eyes open! As we were waiting to board our boat:
We spotted an alligator just relaxing by the shoreline soaking in the rays...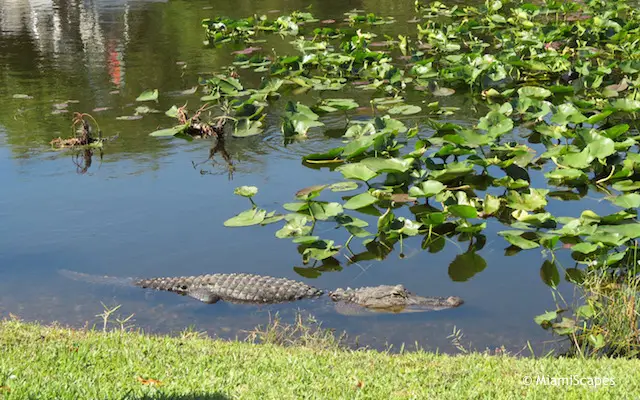 Not far from the gator, a turtle wading in the water just underneath the lotus foliage...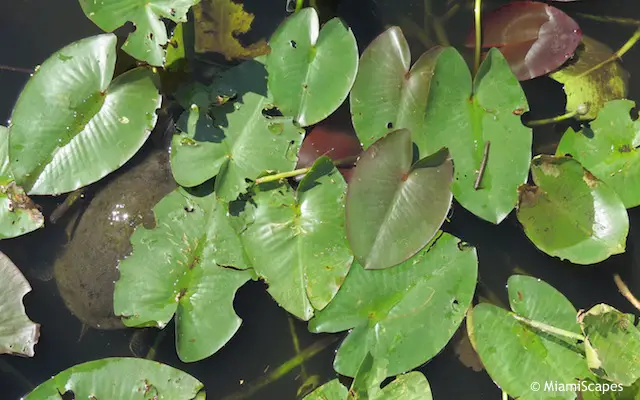 An egret just walking around and catching some food near the shallows...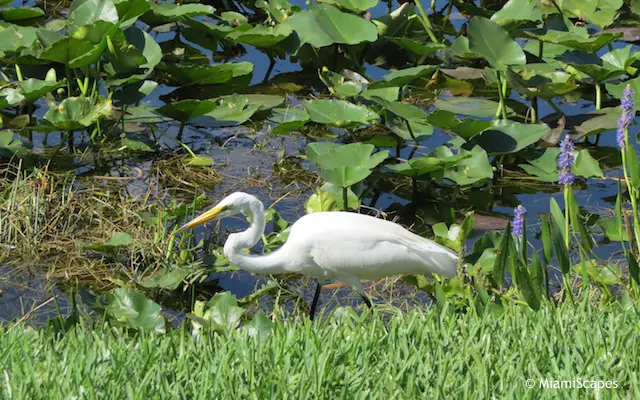 And as if on cue, a blue heron standing by the boardwalk greeting on the visitors...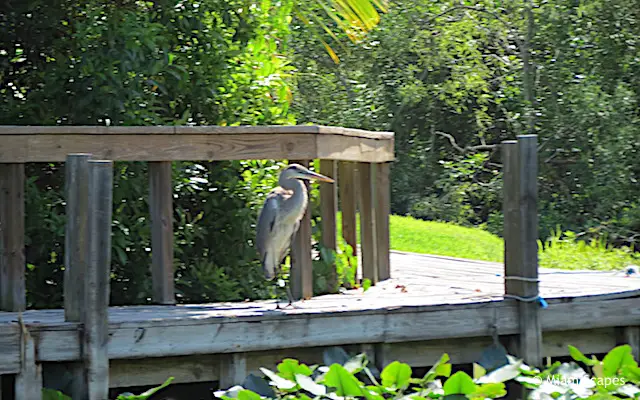 And We're Off: The Airboat Ride
So soon we were aboard, were given ear plugs just in case it got too noisy and were reminded not to toss the wrapper overboard, and we were off.
The ride starts off slowly as you move through the dense vegetation and the mangrove jungle. This is the best time to spot wildlife, when the boat is not moving fast. Our guide was quick to point out, everything that came our way, like these baby Blue Herons right at the start of the tour: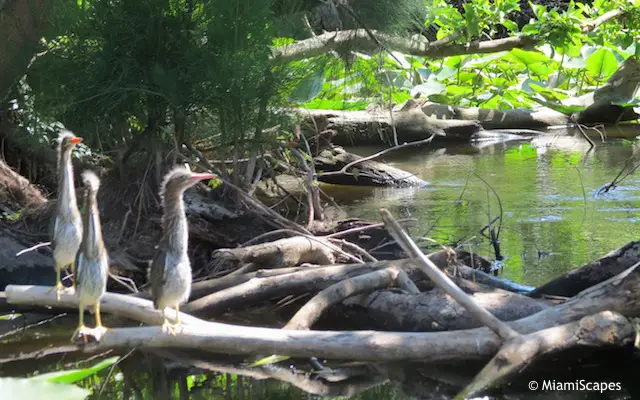 And as soon as we were underway it was gator galore
Some just lazying around the edges...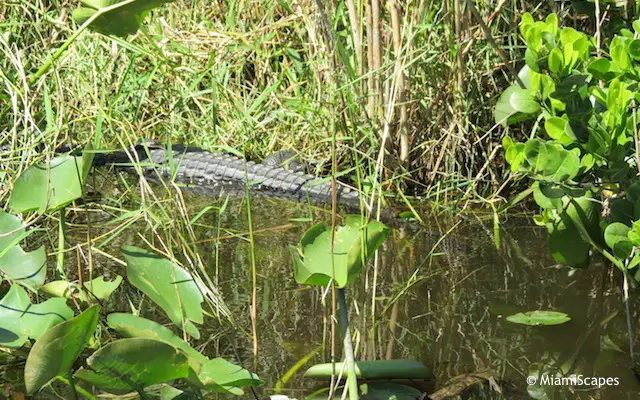 Some swimming straight to the boat...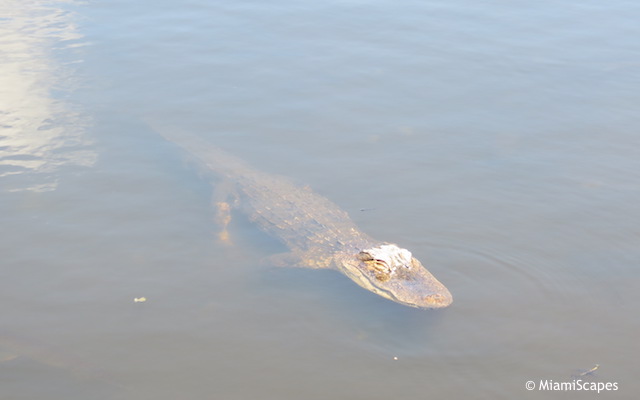 And once we got into the open expanse, the airboat really flew. As our guide explained, the "swamp" is actually a slow-moving river. At the time its depth was only between three to five inches of water.
You can see the difference in the vegetation and the landscape and what a difference of only a few inches of altitude can make, in between the marsh and grasses there were small islands or hammocks where the elevation was only a few inches higher.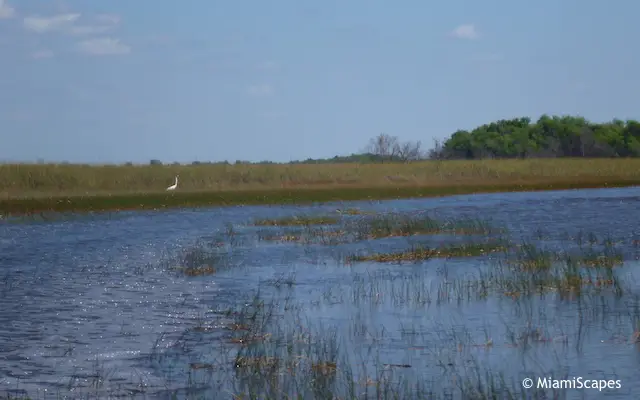 If you are a bird lover, then bring some binoculars and look everywhere. We were lucky to see many different sorts of birds.
Egrets and herons which were plentiful but beautiful to watch in flight...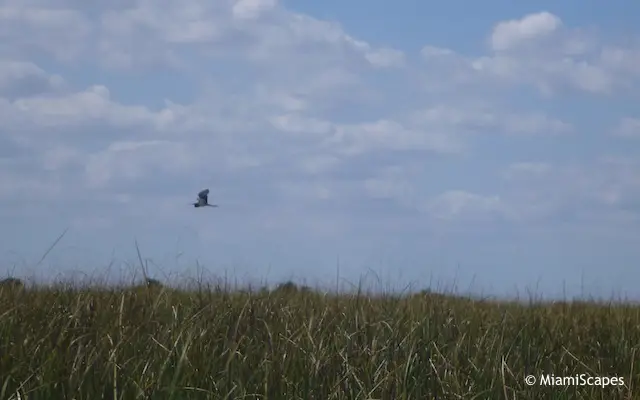 And the quite unusual and beautiful Purple Gallinule...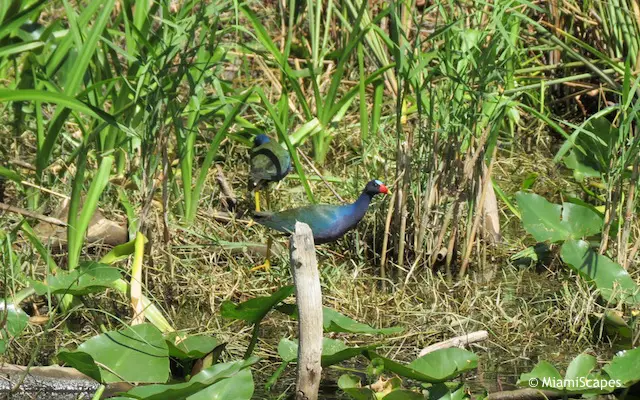 There is plenty to keep you watching and admiring for the entire time, our tour lasted around 30-40 minutes. Take a look at this short video of our Everglades Airboat ride:
After the ride, you can spend a couple of hours exploring the rest of the park. There are boardwalks and exhibitis, as well as an alligator show which is all included in the tour price.
Airboat Tour at Everglades Safari Park at a Glance
Where?: On Tamiami Trail or US 41 or 8th Street (same road, different names), about 15 miles (aboout 20-30 minutes) west of the Florida Turnpike, Adress: 26700 SW 8th St., Miami, FL 33196
Parking: Yes, free.
Entrance Fee:Adults: $25.00, Children (5-11) $12
We frequently see great discounts on Groupon for Everglades Safari Park as low as $20 so it is worth checking.
Other ammenities: Restaurant, Gift Shop
Reservations are normally not necessary. Tours depart every 30 minutes so you can just hop on the next one. Weekends and holidays are of course busier times a and reservations are a good idea, also if you have a large group.
If you don't have your own transportation, consider this Miami Everglades Airboat Adventure. It includes:
Transfer to/from Miami and Miami Beach hotels to the Everglades
Everglades Airboat Tour
Alligator wildlife show
Plenty of time to take a wander along the jungle walking trail filled with crocodilian exhibits
Morning and Afternoon departures, tour lasts approximately 4 hours 30 minutes.

And here are more options for Everglades Airboat Tours to consider.