Big Cypress Preserve: Oasis Visitor Center
Great Alligator Action from the Boardwalk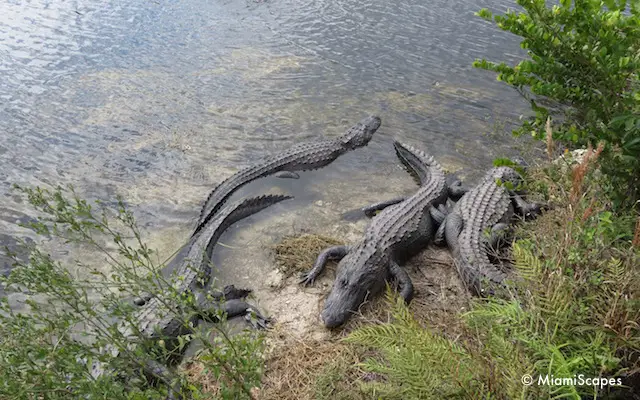 The Oasis Visitor Center will be your first stop at Big Cypress Preserve if you are coming from Miami. It is on the Tamiami Trail roughly some 55 miles away and definitely worth a visit.
On the way you go past the Shark Valley Visitor Center of Everglades National Park and soon you enter the Big Cypress Preserve.
This is where Tamiami Trail, or Highway 41 turns into a very scenic road.
So what's at the Oasis Visitor Center? Same facilities of the typical V.C.: restrooms, maps, brochures, vending machines, bookstore, and super helpful and knowledgeable rangers and volunteers, in itself worth the stop to inquire about recent sightings in the area and possible itineraries and routes given the time you have available.
The highlight of the Oasis Center though are the "resident" alligators that hang out by the boardwalk. Next to the Visitor Center there is a boardwalk along the north edge of the canal that follows the main road, this is a great place to spend some time and take in all the action.
Best time of the year for wildlife viewing is during the dry season, mid-November through April. Seeing the gators during this time on any given visit is almost a sure thing. You will see them enjoying some rays along the banks...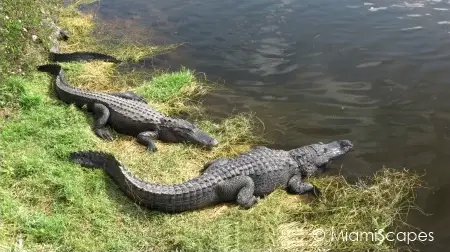 ... swimming around...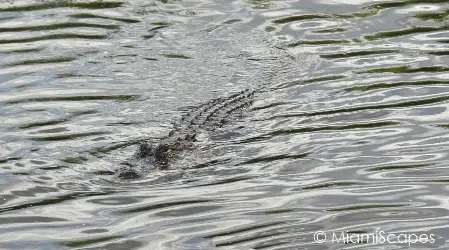 ...catching their lunch...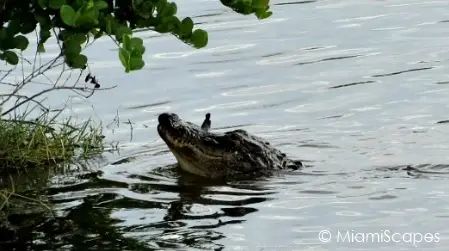 There is much happening and the alligators pretty much steal the show, but don't miss the wildlife of the feathery kind, there is a great variety of wading birds along the shore and among the branches, like this beautiful Little Green Heron...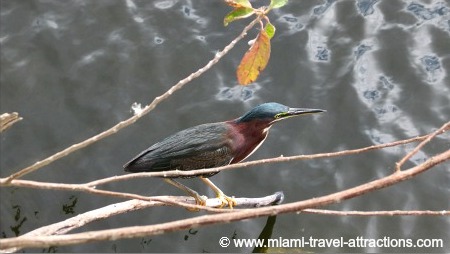 ...and this anhinga...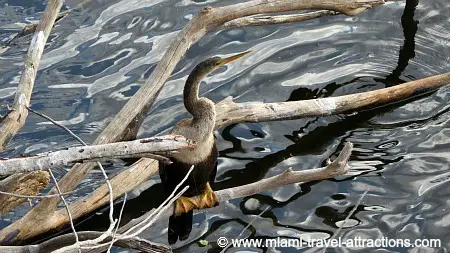 How long will it take to visit? This is more of a viewing platform or short boardwalk, you can spend as much or as little time as you wish, it is literally just steps from the parking lot. We like to stick around for at least a half-hour and see what's happening. The last time the gators were quite active fishing for lunch, it was fun to watch:
Big Cypress Oasis Visitor Center at a Glance
Where?: 52105 Tamiami Trail East Ochopee, FL 34141
The Oasis Center is closest to Miami, about 50+ miles from the airport, it will take you about an hour and a half to drive depending on the stops you make along the way. US Hwy 41 is full of wildlife, but be extremely cautious as traffic is heavy, cars and trucks go extremely fast and stopping on the side of the road is not advisable.
See the Tamiami Trail Map here.
Entrance Fee: Free!
When: Visitor Center is open every day year-round, except Christmas Day December 25, 9:00 a.m. to 4:30 p.m. Boardwalk is open 24/7.