The Miami Beach Walk
From South Pointe to Bal Harbour... All along the Waterfront
One of the most fantastic features of this city is the path that runs along the eastern shore of Miami Beach, which consists of paver roads, boardwalks, sandy stretches, biking paths and promenades.
Most commonly known as the Miami Beach Boardwalk, the boardwalk originally ran the stretch in Mid-Beach from 23rd to 46th Streets.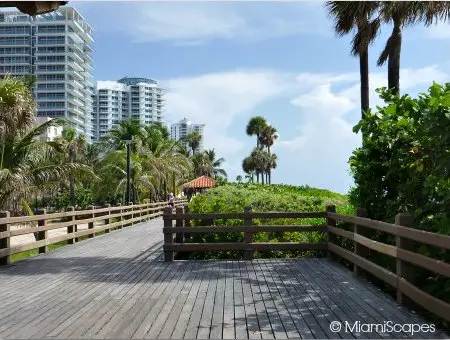 Then multiple waterfront promenades and paver paths popped up here and there, in South Beach, South Pointe Park, etc.
These paths have all been gradually connected to the original Boardwalk providing one single thoroughfare for pedestrians and cyclists.
They enable you to go from the southernmost part of the island at South Pointe Park all the way to the very tip up north at Bal Harbour, (give and take a few blocks here and there) and passing through all the popular spots in between: South Beach, the Ocean Drive promenade, Mid-Beach, North Shore Open Park, Surfside.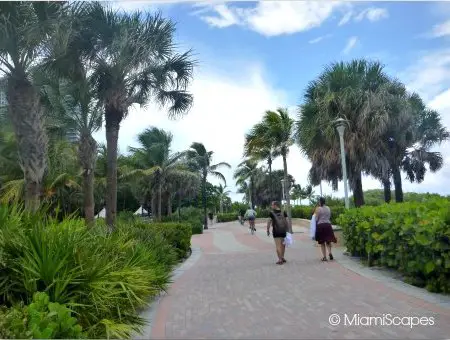 This 10-mile stretch is what is shaping into the Miami Beach Walk, and takes advantage of the existing venues, namely the paved paths, sandy stretches, park promenades and elevated boardwalks. So in effect, the Miami Beach Walk takes up where the Miami Beach Boardwalk left off.
Current Status of the Miami Beach Walk
South Pointe Park - Paved Paths and Cutwalk along Port Canal
South Pointe Park to 1st - 3rd Street - Paver Walkways
3rd - 5th Street - Sandy Stretch - Paver Walkway coming soon
5th - 14th Street - Lummus Park - Paved Paths and Promenades along and thru park
14th - 24th Street - Paver Walkways
24th - 46th Street - Boardwalk - Pedestrians only, being "redone" into Paver Walkway to accomodate pedestrians and cyclists
46th - 64th Street - Under Construction some sandy stretches in between, some Paver Walkways at north end near completion
64th - 79th Street - Paver Walkways
79th - 87th Street - North Shore Park - Paved Paths and serpentine promenade thru park
87th - 96th Street to Bal Harbour - Sandy Stretch
Here are more details for each segment, access points, facilities, current status.
As you can see from the above, the Miami Beach Walk is actually a project that is still coming together and is part of a larger future network of bikeways. The ultimate goal is to provide a continuous coastal pathway that will link the southernmost point in Miami Beach all the way to Ft. Lauderdale and we are certainly looking forward to it!
Although there are still a couple of sections to be completed, and not all segments are bike-friendly yet, the Beach Walk can be enjoyed by visitors all along the stretch. For the parts that are not 100% finished, it is just a matter of taking a small detour and reconnect at a later point. So whether you go the entire stretch or just pick a couple of blocks here and there, it will be a very enjoyable stroll.
You will see joggers, skaters, and cyclists all taking in the fresh ocean breezes, fantastic vibe and beautiful sights.
The Miami Beach Walk is great for a stroll, as short or as long as you want to make it... There are access points all along the way and also bike racks for rental and drop-off...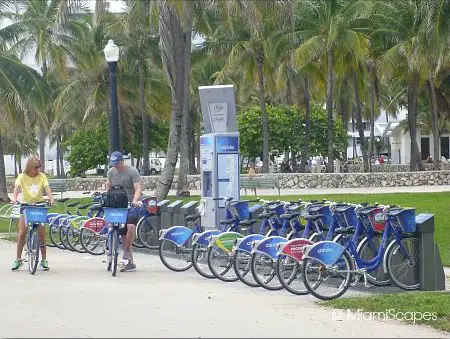 ...You can also stop for a drink or refreshment along the way... (bring money!)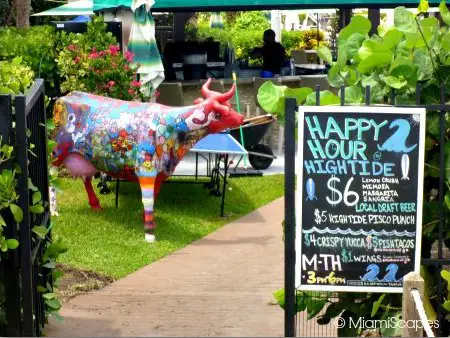 Many hotels are located along the Miami Beach Walk; however, many restrict access to guests only, you cannot just walk in from the Beach Walk to the pool bar and have a drink. In these cases, access is through their main street entrances.
Biking on the Beach Walk
This is probably one of the most beautiful bike rides you can take in the city. At this time, not all the segments of the Beach Walk are open to cyclers, specially the Miami Beach Boardwalk area which is limited to pedestrians only. Work is underway to replace the existing boardwalk with a paved pathway, which will be wide enough to allow for bicycles. Many paved segments are already finished or closed to being completed. You will see the areas clearly marked where bicycles are not allowed.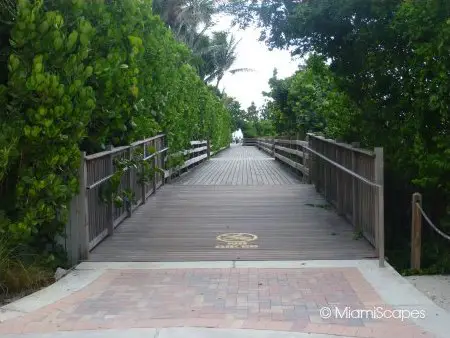 Bicycles can be rented from one of the many Citibike stands. Remember you can rent and return your bike to any of the stands (as long as there are bikes or empty spots available for returning). Bikes might be in short supply in some of the most popular stretches in South Beach, where empty racks are a common sight as early as mid-morning.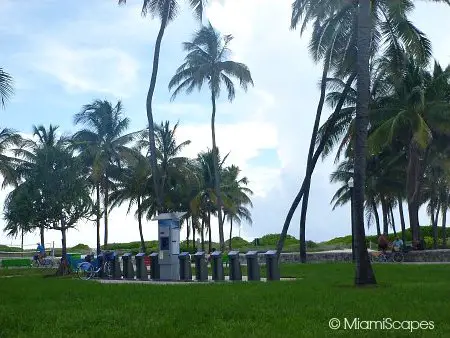 But it is not much of a problem as there are numerous stations throughout the area. You can download the Citibike App which tells you which stations have bikes available and how many. More info www.citibikemiami.com.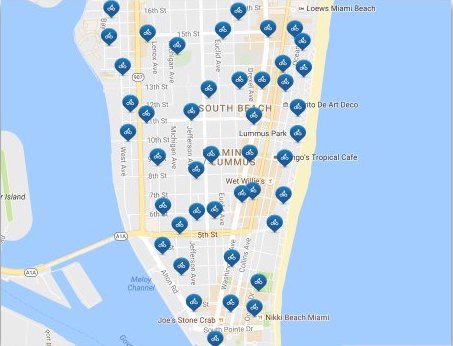 Where to access the Miami Beach Walk?
There are literally hundreds of access points, the paved paths, boardwalk and promenades run parallel to the shoreline so if you simply head to the beach you will certainly run into it.
If you are staying in Miami Beach, just head out towards the ocean. Many of the public beach access points will lead you to the Beach Walk, which also runs along the back of many of the waterfront hotels.
Where to Park? Check our Miami Beaches page and follow the links to the various beaches and parking options.
Facilities along the Beach Walk: Toilets
Your best bet is at one of the many Public Beach Parks which will have restroom facilities:
Click here for more details on what's available along the different stretches of the Miami Beach Walk.