Art Basel Miami
Tackling the finest in Contemporary Art and Design: December 7 - 10, 2017
Art Basel Miami is the largest and most prominent contemporary art show in the country if not the continent, and the epicenter of a series of events and fairs all revolving on what has now become the Miami Art Week.
On this first week of December, the art world converges in Miami... the world's top galleries, artists, collectors, curators and art and design enthusiasts from all corners of the globe make an appearance to showcase and relish on the latest in the world of contemporary art.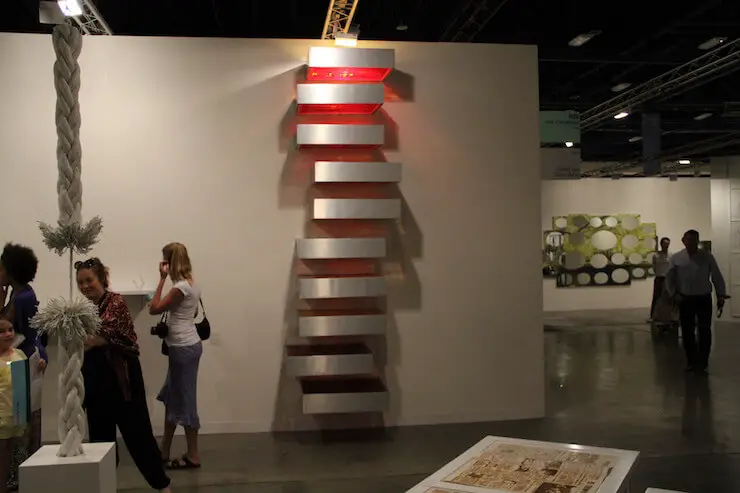 Art Basel Miami Beach opened for the first time in 2002 on the wings of the prestigious Art Basel in Switzerland providing a platform for the fledgling Latin American art scene and their emerging as well as established artists. Now on its 15th year, it has grown into quite a unique event spawning many other satellite fairs, outdoor exhibitions, private events, parties and grand openings.
Art, design, and fashion launchings are made to coincide with Art Basel week to capitalize on the momentum and the captive market. In the past we have seen the grand opening of the Perez Art Museum at its new gorgeous location in the bayfront during Art Basel week. This year we have the opening of the Institute of Contemporary Art in the Design District as well as the "re-opening" of the Bass Museum of Art after a two year renovation.
So where is this all taking place? With so much going on, how do you "do Art Basel"? You definitely need an attack plan, because a lot happens and it happens quick. Doing the Basel circuit comes down to your personal preferences.
The die-hard art enthusiasts will not want to miss the main exhibition at the Convention Center.
If strolling in a breezy courtyard, cocktail in hand and surrounded by inspiring pieces takes care of your art fix for the year then head to Aqua.
Interior design afficionados should gravitate towards Design Miami.
Street art lovers should check out the ever growing collection of outdoor murals and Banksy type creations at the Wynwood Art District and where Art Week special events will be going in full swing.
A bit overwhelmed with so much going on? Consider one of the highly informative Art Basel and Art Miami Week VIP Tours, they are led by art historians and last about 3 hours. They give you a fantastic introduction to the entire event, no need to figure which fair moved where, this is a fantastic way to enjoy Art week, there's even small bites and a bit of bubbly to carry you along... Several packages available for access to different fair tents in Wynwood, Miami Beach, and/or Midtown. Here's more info on the Art Basel and Art Miami Week VIP Tours
Main Exhibition Hall at the Miami Convention Center
Art Basel's main exhibition hall is at the Miami Beach Convention Center. This is the "heart" of Art Basel with over 200 hand-picked galleries exhibiting their best. What do you find here? Everything art related: paintings, sculptures, photography, drawings, film, digital art.
The exhibition is split into sectors: Galleries, Nova, Positions, Edition, Kabinett, Public, Survey, Film and Magazines. For this year's exhibitors click here.
In addition, there is also an outdoor venue at Collins Park, a short walk from the Convention Center with a variety of public artworks.
When? Thursday through Sunday December 7 - 10, 2017:
Hours: Thursday - 3:00 pm to 8:00 pm
Friday and Saturday - noon to 8:00 pm
Sunday - noon to 6:00 pm
Where?: Main Exhibition Hall at Miami Beach Convention Center
How Much? Day Ticket online $50, $60 at the gate, Permanent Ticket (all 4 days) $120 onsite $130, Students and Seniors $36 (must apply) Combination Ticket for Art Basel and Design Miami $65 onsite $75.
Children 12 and under FREE when accompanied by an adult.
More Info: www.artbasel.com
The Satellite Fairs and Exhibitions, Official and Unofficial
Part of the "Art Basel Experience" is the series of official and unofficial events taking place at the same time which make up the "Miami Art Week"
Hotel lobbies along the Art Deco District transform into mini-galleries, and beyond the beach, a lot of the action will be at Miami's up-and-coming neighborhoods: the Miami Design District, Midtown, the Wynwood Arts District and the Faena District. In fact, this is probably the best time to check out these areas which are otherwise quieter during normal times of the year. During Art Basel they will be bustling with activity with large tents, temporary warehouses, make-shift galleries and stores popping up all around. The atmosphere here is quite different from the main venue, specially at Wynwood, reflecting on the very unique and spirited edginess of the alternative exhibitors.
Here are some of the most popular "satellite fairs" and events taking place this year during Basel Week. Check their locations in the map below. Please note that due to the effects of Hurricane Irma, some fairs have changed location.
Also the locations denoted with * are designated stops on Lyft's Art Hop.
Here's how to get to/from and around the many Art Basel and Miami Art Week venues, options include the Free Trolleys, Water Taxis, Art Miami's Free Shuttle Bus, Uber and Lyft and the Lyft Art Hop.
Art Basel and Art Miami Week VIP Tours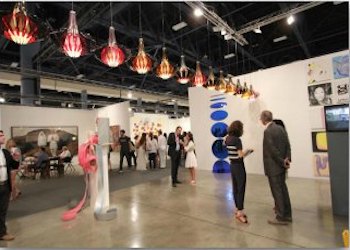 These are small groups led by an art historian who will take you through "off-the-beaten path" exhibits and murals, tour also includes a stop for small bites and sparkling wines at a secret signature gallery.
These are 3-hour tours which of course is not enough to traverse the diversity of exhibits but your guide will provide a "plan of attack" with a map to all other Art Miami Week anchor fairs and art exhibits for you to visit at your leisure later on.
Convenient departures at 10:30 am or 3:00 pm
Provides access to several art tents, you can choose from four different packages
Departs from Shops at Midtown Miami (Parking here is convenient)
Cost: $125 per person
---
Art Miami
Art Miami is the longest-running art fair in Miami. Before Art Basel arrived on the scene, it used to take place every January but has since moved to December and continues to showcase the best in modern and contemporary art.
What?: Over 125 international art galleries exhibiting modern and contemporary art
Where?: New location at One Herald Plaza at NE 14th Street On Biscayne Bay in Downtown Miami Between the Venetian & MacArthur Causeways
There is a free shuttle bus from/to the MB Convention Center
When?: December 5 - 10, 2017
How much?: One day pass $50, Multi-Day $95, Students $35, VIP, Senior and Group rates available.
More Info, exhibitor list, hours, tickets, etc: www.art-miami.com
---
Design Miami
Welcome to the world of interior design, furniture, lighting, art objects... The exhibition contains works by pioneering modernists to one-off and limited-edition pieces by cutting edge contemporary designers.
What?: Modern and Antique furniture and interior design fixtures
Where?: Meridian Avenue and 19th Street. Adjacent to the Miami Beach Convention Center
When?: December 6 - 10, 2017
How much?: One day pass $25 online $30 onsite, Students and Seniors $20 online $25 onsite, weekely passes available
More Info, exhibitor list, hours, combo tickets, etc: www.designmiami.com
---
Aqua Art Miami
What?: Dozens of dynamic young galleries from North and South America, Europe and Asia exhibiting performance art, new media and solo installations in a wonderful setting at the Aqua Hotel in South Beach with spacious exhibition rooms opening onto a breezy intimate courtyard.
Where?: Aqua Hotel, 1530 Collins Avenue, Miami Beach, FL 33139 accross from the Loews Hotel
Free shuttle from the Convention Center
When?: December 6 - 10, 2017
How much?: One Day Pass $25, Students and Seniors $20, Multi-Day, Group Aqua and Art Miami passes available
More Info, exhibitor list, hours, events, tickets, etc: www.aquaartmiami.com
---
Spectrum / Red Dot Miami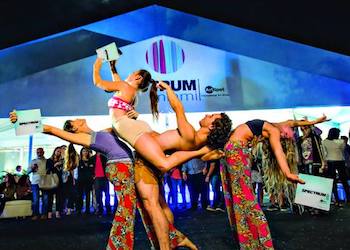 What?: Spectrum Miami, Red Dot Miami and ArtSpot Miami are set to showcase innovative new sculpture, painting, photography, music and other works in an elegant, gallery-style space over the course of this five-day fest, which kicks off with a VIP opening night party and preview.
It's where contemporary meets extraordinary.
Where?: Miami's Arts & Entertainment District at 1700 NE 2nd Avenue, Miami, FL 33132
When?: December 6 - 10, 2017
How much?: $25 day pass per event. Two-for-One at Groupon for Red Dot Miami or Spectrum
You can also get half-off tickets at Goldstar, you must be a member but membership is FREE, and definitely worth the savings. $7.50 - $25 Spectrum / Red Dot Miami at Goldstar
More Info, hours, program, etc: Spectrum Miami , Red Dot Miami
---
Ink
What?: Focuses on contemporary works on paper by internationally renowned artists
Where?: Suites of Dorchester, 1850 Collins Avenue (19th St) Miami Beach, Florida 33139
When?: December 6 - 10, 2017
How much?: Free!
More Info, exhibitor list, hours, events, tickets, etc: www.inkartfair.com
---
NADA: New Arts Dealers Alliance
What?: Showcases art from the world's youngest and strongest art galleries dealing with emerging Contemporary Art. NADA Miami is the only major American art fair to be produced by a non-profit organization.
Where?: Ice Palace Studios at 1400 North Miami Avenue, Miami, FL 33136
When?: December 7 - 10, 2017
How much?: $20 single day, $40 run of show, $10 students and seniors
More Info, exhibitor list, hours, events, etc: www.newartdealers.org
---
Pulse Miami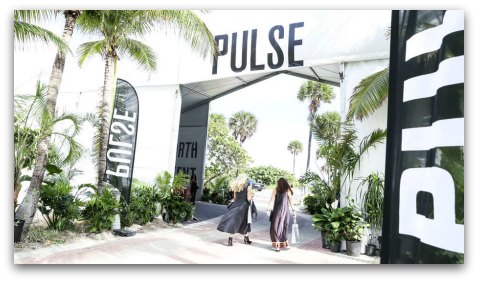 What?: Pulse has shows in New York and Los Angeles and is known for offering more affordable and sometimes more accessible artwork than the mega anchor shows. Discover the next great painter, photographer or sculptor about to take the art world by storm!
Where?: Indian Beach Park, 4601 Collins Avenue, Miami Beach 33140, next to the Eden Roc Hotel and with direct access from the beach and boardwalk
When?: December 7 - 10, 2017
How much?: General Admission $25, students and seniors $15, Multiple Day and Group passes available.
$25 $16.50 at Groupon
More Info, exhibitor list, hours, events, tickets, etc: www.pulse-art.com
---
SCOPE
What?: With the crystal blue waters of the ocean as backdrop, the SCOPE Pavillion right at the beach will be the launching pad for emerging contemporary artists and galleries and music artists as well.
Where?: In the sands of South Beach at Ocean Drive and 8th. SCOPE Pavilion, 801 Ocean Drive, Miami Beach, FL 33139
When?: December 5 - 10, 2017
How much?: General Admission $35, Students $25, VIP and Platinum available
More Info, exhibitor list, hours, events, tickets, etc: www.scope-art.com
---
Satellite
What?: Satellite breaks away from the traditional fair model and this year returns to the Ocean Terrace Hotel in Miami Beach.
Satellite is an alternative art fair that presents new and exciting projects that span the gamut of art, music, performance, installation, new media and tech.
Where?: The Ocean Terrace Hotel at 7410 Ocean Terrace, Miami Beach 33141
When?: December 7 - 10, 2017
How much?: Day Pass $20, Week Pass $40
More Info, hours, program, etc: www.satellite-show.com
---
Perez Art Museum Miami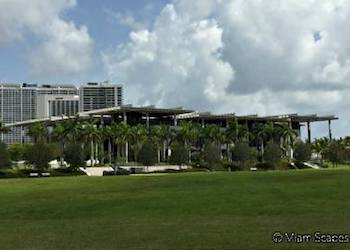 What?: PAMM is a year-round treasure trove for contemporary and modern art right in downtown Miami and makes for a perfect Art Basel detour.
One of the showstealers is the fantastic building (designed by Herzog & de Meuron) and fantastic waterfront location in Museum Park in itself worth a visit. The grounds and open spaces, the hanging gardens, the art scattered around, and beautiful views of the Biscayne Bay...
Some of the current exhibits during Art Basel and Miami Art Week:
On the Horizon: Contemporary Cuban Art from the Jorge M. Perez Collection
Haroon Mirza: A C I D G E S T
Hew Locke: For Those In Peril On The Sea
Dara Friedman: Perfect Stranger
Steve McQueen: End Credits
John Dunkely: Neither Day Nor Night
Where?: Museum Park in downtown Miami at 1103 Biscayne Blvd., Miami, FL 33132 between the Arsht Center and the American Airlines Arena
When?: PAMM is open daily 10:00 am to 6:00 pm, closed Wednesdays, open until 9:00 pm on Thursdays
How much?: General Admission $16, students, youth (7-18) and seniors (62+) $12, free for Museum Members
More Info, exhibitor list, hours, events, tickets, etc: www.pamm.org
---
FORM MIAMI
What?: FORM Miami is Miami's only art fair dedicated to the applied arts and sculpture objects. On its inaugural run and scoring a key location in Miami Beach accross from Art Basel, FORM MIAMI is brought by Urban Expositions from SOFA CHICAGO and Art Aspen fame. They have managed to attract a score of top notch galleries from around the world for this initial run including alamak! Project, Charon Kransen Arts, Habatat Galleries, Hawk Galleries, JewelersWerk Galerie, Schantz Galleries, Walter Wickiser Gallery, and Collection Ateliers d'Art.
Where?: 1723 Washington Avenue, Miami Beach, FL 33139
When?: December 6 - 10, 2017
How much?: $25, Opening Night and 4-day passes also available. Groupon $25 $16.50
More Info, participating galleries, tickets, etc: www.formmiami.com
---
So there you have it! That's only a portion of what will be going on. There are still the gala parties, vernissages, concerts, private and invitation-only events...
There are many ways to enjoy this spectacular week that is Art Basel Miami Beach, and unless you are itching for some tremendous piece of art, it doesn't have to cost much. So come for the art, the fashion, the people watching... enjoy and get ready to do it again next year!