The Miami Boat Show
February 15 - 19, 2018
The Latest and Greatest in Boating, Fishing, Sailing, Paddle Boarding, Diving...
Cruising Boats, Racing Boats, Sailing Boats, Catamarans, Power Boats, Mega Yachts... all in lovely South Florida weather, no wonder everyone is flocking to the Miami Boat Show, one of the largest of its kind and one you don't want to miss if you are a boating enthusiast.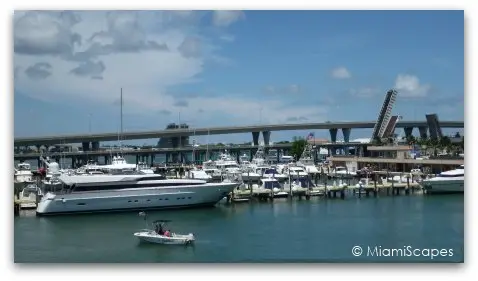 This is quite an impressive 5-day event which in 2016 moved to its new fantastic dig at the Miami Marine Stadium in Virginia Key just across the Bay from downtown Miami. This iconic and historical site has undergone a major renovation.
StrictlySail, which was formerly at Miamarina in Bayside has moved to Miami Marine Stadium as well for the 2018 show.
This year you will also be able to buy a Convenience ticket to attend both the Miami Boat Show and the Miami Yacht Show in Miami Beach, both taking place at the same time during Presidents Day Weekend.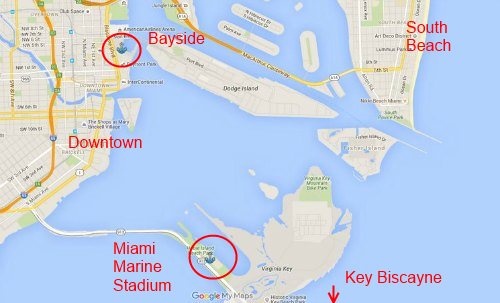 View
Miami International Boat Show Venues
in a larger map
Here's a floorplan of the main site at the Marine Stadium which will be able to accomodate both "On Land" and "On Water" events and exhibits in grand style.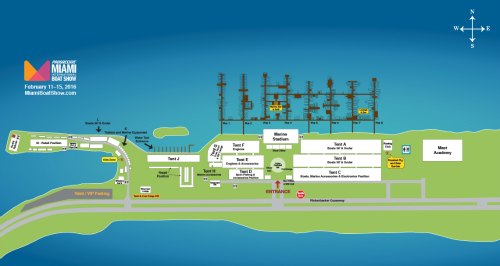 Click for larger map
The closed and open-air tents and pavillions are being set up to house the "trade show" part where you will find the finest in maritime products assorted per categories i.e. boats, engines, marine accessories and electronics, sport fishing, gifts and apparel, services and of course the retail pavillions.
And due to its new location on the water, just beyond the trade show exhibits are the Demo Docks, a great new feature that will house more than 150 vessels in the water for demonstrations and sea trials. Check out and "test drive" before you buy!
Besides all the serious boat eye candy, the Miami Boat Show offers many hands-on activities, open to the public, pros and beginners. There are seminars, boating clinics and sailing lessons, so just get in the water, there's no better way to enjoy the bay!
The On-The-Water Boating and Sailing Workshops are conducted by USCG licensed captains, whether you want to gain more confidence in the water or try and pilot a boat for the first time, they are suitable for all levels of skill.
Literally hundreds of one, two and three-hour seminars on topics from basic docking skills, helmsmanship, anchoring, newcomer powerboaters, sailing the Florida Keys, etc.
How Much? From many FREE seminars to $135 Three Hour On Water Classes for Powerboaters or Sailors
Try It Cove in conjunction with the Miami Rowing Club gives you a chance to get out on the water and try a variety of water sports, from stand up paddle boarding to kayaking, canoeing and more.
Click here for more on this year's seminars.
StrictlySail at Marine Stadium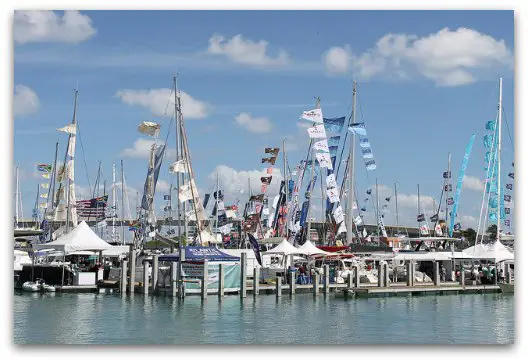 This is the venue for everything sailing-related: sailboats, catamarans, sail charters, sailing gear, sailing accessories, etc.
There are also many seminars on topics from Learning to Sail and Introduction to Cruising Catamarans.
One of the highlights is the ON-WATER Learning Experiences and Discover Sailing Introduction.
More info and registration here.
As the show opens a day after Valentine's Day this year, couples events are being offered once again. There is the "Two Can Sail" seminars from choosing the right boat to cruising in harmony... These events sell out quick so you need to pre-register as soon as possible!
More info and registration for all Strictly Sail events here.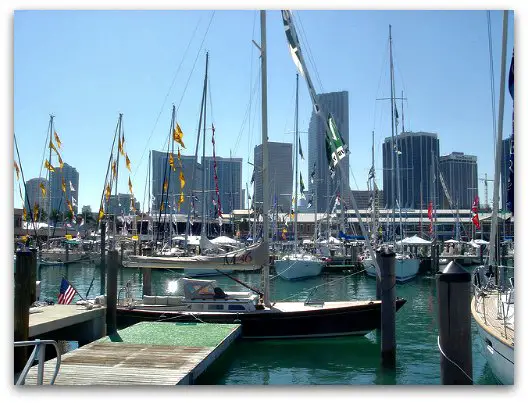 The Bayside Marketplace is also an ideal place to take a Biscayne Bay Cruise, a wonderful way to check out all the action. There are many options from sightseeing boats, power boats, pirate boats...
Miami International Boat Show 2018 at a Glance
Miami Marine Stadium Park & Basin
3501 Rickenbacker Causeway, Miami, FL 33149. Located on Virginia Key minutes from downtown Miami
Premier Day Thursday, February 15, 2018 - 10:00 am - 6:00 pm
Friday - Monday, February 16 - 19, 2018 - 10:00 am - 6:00 pm
Parking: Park and Ride at American Airlines Arena $25 and Virginia Key $35, you can book your parking space online.
Free Bus Shuttles and Water Taxis will run throughout the show from American Airlines Arena, the Miami Yacht Show in Miami Beach, and Parking Lots in Virginia Key. Free Water Taxis from Bayfront Park and American Airlines Arena. More info and map.
How Much? Adults (+16) $25 except Premier Day Thursday February 15 is $40. Children 15 and under are FREE. One ticket is good for both locations and the free shuttles.
2-Day Pass: $45
5-Day Pass: $100
Convenience Ticket Miami International Boat Show and Miami Yacht Show $50