Wynwood Miami
Stunning Street Art and Creativity at its best...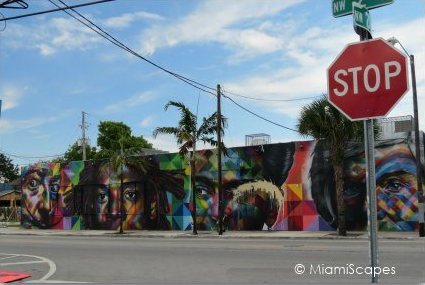 If a couple of years ago you had mentioned Wynwood to any Miamian, chances are they didn't even know it existed. Wynwood, like the Design District, are neighborhoods that popped out of the once seedy areas near downtown Miami, "that" part of town you were best off avoiding.
That all has changed, and although still very much a work in progress, both neighborhoods are going through a mega metamorphosis and becoming the centers of cutting edge art, design, even luxury shopping as in the case of the Design District.
So what exactly is Wynwood and what do you find here? It is hard to describe, specially since the area is still in transition.
The imposing murals is what helped put Wynwood in the art and cultural map. But beyond the street art, it is fast becoming a center of creativity, an art district, a cultural center, a hub for galleries, music and dance productions... in a very edgy and provocative atmosphere.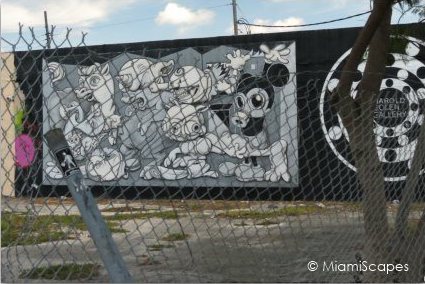 Before its emergence, Wynwood was merely a collection of dilapidated warehouses, shuttered stores, remnants from the old garment district. The facades of the neighborhood have been converted into giant canvases for street artists, well-known, famous street artists. It is these splashy and sensational murals that are still the major draw to the Wynwood Art District.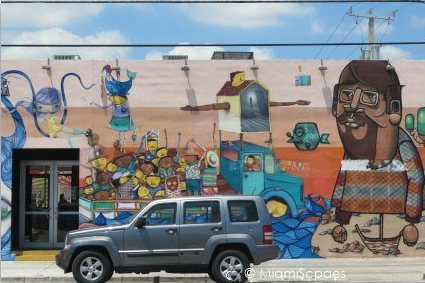 Although you find street art all throughout the neighborhood, heck, you park long enough, your car will be part of the street art scene, the main "focus" point so to speak is Wynwood Walls.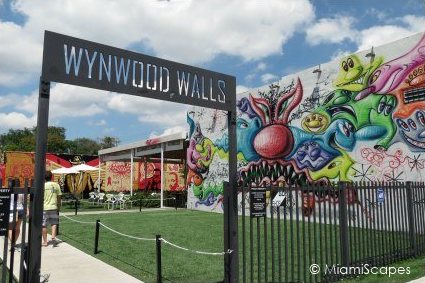 This is sort of an open air museum and gallery showcasing some of the most extraordinary pieces by a stupendous collection of world-class street art and grafitti artists. This "living museum" although gated is free to the public.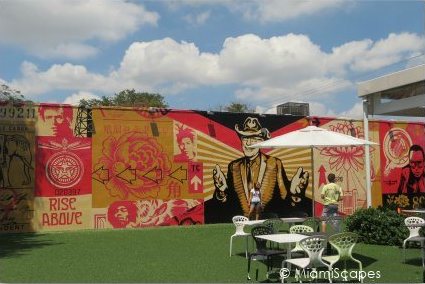 And the art has spilled outside the Walls as well. Now we also have "Wynwood Doors", which as the name implies, adorn gates and roll-up doors...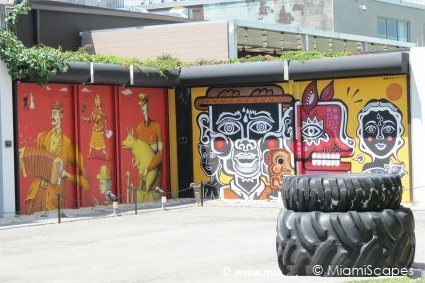 ... and "Outside the Walls", with comissioned works at key locations outside the "Walls".
Dozens of galleries have made themselves at home in the neighborhood.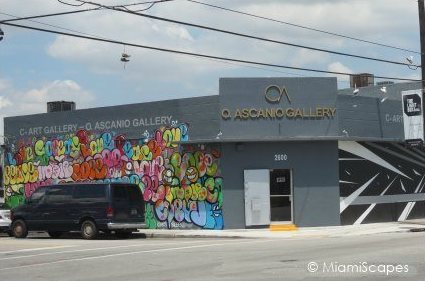 Some of the most spectacular private art collections are found here: the Margulies and the Rubell Family Collections.
World renowned neo-pop artist Britto, yes, THAT Britto, has his studio in Wynwood.
The Miami Light Project a pionner in the performing arts has settled in a huge converted warehouse, the Light Box, which will afford a platform for budding artists and provide a venue for dance, music and theater productions.
The restaurant scene is also thriving with many more options popping up all the time. Next to Wynwood Walls is the Wynwood Kitchen Bar where you come for the art as well as the food.
Many kinds of businesses are moving in, fashion, fitness, dog grooming... Wynwood even has a drive-in movie theater, remember those?
Tips for visiting Wynwood Miami
The atmosphere at the Wynwood Art District could range from somewhat deserted during a normal week-day, to packed to the gills, blaring and hectic during Wynwood Art Walks which take place every second Saturday of the month.
If you want to see the murals in relative peace and quiet, come during the week in the daylight hours when you can stroll, photograph and enjoy the street art to your heart's content. Here's a handy guide by www.WynwoodMap.com which keeps up-to-date records of all street art murals in and around Wynwood complete with pictures and artists names.
At the other end is "Second Saturdays". "Second Saturdays" were originally set up like in the Design District as a means for galleries, artists, and art lovers to mingle about, stroll through the galleries, engage with the art. It was extremely succesful in bringing art to the masses so that Second Saturdays are an extremely crowded affair nowadays, together with food trucks and more of a party atmosphere than anything else. There is wall to wall people and unless you come early, parking will be challenging to say the least.
If you happen to be in Miami during the first week in December you are in luck, this is Art Basel week and Wynwood is one of the main satellite venues for this event. New murals are conceived, restaurants and galleries open to coincide with this grand event. Click here for more on Art Basel Miami.
Getting there: Wynwood Miami is a very compact area just south of the Design District and roughly between Northwest 20th and 36th Street and I-95 and Northeast 1st Avenue. A nice section to walk around is along NW 2nd Avenue between 22nd and 27th Streets. You will find Wynwood Walls as well as many galleries and eateries along this stretch.

Directions: I-95 to I-195, exit at N. Miami Avenue and head south, make a right on 23rd Street to NW 2nd Avenue. CAUTION: Remember this area is still very much in transition, the surrounding area of the Wynwood District is a doubtful neighborhood, please exercise caution specially at night. Click here for map.

Parking: there is parking on the street or try valet parking from the restaurants. We try the valet at Wynwood Kitchen which works great if you are headed to adjacent Wynwood Walls.
For the latest roster of galleries, studios, museums, and businesses check the Wynwood official website.
It has been an extraordinary journey and we look forward to visiting and re-visiting Wynwood time and time again, it is never the same.
Tours of Wynwood Miami
For one of the easiest and most enriching ways to enjoy your visit to Wynwood and the Miami Art Districts, consider having an expert curator guide you through or a fantastic and fun-filled culinary tour that exposes yet another angle of these thriving eclectic neighborhoods.
There are a number of tours to choose from. The guides which are on location on a daily basis know the scene best, have access to exclusive galleries, and keep up to date on the latest works in the District, rotating exhibits, etc.
Some tours take you around the thriving art districts of the Design District, Midtown and Wynwood. Some concentrate only in Wynwood.
Some make stops at some of the area's local watering holes for a drink or a fantastic meal in a wide range of flavors in keeping wth the area's atmoshpere.
Check out some current offers, these are exceptionally good deals: