South Beach Food and Wine Fest
presented by Food & Wine
February 21 - 25, 2018
On its 17th year, this five-day affair of glorious food, famous chefs, flowing champagne, or wine... or beer... will be attracting its share of foodies to one of the most spectacular places to be in February, gorgeous South Beach.
The festival consists of a large number of events, some private, some open to the trade only, and many many more open to the public for all of our enjoyment.
What kind of events? Brunches, Cocktail Parties, Seminars, Dinners, Burger Bashes, Wine Tastings, VIP galas... you name it, and of course the Grand Tasting Village set up in tents along 13th Street and Ocean Drive.
The venues vary from year to year, but most are in the South Beach area, some of the regulars are the Delano, the Fountainbleau, the Ritz Carlton, Jungle Island...
In addition, there are special live performances throughout the festival. This year's Barilla's Italian Bites on the beach at the Delano will feature Smash Mouth who will blaze the stage with classics like "Walkin' on the Sun," "Can't Get Enough of You Baby" and "Why Can't We Be Friends."

Tickets are required for all events, and there is a great variety to choose from but they sell out fast! This is just a tiny sample of the regulars:
Barilla's Italian Bites on the Beach - Beachside at the Delano - Thursday February 22, 7:00 p.m. to 10:00 p.m. - $150

Heineken Light Burger Bash Beachside at the Ritz-Carlton - Friday February 23, 7:30 pm to 10:30 pm - $250
Wine Spectator's Best of the Best at the Fontainebleau - Friday February 23, 7:30 pm to 10:30 pm - $350
Goya Foods Grand Tasting Village Tents - Saturday and Sunday February 24-25, 12:00 pm to 5:00 pm at 13th Street and Ocean Drive - $225
Lucky Chopsticks: An Asian Night Market with Andrew Zimmern - W Fort Lauderdale - Friday February 23, 8:00 pm to 10:00 pm - $125
Fun and Fit As A Family - Jungle Island - Sat and Sunday February 24-25, 10:00 am to 5:00 pm - $20
There are dozens of NEW events this year, here are some of them:
Clambake hosted by Emeril Lagasse and Jorge Ramos - Beachside at the Conrad Ft Lauderdale Beach - Thursday February 22, 7:00 pm - $200
Midnight Munchies at Española Way - Saturday, February 24 - $95
Check out www.sobefest.com for full event schedule and available tickets, and below for discount offers for many of the events.
Tips For Visiting the South Beach Food and Wine Fest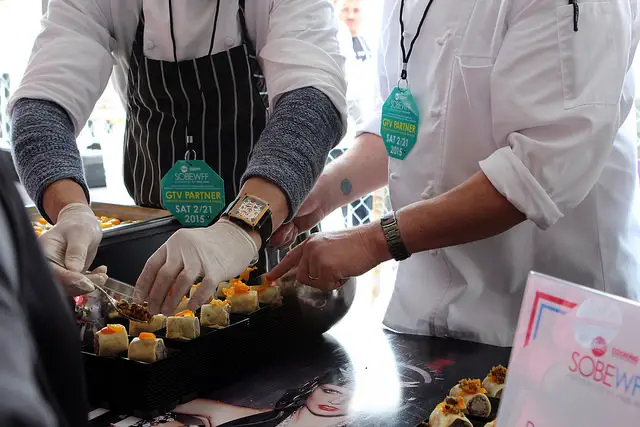 Dress: Keep in mind that many of the events are outdoors, whether poolside or at the beach, so dress accordingly, high heels don't do well in the sand...
Parking: Parking in South Beach is challenging on any given day, with the festival, even more so. Allow plenty of time before your scheduled event. More on Parking in South Beach
Tickets: Book your tickets as early as possible, some popular events sell out within the first 48 hours after going on sale IN OCTOBER!.

This year, Master Card is the official card of the festival and you receive special benefits when booking your tickets with the card, i.e. early access to some events, best seats at culinary demos, 15% discount for the Grand Tasting Village.
And don't forget to check for any available offers, sometimes for up to 50% off. See above.