Bahia Honda Beaches
Some Of The Best In The Florida Keys
There are several gorgeous white sand beaches at Bahia Honda, some of the best in the Keys, in fact, some say the best. They are great for a day in the sun, enjoying a picnic or a quick snorkel from shore.
The beaches throughout Bahia Honda are on both the Bayside and the Atlantic sides.
They are well maintained and similarly to other state beaches, they are kept in their natural state, that means, seagrass abounds, many times it washes ashore, some people mistake this for an "unclean" beach, but it is this very feature that has helped to conserve the habitats for many of the shorebirds and contributed to bring back their populations.

So be prepared to share the beach with the many shorebirds, seagulls, and pelicans, you will see them wading along the shore, flying overhead and diving for food!
If you are into a little paddling and tripsing around, take out a kayak or paddle board. There are rental facilities at the park or you can bring your own.
Snorkeling From Shore At Bahia Honda
Bahia Honda is also one of our favorite spots to snorkel from shore. Of course it is no comparison to the clear waters and abundant marine life of the offshore reefs, but still great for a quick and easy snorkel with plenty to see.
The beaches are smooth and slope gradually, entry and exit are easy. You don't have to swim far, start looking in the sandy bottom for critters like crabs...
...or seastars...
...then you swim into the grassy parts, there's soft corals, sea whips, sea feathers, hard corals, sponges...
...and darting around in between of it all there's plenty of colorful fish like these scrawled cowfish...
One of our favorite things is to look for stingrays which are often found resting in the sandy patches...
...as well as swimming along the grassy bottom...
...They are always such a thrill to bump into and then watch as they glide away!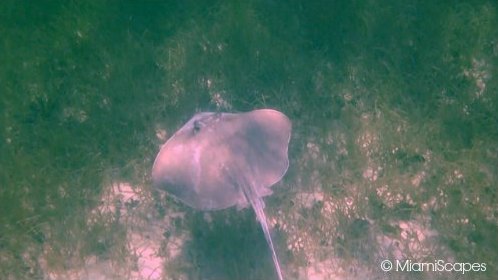 Watch this short clip!
If you enjoy snorkeling from the beaches, heck, it's free, what's not to like right? Here are some more of our favorite places to snorkel from shore around Miami.
And if you want splendid and colorful corals, marine life in abudance, schools of tropical fish, crystal clear waters, then head out to the nearby reefs which are only a short boat ride away. Here's more on snorkeling around Miami and the Florida Keys.

---
Facilities at the park are clean and well-maintained. There's clean restrooms, showers, changing facilities just steps from the beach...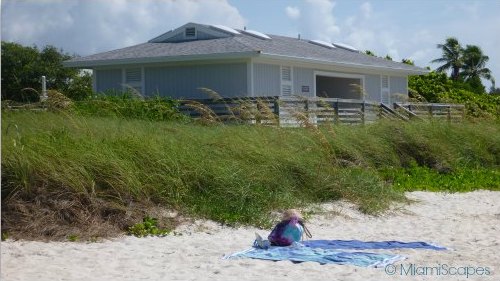 Lots of shaded areas with picnic tables, barbeque grills and pavillions many conveniently located between the beaches and the parking facilities.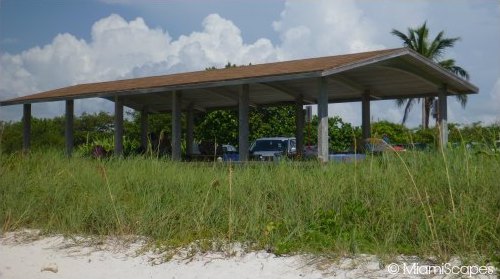 Bahia Honda Beaches and Facilities at a Glance
Parking: Plentiful and close to the beaches. Challenging on weekends and holidays, get there early.
Beach Hours: Same as park hours 8:00 am to sunset.
Lifeguards: No
Restrooms and Showers: Yes, plentiful
Other Amenities: Picnic tables, grills, pavillions. Also available at the park: snorkeling tours, kayak and canoe rentals, full service marina, camping.