Miami Hostels: Cheapest Of South Beach Options
Miami Hostels are great options for those whose priorities are price, party and beach. Yes, there are hostels in South Beach! Even though the area is packed with swanky and luxury properties, the budget minded still find plenty of choices in Miami Beach!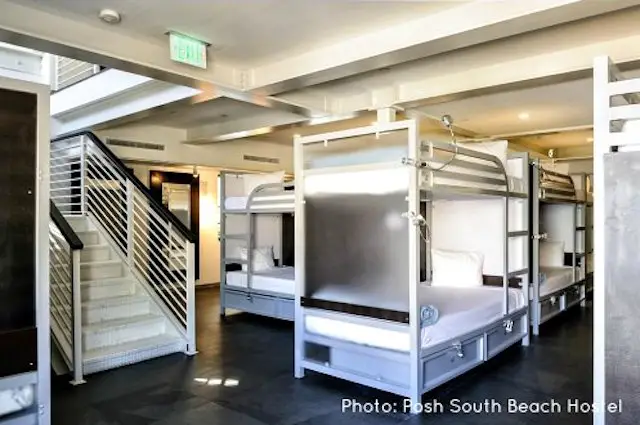 In fact, many Miami hostels are in fantastic locations a couple of minutes walk from the surf and sand, the cafes, shopping, and mind-boggling nightlife. If you want affordable access to South Beach or Miami Beach and don't mind the shared sleeping arrangements, lack of privacy, noise, and everything that goes with a youth hostel, then read on!
Youth Hostels in Miami like everywhere around the world, offer incredible value, little privacy and a very lively vibe where you get to meet like-minded travelers from all over the world. And for many, this is the reason they opt for this kind of shared accomodation.
Expect a lot of partying going on at most of the youth hostels specially in the South Beach area, with plenty of activities, party buses, bbqs, bar-hopping, happy hours and open bars arranged by the hostels or their tour desks on a daily basis. If it is peace and quiet you are seeking, stay somewhere else.
In terms of the accomodation, pay attention to the kind of sleeping arrangements offered by a particular Hostel you are considering which could range from female-only, male-only and mixed dormitory rooms, some with bathrooms for each room, some with shared bathrooms, including coed bathrooms. Some hostels also offer private rooms with private bathrooms. For a better chance of a "quieter" experience (good luck) try to request a room AWAY from the bar area if possible where loud music and clatter will be going into the wee hours...
All Miami hostels offer free wifi, some only on the common areas, some throughout the hostel including the dormitory rooms. Many will have internet cafes and computers for the guests' use.
Most hostels will provide either safe deposit boxes or lockers. Bring your own padlock to be on the safe side and NEVER leave valuables unattended, i.e. phones charging or backpacks laying around.
In terms of cleanliness, even though most properties may strive to keep the spaces clean and tidy, everybody's experience could be different depending on your "roommates", this is of course all part of the "hosteling" experience.
Do take advantage of all that might be on offer, the free breakfast (some might be very basic), the kitchen facilities (most likely a fridge and microwave), the bars, game rooms, lounges and terraces, some even with swimming pools! These are great spots to mingle with others, Miami hostels do attract a very international mix of guest, enjoy!
If your visit coincide with one of these events, book early! Please note that rates could be considerably higher during these times.
Here are a few options for you to consider, some top picks for hostels in Miami Beach and South Beach. We have selected properties that consistently get top marks for comfort, location and friendliness. Be sure to read recent reviews for any hostel you are considering! You can check availability and rates for the dates of your visit here.
Rock Hostel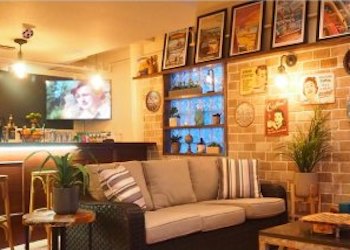 Fantastic location on Collins Avenue, just a short walk to Ocean Drive shopping, nightlife and the beach.
There are male, female, and mixed rooms, from 6-bed to 10-bed dormitory rooms each with its own bathroom.
Beds from $22-$33 per person per night includes breakfast
Safes in rooms and power outlets and reading lights in each bunk
Great vibe on-site bar to relax and meet other travelers
Common areas: Kitchennette with fridge and microwave, sitting areas, dinning area, ironing facilities
Most rooms with balconies
Free Wi-Fi on common areas only
All Spaces Non-Smoking (public and private)
Easy access to/from MIA Airport with bus 150
No Parking
No laundry facilities
Adults only
Rock Hostel South Beach:
1351 Collins Avenue, South Beach, Miami Beach, FL 33139
Posh South Beach Hostel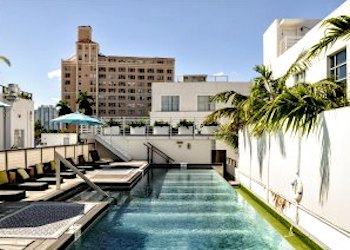 Fantastic location on Collins Avenue, just a short walk to Ocean Drive, shopping, nightlife and the beach.
There are co-ed dormitory rooms and co-ed shared bathrooms
Beds from $34 per person per night includes breakfast
Great Rooftop pool and terrace
Lockers provided
Free Happy Hour daily at sister hotel
Common areas: Kitchen, sitting areas, dinning area, laundry facilities
Free Wi-Fi throughout
All Spaces Non-Smoking (public and private)
Free Airport shuttle
No Parking, public parking available nearby $40/day
Adults only
Posh South Beach Hostel:
808 Collins Avenue, South Beach, Miami Beach, FL 33139
Freehand Miami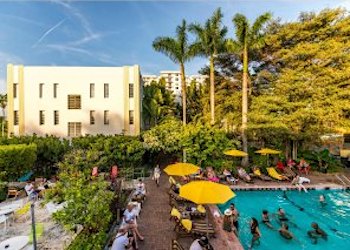 Location is NOT in the middle of the melee of South Beach (a plus for many) but rather in "Mid Beach" within a 5-minute walk to the beach
There are 4-bed and 8-bed female and mixed dormitory rooms each with bathroom and also standard rooms and king suites available
Beds from $45 per person per night includes breakfast
Outdoor pool, sun deck, BBQ, lovely grounds, great vibe
Excellent food and cocktails on offer at 2 on-site bars and restaurant, free happy hour
Lockers provided but bring your own lock
Free Wi-Fi throughout
Bike rental available, 2 hours daily free
Public parking available onsite
Freehand Miami:
2727 Indian Creek Drive, Miami Beach, FL 33140
Ocean Blue Hostel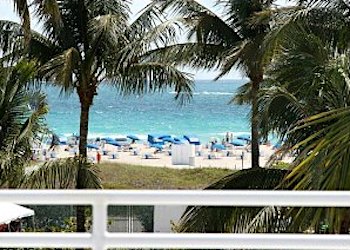 On Ocean Drive in the heart of the action, no need to tell you this is a heavy-duty party hostel
Fatastic views and a rooftop sun terrace, accross from Lummus Park and the beach, some dormitory rooms with Oceanfront views
There are 12-Bed Female and Mixed Dormitories, bunks are stacked 3-high
Beds from $14 per person per night (dorm assigned on check-in) or $23 for pre-determined category (female/mixed/view) includes basic breakfast
Rooms are sound-proofed (But you are on Ocean Drive after all...)
Hair dryers and ironing upon request
Lockers available but bring your own lock
Free Wi-Fi in public areas, not 100% reliable
No Parking
Ocean Blue Hostel:
928 Ocean Drive, South Beach, Miami Beach, FL 33139
Crates At The Gaythering - Men Only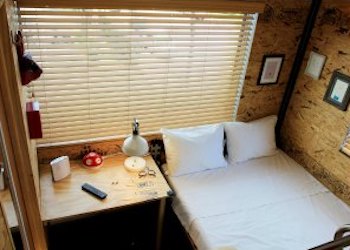 Upscale hostel caters to male gay guests although everyone is welcome. There is also regular hotel rooms, quite spacious and well-appointed, offering excellent value
Hostel part is in the "crate room" which is a dormitory room with individual partitions ("crates" offer a bit more privacy than regular hostel dormitory rooms, no bunk beds) with shared bathrooms and showers
Fab property with clean and fresh design and lots of details not typical of hostels: free toiletries, electrical adapters from all over the world, coathangers, Nintendo Wii...
Singles from $44 per person per night
Location is excellent steps from Lincoln Road Mall, the pedestrian area jam-packed with eateries, shopping, bars. The beach is a 20-minute walk, there are free bikes available
Lively Bar where locals also gravitate to
Turkish Steam Bath, jacuzzi and sauna
Free Wi-Fi throughout
Offsite parking available nearby for $19 per night
Adults only
The Gaythering:
1409 Lincoln Road, South Beach, Miami Beach, FL 33139
Beds n'Drinks Hostel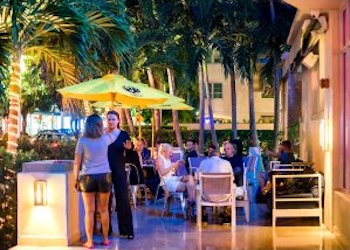 Fantastic location steps from Lincoln Road Mall and a short walk to Ocean Drive and the beach.
There are female, and mixed rooms, from 6-bed to 8-bed dormitory rooms and double and quad private rooms
Beds from $24 per person per night includes basic breakfast
Lockers in rooms
Great garden terrace to chill with other travelers, the name says it all about the vibe in this hostel
Common areas: Lounge, Game Room, Kitchen, sitting areas, dinning area
Free Wi-Fi throughout
All Spaces Non-Smoking (public and private)
Paid Airport Shuttle available
No Parking, public parking available nearby at a charge
Laundry service available
Beds n' Drinks Hostel South Beach:
1676 James Avenue, South Beach, Miami Beach, FL 33139
SoBe Hostel & Bar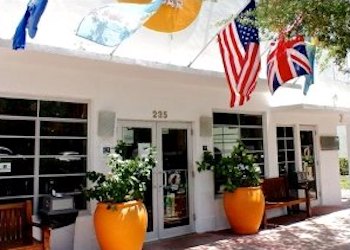 Fantastic location on Washington Avenue, just a short walk to Ocean Drive and the beach
There are 4-bed, 6-bed, 8-bed female and mixed dormitory rooms
Beds from $15 per person per night includes breakfast AND dinner
All dormitory rooms with safes, hair dryer and ironing facilities
Great vibe on-site bar to relax and meet other travelers
Common areas: Kitchen, Laundry, billiard room, sitting room and internet cafe
Paid Airport Shuttle available
Free Wi-Fi in common areas only
All Spaces Non-Smoking (public and private)
No Parking
Adults only
SoBe Hostel & Bar:
235 Washington Avenue, South Beach, Miami Beach, FL 33139
Miami Hostel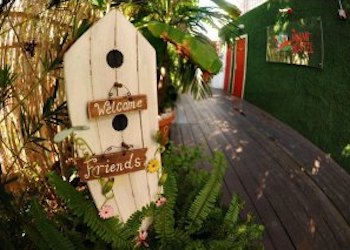 There are 6-bed to 12-bed female and mixed dormitory rooms each with its own bathroom
Beds from $19 per person per night includes breakfast
Free BBQ on Saturdays
Location is not in the heart of the action, about 15-minute walk to beach and Ocean Drive nightlife, but makes for a quieter stay than at the other hostels
Safes in rooms
Common areas: Fully-equipped kitchen, hot tub, sun deck, bar, pool table, hammocks, outdoor sitting areas
Free Wi-Fi throughout
Smoking rooms available
No Parking
Bus stops at the doorstep
Miami Hostel:
810 Alton Road, #10, South Beach, Miami Beach, FL 33139
Miami Beach International Travelers Hostel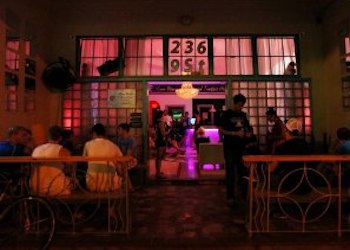 If your priority is party and beach, this hostel will work, for everyone else there are better options
Older property in a fantastic location one block from the beach and 5-minute walk to Ocean Drive
There are 6-bed male, female, and mixed dormitory rooms. Private rooms (sleep up to 6) with private bathroom also available "off campus" about a 10-minute walk from the main building.
Beds from $27 per person per night includes light breakfast, lunch and dinner
Common areas: Full kitchen, sitting areas, dinning area, game room
Definitely a party hostel, daily happy hour, movie nights, party bus tours arranged daily to bars and clubs
Free Wi-Fi on common areas only
Designated smoking area
No Parking, public parking available nearby $30/day
Laundry available
Miami Beach International Travelers Hostel:
236 9th Street, South Beach, Miami Beach, FL 33139