Bill Baggs State Park
Bill Baggs State Park has predictably made it to the Top Ten Beaches in America for the last ten years running, but this little oasis barely 15 minutes from downtown Miami, is more than just a beach.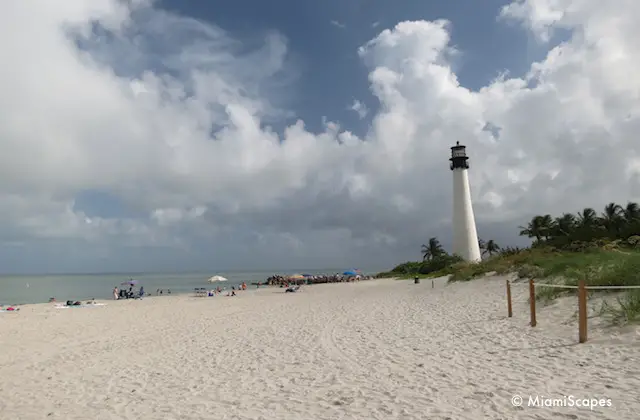 Cape Florida State Park as it is also known, is a treasure trove waiting to be discovered with its scenic beaches and crystal clear waters, fishing piers, boardwalks and nature trails for wildlife viewing, biking paths, and the hallmark and centerpoint of the park, a picture-perfect lighthouse with a colorful history.
Its location at the tip of Key Biscayne gives you excellent views of the Ocean as well as Biscayne Bay, and marvelous vistas at both sunrise and sunset.
You can also catch a glimpse of Stiltsville, the legendary village that seems to be floating in the middle of Biscayne Bay, from the very tip of the Key: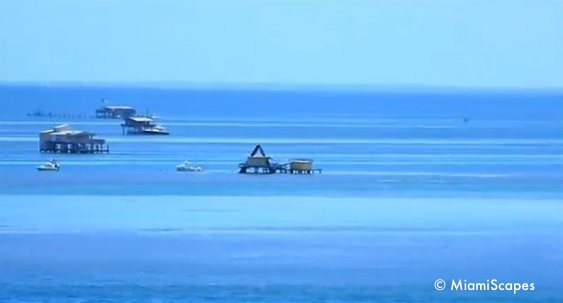 Bill Baggs State Park Map
This great State Park has much to offer. Spend a few hours at the beach or an entire day exploring, there is really something for every one and this is where it all is:
Getting to Bill Baggs State Park: Park Entrance, Fees, Parking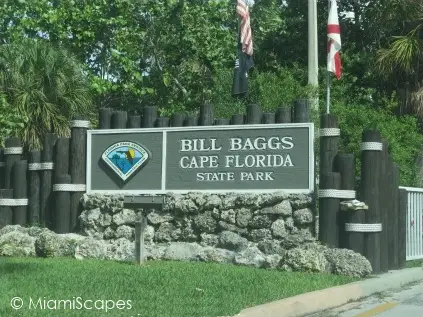 Bill Baggs State Park is located at the southernmost tip of Key Biscayne. Getting to Key Biscayne from Miami is easy via the Rickenbacker Causeway, which is a toll bridge. It will cost you $1.50 to cross, you only pay once when entering Key Biscayne.

Follow the main road until the very end, you will see the sign for the park entrance.
Park entrance costs $8
per vehicle with 2-8 people, single driver and motorcycles is only $4.
There is plenty of parking but on weekends, the lots fill up quick. There are two main parking lots that provide access to the beaches, and a smaller lot near the Marina and Boaters Grill restaurant.
You can also get to Bill Baggs State Park by boat and anchoring at the Marina. Entrance fee for visitors arriving by boat is $2 if not docking overnight. Entrance fees are collected on the honor system.
Bill Baggs Cape Florida State Park at a Glance
Where?: Southern Tip of Key Biscayne at 1200 South Crandon Boulevard
Parking: Plentiful, but tight on weekends.
Entrance Fee: Vehicles with up to 8 persons $8, vehicles with single visitor $4, visitors entering through the marina $2 per person
Lifeguards: No
Restrooms and Showers: Yes
Other ammenities: beach chair and umbrella rentals, kayak rental and launch, hydro-bike rentals, fishing from seawall piers, nature trails for walking and biking, biking rentals, restaurants, marina for day and overnight mooring and picturesque lighthouse with great views from the top.
Guided tours of the Lighthouse Thursday through Mondays at 10:00 a.m. and 1:00 p.m.