Kayaking and Canoeing at John Pennekamp State Park
Exploring the Mangrove Creeks and the Protected Sound Waters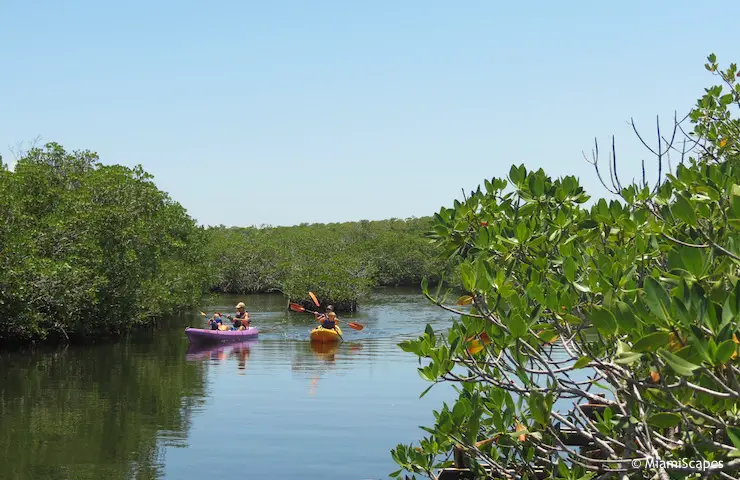 Canoeing and Kayaking at John Pennekamp State Park are a great way to explore the many channels and mangrove creeks within the park and the calm protected waters of the sound.
Most people come to the park to enjoy its underwater wonders but there's also much above water to keep you busy, lots of native vegetation and birdlife to enjoy, and nothing better than a fun easy paddle around the park's mangrove-lined water trails.
Specially in the winter months which is peak season for wildlife viewing, temperatures are pleasant and mosquitos are not too bad, kayaking or canoeing at Pennekamp Park is a very popular activity. You can spot osprey, herons, egrets, cormorants... and below the surface look for stingrays, mangrove snappers... the occasional manatee wading around.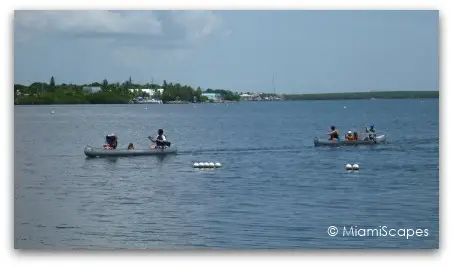 There are three short trails, in a 2 1/2 mile network of channels and mangrove lined passages. The shortest one takes about one hour, short and easy enough for even first-timers.
There used to be a guided kayak tour at the park but is no longer being offered. You can get a Self-Guided Eco Tour Guidemap at the Main Concession and explore on your own. The trails are not all well-marked, so pay special attention when venturing through the maze.
You can also paddle out in the sound, which is calm and protected.
Canoe and Kayak Rentals
The canoe and kayak rentals at the park are super convenient, located at the Main Concession next to the Visitor Center it's only a short distance to the launch area.
The equipment is in great condition, the kayaks are the sit-on-top kind, very easy to maneuver even for beginners.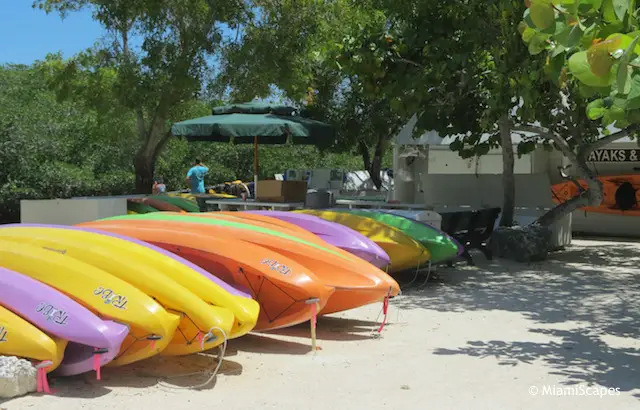 The rates are some of the most reasonable we have found. Hourly rates are:
Single Kayak $12
Double Kayak $17
Canoe $20
You can call the concession at 305-451-6300 for more information and current conditions.
If you have your own canoe or kayak, you can also launch from several canoe ramps in the Park. There are parking lots convenient to the launch spots. There is one by the marina and a couple by the beach. See the map here. There is no launch fee, only the entrance fee to the park.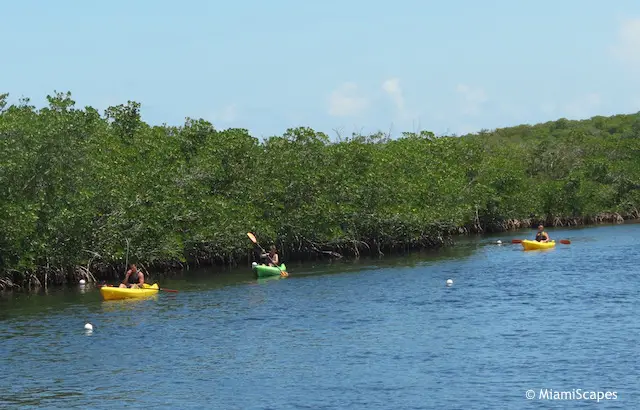 What to Bring?
Sun protection, hat, sunglasses
Mosquito repellent
Drinking water
Waterproof camera
Waterproof case for valuables (wallet, money, phone) if needed
If renting gear, you will need ID or Credit Card as deposit