New Year's Eve Hotels in Miami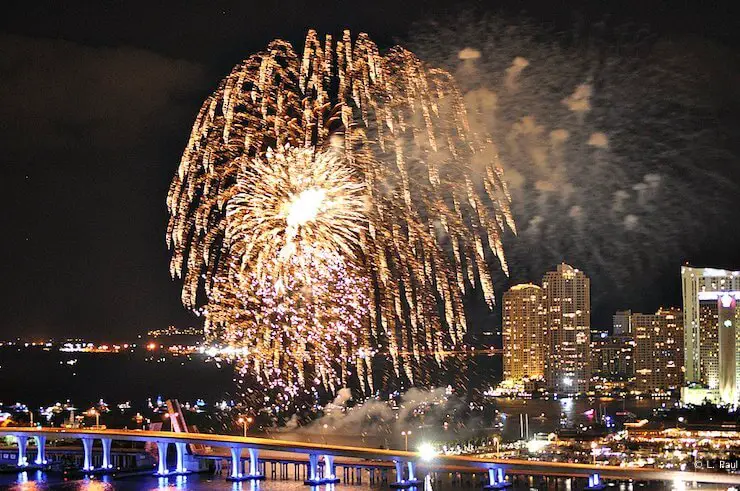 Welcoming the New Year in Miami? This is certainly the place! This is one of the busiest times, so needless to say, the sooner you firm up your plans, the sooner you should book your hotel!
As expected, hotel rates in Miami during New Year's Eve, or any major holiday or event for that matter, skyrocket the closest you get to it. Premium views i.e. bayviews and fireworks views book months in advance, and of course, come with premium prices.
If you have accumulated Hotel Reward points, THIS is the time to redeem! All major hotel chains are more than well-represented in Miami, many with several flaghsip hotels in the area, but again, start your search early as the number of rooms allocated for Rewards will be limited.
Where the best place to stay in Miami for New Year's Eve will depend much on what your preferences are.
If you want to stay close to the action in Bayfront Park where the City of Miami's main festivities and fireworks take place, then choose a hotel in the downtown area where you can walk easily to it. Trying to get a taxi or Uber might not be the easiest on New Year's Eve. Bayfront Park is where the city's mega party and where the city's fireworks will launch from. Here's more on this year's events.
Hotels closest to Bayfront park include:
All of the above hotels have fantastic waterfront views but are NOT on the beach. If you want sand and surf, fireworks and champagne then head over to South Beach or Miami Beach. The party scene here will be sizzling and there will be fireworks displays throughout. The downtown fireworks will also be in view from many of their rooftop pools and lounges, and the City of Miami Beach will of course have its own display.
If you want to be on the beach and in the middle of the action, Ocean Drive is the place, The Clevelander is party central. SoFi (South of Fifth) or South Pointe if you want to chill and still stumble into the revelries, The Bentley South Beach is a great option.
And then there is classic Miami Beach, the Fontainebleau is the magnet for first rate events and VIP treatment, after all, this is where Frank Sinatra and Dean Martin once entertained.
If you want to celebrate in opulence and Old World glamour and charm, the Biltmore in Coral Gables is your hotel.
Most if not all hotels will be having special events during the Holidays. It is not unusual to have some of the areas of the hotel blocked off while preparations are underway for their galas, concerts and parties. Pool decks, rooftop lounges, sun terraces might be off-limits to guests even if temporarily, pay special attention to avoid dissapointment.
The period between Christmas and New Year is very busy, there is also the Orange Bowl happening at the same time i.e. college kids swarming the town. If you are traveling with family or would like a quieter scene, choose a place away from the melee of South Beach. The areas in North Miami Beach, Surfside and Sunny Isles, Coconut Grove and Key Biscayne have a more tranquil while still lively vibe.
If traveling in a group with family or friends, a vacation rental is quite convenient and have much to offer. There are endless options from luxury beachfront condos to convenient studios offering fantastic value just steps from the beach. The most sought-after properties sell out quick so try to book early, here is more on Miami Vacation Rentals
And finally, if your priorities are price, party and surf 'n sand, in that order, then consider some of our top picks for South Beach Hostels, yes, there are youth hostels in South Beach!
Closest to Bayfront Park to Pitbull's New Year's Revolution and Midnight Fireworks
Intercontinental Miami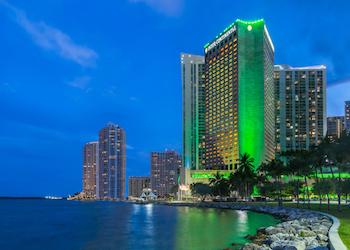 Cannot get any closer than this to the main New Year's festivities in Bayfront Park, you just walk out the front door and into Pitbull's New Year's Revolution party, and in fact, Big Orange Ball Drop Countdown takes place on the side of the Intercontinental
This is a bayfront hotel with gorgeous city and bay views in the business district area, superbly positioned to enjoy the midnight fireworks
If you want to enjoy the fireworks from the comfort of your own room request a room facing the Bay. The rooftop pool on the 5th floor is also a great place to greet the New Year.
There is also an outside ice skating rink set up during the holidays, fantastic fun if you are traveling with kids
Lots of ammenities at this five-star property, pool, spa, fitness center, five dining options onsite. There is a charge for the spa and fitness center
2-minute walk to the Bayfront Park Metromover Station and 5-minute walk to Bayside Marketplace
Free Wi-Fi in public areas only
Parking onsite is $43.07 per day
Intercontinental Miami:
100 Chopin Plaza, Miami, FL 33131
JW Marriott Marquis Miami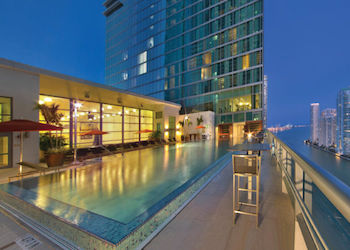 Great location, rooms offer riverside, bay and/or city views. For view of the midnight fireworks book a bay view room on a higher floor
In the heart of downtown and just off Brickell, Bayfront Park and Bayside Marketplace are a short 10-minute walk
Fantastic ammenities: Four restaurants onsite, indoor golf school, basketball court, full service spa, heated outdoor pool, tennis court, fitness center, bowling alley, 3D media room
Free Wi-Fi in public areas only
Parking onsite is $45 per day
JW Marriott Marquis Miami:
255 Biscayne Boulevard Way, Brickell, Miami, FL 33131
Kimpton EPIC Hotel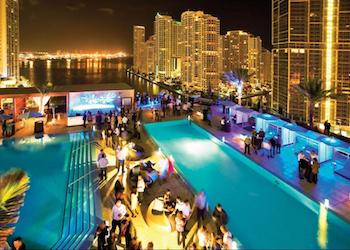 This is a luxurious boutique hotel in downtown and an easy short walk to Bayfront Park for the NYE celebrations and fireworks
Spacious guestrooms with floor-to-ceiling windows with each room boasting a private balcony. For top fireworks views book a bayview room on a higher floor
Fantastic facilities: Full-service marina, waterfront dining, turkish/steam bath, spa, sauna and fitness center
A modern and happening vibe with amazing views at Area 31 Lounge and the rooftop pools, yes pools, there are two on the 16th floor
Pet friendly!
Free wine happy hour from 5:00-6:00 pm at the lobby
Free Wifi throughout
Parking onsite is $42 per night
Kimpton EPIC Hotel:
270 Biscayne Boulevard Way, Brickell, Miami, FL 33131
DoubleTree by Hilton Grand Hotel Biscayne Bay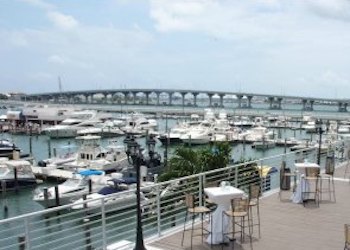 Gorgeous location right on Biscayne Bay with stunning views of the Miami skyline, the bay, Sea Isle Marina, the Venetian Causeway and beyond. Prime location for viewing the midnight fireworks.
Watersports and marina practically downstairs
Free Metro Mover and Trolley stop across the street, trolleys bring you to Bayside, Downtown, etc. South Beach is a a 10-minute ride accross the Causeway
Spa, fitness center, sauna, outdoor pool on the 10th floor, four restaurants (seafood, Chinese, Italian, Argentinian) and a deli
The DoubleTree offers regular guest rooms as well as one- or two-bedroom condos, many with balconies, great for families
Wired internet available in public areas is $9.95 per day
No Onsite Parking Public Parking nearby is $30 per day
DoubleTree by Hilton Grand Hotel Biscayne Bay:
1717 North Bayshore Drive, Miami, FL 33132
Miami Marriott Biscayne Bay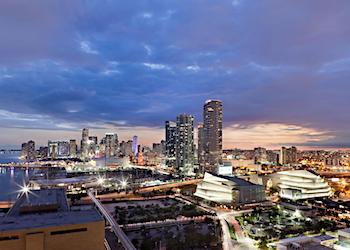 Gorgeous location right on Biscayne Bay with stunning views of the Miami skyline, the bay, Sea Isle Marina, the Venetian Causeway and beyond. Prime location for viewing the midnight fireworks.
Rooms and suites offer fantastic views of Biscayne Bay, the Marina and downtown Miami from private balconies
Watersports and marina practically downstairs
Free Metro Mover and Trolley stop across the street, trolleys bring you to Bayside, Downtown, etc. South Beach is a a 10-minute ride accross the Causeway
Hotel offers a shuttle for guests to South Beach, Dolphin Mall, and the Port for a small fee
Spa, fitness center, outdoor pool, 3 restaurants onsite
All Spaces Non-Smoking (public and private)
Free internet available in public areas
Onsite Parking is $30 per day
Miami Marriott Biscayne Bay:
1633 North Bayshore, Miami, FL 33132
Surf and Sand, Champagne and Fireworks: Where to Stay for New Year's Eve Near The Beach
Bentley South Beach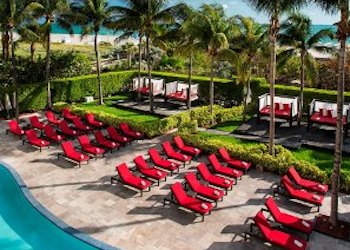 Beautiful beachfront all-suite property on Ocean Drive, next to Nikki Beach Club (read... party)
They offer studio, one- or two-bedroom suites, book a city view room to watch the main fireworks display over Biscayne Bay by downtown Miami
Suites are equipped with state-of-the-art furnishings, including kitchens or kitchenettes, private balconies
Two restaurants onsite (Greek and Italian steakhouse), pool, sundeck, beach club and spa services, fitness center, whirlpool
Pet friendly
All Spaces Non-Smoking (public and private)
Free Wi-Fi in all areas
Parking onsite is $40 per day
Bentley South Beach:
101 Ocean Drive, South Beach, Miami Beach, FL 33139
The Clevelander South Beach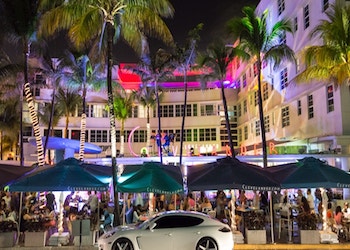 The Clevelander is party central... all year 'round... iconic pool party scene, sports bars, nightclub and lounge with live outdoor music and entertainment from 10 pm to 5 am and 2 rooftop decks offering stunning views of the city and South Beach and of course, the fireworks
On Ocean Drive, just cross the street and you're at the beach, walk out and stumble into more parties
Adults only
Free Wi-Fi in all areas
No Onsite Parking, private parking available nearby
The Clevelander South Beach:
1020 Ocean Drive, South Beach, Miami Beach, FL 33139
The Fontainebleau Miami Beach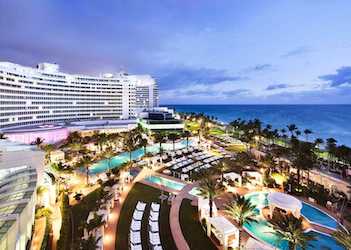 The Fontainebleau is a top beachfront resort with top ammenities, pool complex, fine dining, nightclub and lounges... For New Year's Eve, they go all the way... Lady Gaga, Miley Cyrus, Pharrell Williams, Justin Bieber have hosted the Fontainebleau's NYE bashes in the past. Guest appearances for the 2018 NYE bash include Demi Lovato, KYGO And Travis Scott
LIV Nightclub is going through a multimillion renovation and will be ready to rock this New Year's Eve 2018
Grounds are beautiful and inviting, the pool areas, the beach... top rate spa and welness facilities
Eight restaurants: Chinese, Italian, Steakhouse, Pizza, etc
Free Wi-Fi in all areas
Onsite Parking costs $47 per night
The Fontainebleau Miami Beach:
4441 Collins Avenue, Miami Beach, FL 33140
The Biltmore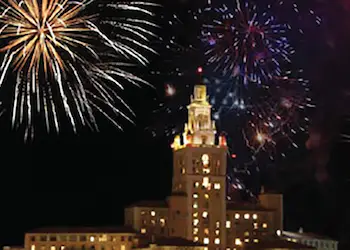 The Biltmore in upscale and leafy Coral Gables, is a lavish hotel built in the 1920s in gorgeous Mediterranean Revival style with all the ammenities for a plush and pampered stay in the Magic City.
For New Year's Eve, they always manage to throw one of the best galas in town in one of their many signature ballrooms. A delectable dinner, open bar, free-flowing champagne, fireworks from the Terrace...
18-hole golf course
Lavish 600,000-gallon swimming pool
Luxury spa
10 tennis courts
Four restaurants and two bar/lounges
Free Wi-Fi in all areas
FREE Onsite Parking
Limousine Service
Childcare available
The Biltmore:
1200 Anastasia Avenue, Coral Gables, Florida 33134