Bahia Honda State Park
Gorgeous Beaches, Stunning Views, Breathtaking Sunsets... and a Magnificent Reef Nearby...
Bahia Honda State Park is a wonderful place to spend the day, whether you just want relaxation or are looking for a bit more action this little park is a jewel amongst jewels in the Florida Keys.
First, there is the beaches. Surprisingly enough for most visitors to the Keys, even though you are surrounded by water at all times, there are very few sandy beaches. Bahia Honda has beautiful beaches and some of the best in the Keys, some say the best. The shores provide abundant recreational opportunities, snorkeling, fishing, kayaking ...
There are excellent park concessions and facilities including a marina and two boat ramps, kayak rentals, refreshments and souvenirs, and another of the park's highlights, snorkeling boat tours to the gorgeous reefs of the Looe Key National Marine Sanctuary. There are also cabins for overnight stays as well as campgrounds for tents and RV's.
And then, there is "the old bridge". It gives you some of the most fantastic panoramic views of the Florida Keys and beyond.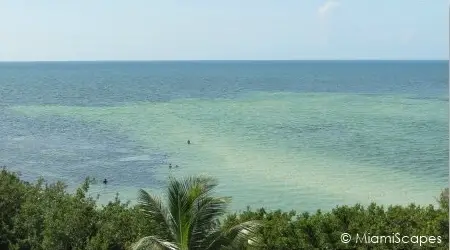 Visiting Bahia Honda State Park
What is Where
Come prepared to spend the day and take advantage of all this park has to offer. Here's a map to show you where everything is.

The Park Entrance is off US Highway 1, mile marker 37. Here you pay the entrance fee. Don't forget to get a park map.
Here are directions and entrance fee information.
As you enter the park the road forks. Taking the right will bring you to the Marina, Concessions and the Old Bridge.
There are plenty of parking lots convenient to the marina, concessions, beaches, and the camping sites. Although parking is plentiful, on weekends and holidays parking spots go fast.
The Marina and Concession Shop
The Bahia Honda Marina has 19 slips and two boat ramps.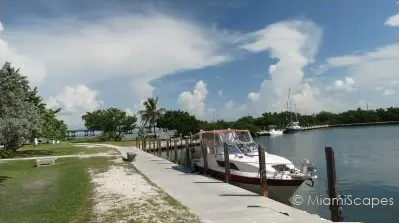 Next to the Marina you will see the Concession facilities where you find snacks and souvenirs as well as mask, fin and snorkel rentals.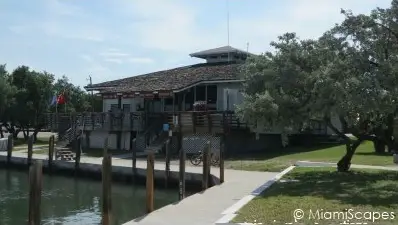 The Snorkeling Boat Tours can be booked at the Concession shop. There is a morning and an afternoon snorkeling trip to the Looe Key National Marine Sanctuary, one of the most beautiful and healthiest reefs in the Keys with an abundance of marine life, colorful fish and corals as well as the bigger critters, barracudas, sharks, giant groupers...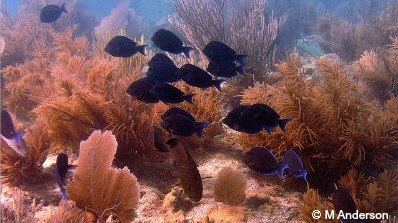 The boat ride to the reef takes about 40-45 minutes, then you spend about 90 minutes in the water, so allow at least 3 to 4 hours. Rates are $29.95 for adults, $24.95 for children. There is also a $3 coupon on their website for the morning tour.
Check rates, reservations, coupons.
Kayak Rentals are also available at the Concession Shop. The calm protected waters surrounding the park are great for even novices and first-time paddlers. They have the sit-on-top kayaks at very reasonable rates beginning at $10/hour for a single kayak. Doubles are also available.
The Old Bridge

From the Marina and Concession main parking lot you will see the signs for the Old Bridge access. Follow the trail which brings you to the observation area on the trunkated part of the bridge you see here: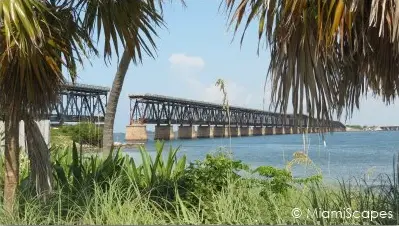 Walk up to the overlook all the way to the end, the views are awesome, the islands, bridges, boats in the distance, and the beautiful turquoise waters as far as you can see.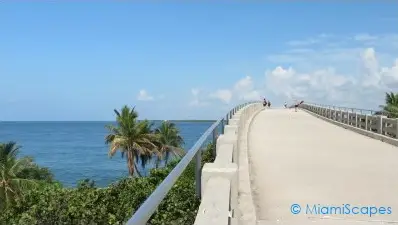 The Beaches
There are several beautiful white sand beaches throughout Bahia Honda on both the Bayside and the Atlantic side. They are great for sunning and swimming, you can also bring a picnic and try out your snorkel!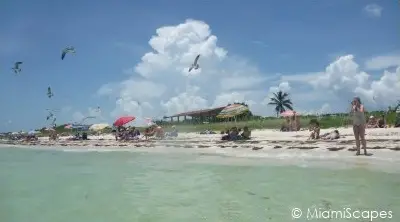 There are showers and restrooms and plenty of pavillions and picnic tables.
Fishing is also available at the park. You can cast your line from the beaches at designated areas, remember you will need a saltwater fishing licence. Spearfishing within park boundaries is a no no, so is taking anything from tropical fish, shells, coral, etc.
Camping and Cabins at Bahia Honda

Campgrounds. Three camping areas with a total of 80 campsites for tents and RVs, nicely equipped facilities including picnic tables, grills, clean restrooms and showers. Also three duplex cabins are available, they accommodate up to six people per cabin.
You need to make reservations as early as possible! Reservations are released 11 months in advance and they fly as soon as they open up, you need to be quick. Rates range from $36 for tent and RV campgrounds to $160 for cabins. Rates and reservations.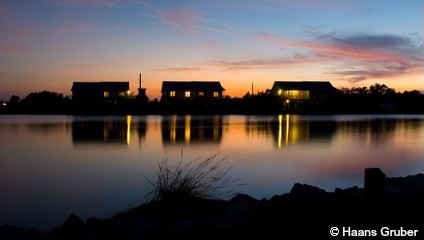 Duplex Cabins at Bahia Honda overlooking the Bayside
Nature Trails. There are a couple of trails at the park that are quite enjoyable for an easy stroll and in the cooler months some birdwatching.

Biking is another favorite activity at the park where you can cruise along the more than 3.5 miles of surface road.

Bahia Honda State Park at a Glance
Where?: Bahia Honda State Park
36850 Overseas Highway or US 1 at mile marker 37, Big Pine Key, FL 33043
Located in Big Pine Key in the southern Florida Keys at mile marker 37
Telephone: (305) 872-2353
Hours: Park is open 8:00 am to sunset, 365 days.
Parking: Plentiful, but tight on weekends and holidays
Entrance Fee: New entrance fees are calculated based on the number of people, savings start with a group of 3 or more. Rates are as follows:
One Person: $4.50
Two People: $9.00
Three People: $9.50
Four People: $10.00
Five People: $10.50
Six People: $11.00
Seven People: $11.50
Eight People: $12.00
Add $2.50 for each person over 8 people
Pedestrians and Byciclists: $2.50 per person
Lifeguards: No
Restrooms and Showers: Yes
Pets: On designated areas only. Pets must be kept on a leash no longer than six feet.
Other ammenities: kayak rental and launch, fishing, boating, nature trails, beaches, snorkeling tours, camping, cabins, picnic tables and pavillions
More Info: www.bahiahondapark.com