Flyboarding in Miami
Flyboarding is the latest rage in extreme watersports and if you are up for this thrilling experience, there are plenty of places and outfits in Miami to get you up in the air and over the water in fantastic fashion!
So what is flyboarding? How does it work?
Flyboarding was born in France in 2012 and created by Frank Zapata, a watercraft enthusiast and jetski racer.
The Flyboard mounts on your feet and is connected through a 60 feet hose to another watercraft, i.e. a jetski, which is used to provide the pressure to lift you up and send you soaring into the sky or propel you underwater.
It is similar to the Jetpack except that instead of strapping the propulsion device as a backpack, the Flyboard is strapped to your feet secured with boot-like bindings that seem to be one-size fits all with various strings and straps to secure them to your feet.

Below the device connects the hose that splits into twin nozzles which provide the propulsion.
The hose is connected to the jetski and the jetski operator manages the pressure that sends you up in the air.
You can also get control of the throttle once you are comfortable and get the hang of it.
Is it easy to learn? Everyone is different of course, some people get up in the air at the first try, some of us might take a couple of times! But for sure, with the proper instruction you are likely to be flying and enjoying the fun of this new water sport in no time, although it might be a while before we can get to this point:
Flyboarding: Where, When and How Much?
For being a relatively new sport, there are quite a few options in Miami for you to try and they all basically operate year-round.
We have compiled a list of places that offer Flyboarding to get you started, see the table below. All require advance reservations.
Most of these are very convenient locations, i.e. Bayside Marketplace, Coconut Grove, even Jungle Island. Remember to take into consideration some extra costs that might be incurred.
For example, admission fees to some locations such as Jungle Island, extra fees for photo and video packages, etc.
In some cases, the flyboarding is done off the beach, in other cases a short boat ride is necessary to bring you to the flyboarding location.
Also take into consideration if there are other non-participating members in your group i.e. just watching and taking pictures/video, it might make a difference whether a boat ride is involved as they might be asked to pay a small fee or they may not be able to join if the boat is full, most take small groups of maximum 6.
In all cases, there will be plenty of guidance and instruction for first-timers, check out the reviews to see what people have to say about a particular outfit you are contemplating. Some even have the equipment to provide direct communication through a waterproof wireless coaching radio and fly-by wire throttle control.
Where to Try Flyboarding

Operator
Description
Times
Cost *
Rating
**

* Costs are for the approximate "Flying Times", allow an extra hour or so for instruction and in some cases short boat rides to flyboard location
** Ratings and Reviews provided by TripAdvisor visitors

Miami Watersports FLYBOARD305

3400 Pan American Drive, Miami, FL 33133
+1 305-345-4104

Depart from Coconut Grove, Dinner Key Marina, Pier 9, Slip 35, short boat ride to bay

All kinds of Watersport rentals and tours available

Daily, 10:30 am, 12:30 pm, 2:30 pm, 4:30 pm
30 minutes $149.99
60 minutes $249.99

Reviews
Bayside Flyboard

Bayside Marketplace 401 Biscayne Blvd Slip 33, Miami FL 33132
+1 305-962-8283

Depart from Bayside Marketplace NORTH end, Pier 5, short boat ride to bay

Flyboard and Jetpacks available

Daily, hourly from 10:00 am to 6:00 pm
15-minutes $99.99
30 minutes $174.99
60 minutes $274.99

Reviews
Relentless Watersports

1099 McCarthur Causeway, Miami, FL 33132
+1 561-735-1114

Depart from Watson Island Boat Ramp

Flyboard and Jeckpacks available

Daily, 10:00 am, 12:00 pm, 2:00 pm, 4:00 pm
20 minutes Intro - $149.99 for one, for two people $124.99 each
30 minutes Extreme Flight $174.99 for one, for two people $149.99 each
GoPro Video $25
Souvenir Photo $20
Includes up to a two hour boat tour

Reviews
AquaJet at Jungle Island

1111 Parrot Jungle Trail, Miami, FL 33132
+1 305-713-2692

Daily from the shores of Parrot Cove, Jungle Island's private beach

Flyboard and Jetpacks available

Daily, hourly from 10:00 am to 5:00 pm
15-minutes $69.95
25 minutes $139.95
35 minutes $189.95
More Info and Booking

Plus Park Entrance: Adults $39.95, Child $32.95


Reviews
BJM Rentals
+1 305-988-7400

They come to you to a pre-determined place

Flyboard, Jetpacks and Jetskis available

Flexible
30-minutes $129
60-minutes $199
Photo/Video Package $19.99

Call to book +1 305-988-7400
Check for $89 Groupon here


Reviews
As for our experience, we happened to "run into it" while we were at Oleta Beach. The guys from BJM Rentals happened to be there with some customers trying the Flyboards.
This seems to be a small private-run business with no "location" per se, you call in advance to book your session and agree on a location.
In this case, they happened to be at Oleta but as he explained, he will meet you just about anywhere that is convenient for you and where it can be done safely and also has the facilities for getting the jetski in the water.
This is definitely the no-frills option without jetboat rides or the fancy waterproof coaching equipment but perfect if you just want to get a feel for it. We went off the beach, our instructor provided life vests and some straight forward instructions and tips.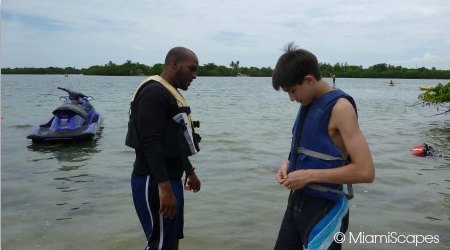 You sit in the shallows as he helps secure the flyboard to your feet.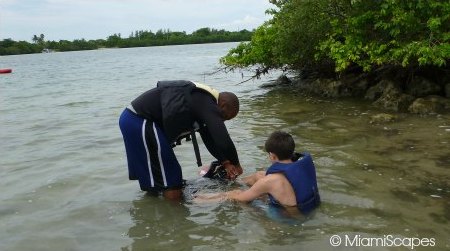 When ready he propels you toward deeper waters and brings you up slowly on a standing position.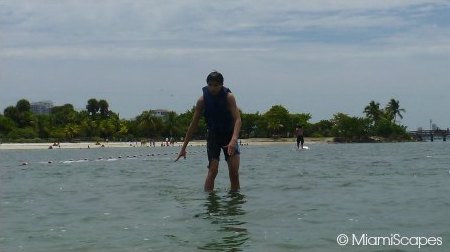 You are off the water...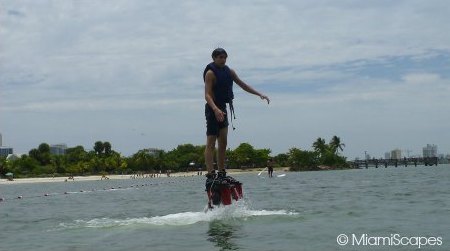 ...And finally up in the air and flying!
It takes a few tries to get the hang of it but once you manage to get up in the air and soaring it is an indescribable feeling, and an adventure you will never forget! Give it a try!
And don't forget to check Groupon for Flyboarding half-off offers!