Spring Break in Miami 2017
Hot Beaches... Hotter Nightlife...
Spring Break in Miami is once again calling... Beautiful stretches of white sand beaches are bustling during the day...
...And in the evenings, the hordes turn to the streets lined with vibrant and super-chic bars, clubs, pool parties dotted with the not uncommon artist and sport celebrity sighting here and there.
For spring-breakers, Miami ticks all the boxes, sun, warmth, palm trees, sizzling night scene, and a host of top notch events throughout the city.
So it's time to perfecting your tan during the day or trying out flyboarding or scuba diving, the waters are calling...
And as the sun goes down, get ready to hit the clubs and parties all over South Beach.
Here's what's hot this Spring Break in Miami!

Spring Break Concerts, Parties, Club Events
$15 BOTY App Bar Crawl Access For Two
BOTY App Bar Crawl is a fun way to experience the best bars in the city. (Reg. $30)
$41 VIP Club Access, Appetizers and Drinks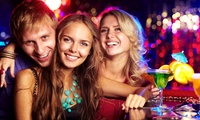 $41 for Ticket with VIP Club Access, Appetizers, and Drinks with World Crawl Miami (Reg. $90.67)
$35 for two Ultimate South Beach Party Crawl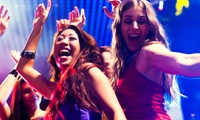 VIP South Beach Club Crawl for Two from Pub Crawl Miami, 4 bars, lounges and clubs (Reg $60)
$22 - $24 Fire and Ice Bar
for Two
Two Tickets to the Ice Bar & Use of Faux Fur Coat/Gloves
(Reg $34)
$14 - $28 Hookah Packages
at Kahookah Cafe
Includes a hookah, head change, and plate of hummus
(Reg $27-$54)
$39 4-day Pass All Access at Epic Hotel
Epic Pool Party during Miami Music Week March 23-26
(Reg $80)
And don't forget to check all March Events for 2017 here.
The Seventh Annual Electric Beach Music Festival at Nikki Beach
March 18, 2017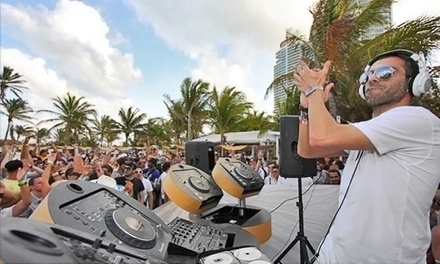 The concept: an EDM beach party complete with neon decor... ocean views... beach, bikinis and bass... launching Miami Music Week each year.

The sounds: hypnotic beats and booming bass drops from more than 40 house DJs, who will spin until the sun comes up or Dan Marino calls in a noise complaint.

The showcases: the beach-themed Bikinis and Bass showcase; the inside Element showcase; the after-dark Black Pearl showcase
When?: Saturday March 18, 2017 - 1:00 pm, Beach Stage will close at 11:00 pm, Beach will remain open with music until 5:00 am
Where?: Nikki Beach, 1 Ocean Drive South Beach
How Much?: $20 early bird! General Admission $100, tables and VIP packages available
Must be 21 or older to attend
$19 and VIP $99 Discount tickets at Groupon

Ultra - the World's Premier Electronic Music Festival
March 24 - 26 2017
On it's 19th year, ULTRA is the world's most famous outdoor electronic music event.
Taking place at Bayfront Park in Downtown Miami over a three-day weekend, this year's program promises to deliver a uniquely diverse, forward thinking line-up and is likely to be another sell-out.
When? Friday through Sunday March 24 - 26, 2017
Where? Bayfront Park, Downtown Miami
Tickets? 3-day passes as well as individual day tickets available. Find Tickets
For this year's line-up and more info: www.ultramusicfestival.com
Miami Massive All-Night EDM Party at Nikki Beach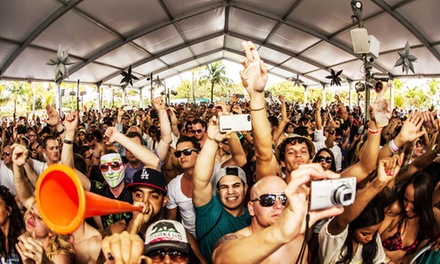 Miami Massive: It's the kickoff to the Miami Winter Music Conference, the largest longstanding EDM and dance music industry gathering of its kind in the world.
What to expect: Day and night beach party including 17 straight hours of beats from over 40 DJs
Don't-miss DJs: Breathe Carolina, Tom Swoon, Merk and Kremont, Daddy's Groove, FTampa, Mark Ursa, Dave Lambert, Chris Garcia...
When?: Tuesday, March 21, 2017 from Noon to 5:00 am
Where?: Nikki Beach, 1 Ocean Drive South Beach
How Much?: Early Bird General Admission $35.70, VIP $47.60
$27 and VIP $36 Discount tickets at Groupon
More Info, line-up, tickets: Miami Massive FB Page
Adrenaline Junkies: What To Try Next!
Here's a handful of fun things to do in Miami for spring-breakers and check the offers at the bottom for some great discounts and limited-time offers for fun things to do in Miami.
Flyboarding
The newest craze in watersports, this is something you just HAVE to try!
With the right instruction, (which we had and we tell you all about it) you can be up and flying in no time and it's a feeling like no other...
There are a few places in Miami where flyboarding is available as well as many operators that will come to you, just agree on a time and place, the ultimate in convenience, reservations are of course a must.

Cruising Around On A Segway
This has to be one of the funnest ways to sightsee. There are many tours that take you through the heart of the Art Deco District in South Beach, along South Pointe, the Miami Riverwalk... or simply rent a segway at one of the many outlets throughout the city and explore on your own!
New to Segwaying? (is that a verb?) No worries, friendly guides provide all the instruction and equipment for you to ramble through the popular spots safely and with confidence and make sure everyone has a good time.

Jetskiing in Miami: The rules have changed, if you were born after January 1, 1988, read this!
There are new rules for operating Personal Watercrafts such as Jet Skis and Wave Runners. Per Florida law, anyone born on or after January 1, 1988 must take a boating test. Luckily, the courses can be taken online so anyone that needs to meet this requirement can do so before arriving in Miami.
Here's a list of approved Boating Safety Education courses. The online course offered at www.boatus.org is free, others charge a small fee between $14.99 and $29.95.
And make sure you know the rules, there are a lot of no wake zones for the manatees as well as in the busy areas.

Private Sailing Charter For Up To Six
Your Own Private Sail Boat For A Fantastic 4-hour Tour On Biscayne Bay
Itineraries can be customized and you can choose to stop at an or visit "No Name Harbor" where calm waters makes it a great smooth sail. The choice is yours!
Refreshments and non-alcoholic beverages are included. You can bring your own champagne and meals or request a catered lunch/dinner for an extra fee.
How Much? $595 per charter
When? Departures 10:00 am, 2:30 pm, 7:30 pm
Where? Cruises depart from Dinner Key Marina
›› More Info and Booking Private Sailing Trip in Miami.
›› More Miami Water Sports and Boating Activities
Catch a Heat Game!
American Airlines Arena is where awesowe happens!
Don't miss your chance to see the Miami Heat during the break... who will be in town? The Knicks, the Charlotte Hornets, LeBron with the Cavaliers make an appearance on March 4!
Here's the month's schedule:

Limited Time hot offers and half-price tickets
Spring Break Miami - Know Before You Go
Legal drinking age in the State of Florida is 21.
Drinking is allowed on the beach but no glass containers are allowed Special regulations during Spring Break 2017 are in effect: City Manager Jimmy Morales has announced that the city will ban alcohol, coolers, speakers, inflatable devices, and tents on the beach from March 3 through April 16, 2017
Temporary license plate readers will be installed throughout the city during this period
Open containers of alcoholic beverages are not allowed in vehicles at any time