Dolphin Research Center
Our Fantastic Dolphin Encounter with Pax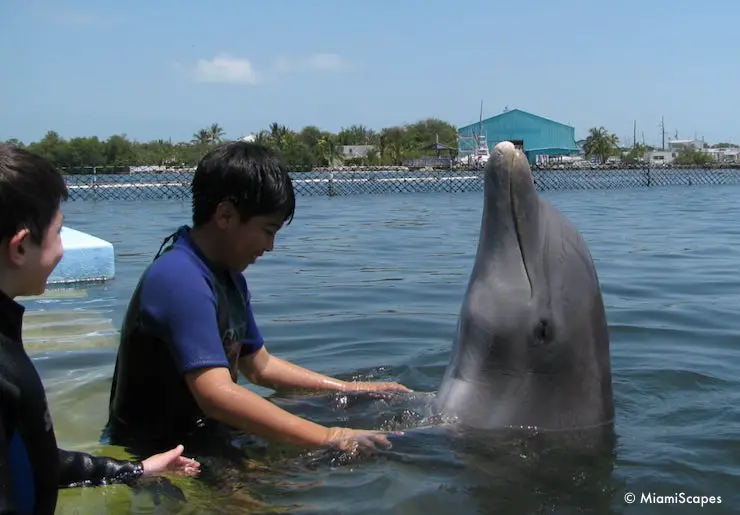 The Dolphin Research Center in the Florida Keys is a non-profit organization dedicated to teaching and caring for dolphins and marine life in general and their environments.
One of their highlights is the number of programs they offer where you can interact with these beautiful mammals.
The DRC is located in Grassy Key, just between Islamorada and Marathon, about a two-and-a-half hour drive from Miami. Not exactly around the corner but definitely worth the drive! There are much closer places but we came here upon recommendation of some friends, and we're glad we did!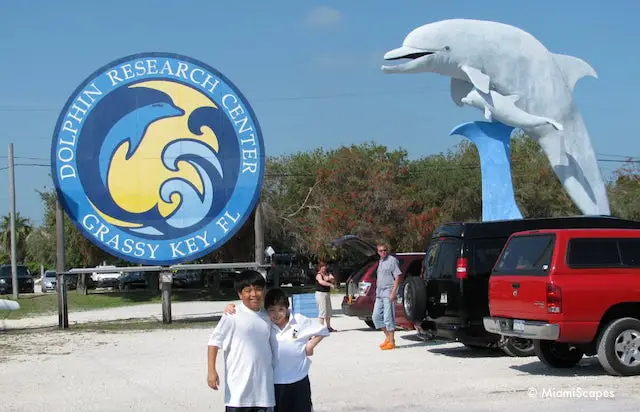 The facilities are compact and beautfifully laid out with docks and platforms criss-crossing and surrounding the areas where the dolphins are and where most of the interaction and encounter programs take place.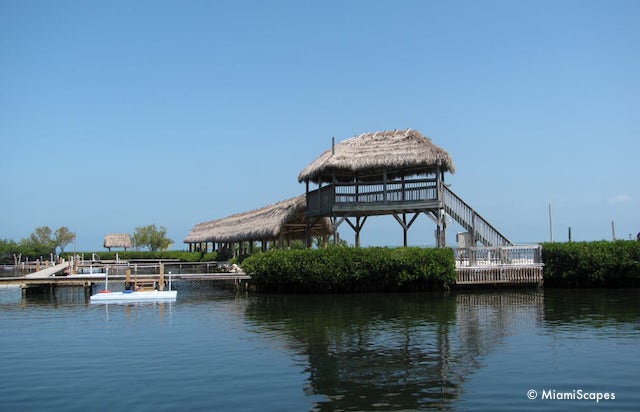 When we arrived, we first took a walk around the park. The research center is open to visitors whether participating in a dolphin swim or just taking a look around. In fact, this is a beautiful park to spend a few hours, there might be some research going on, some training sessions being conducted and definitely lots of dolphins simply playing in their lagoons and entertaining the guests...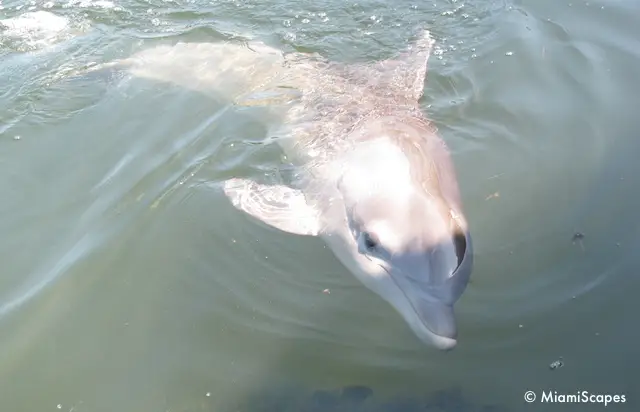 ...And did I mention they love to show off?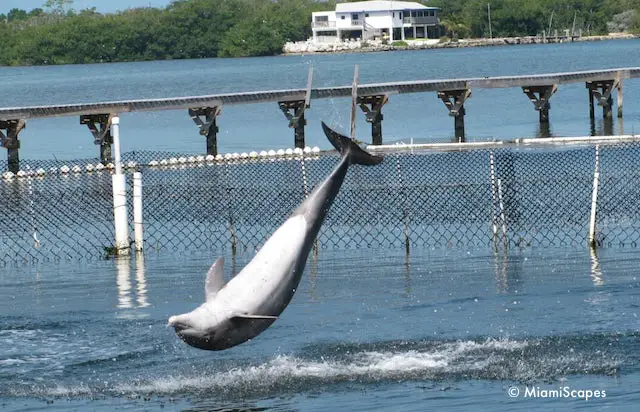 As of last count, there are a total of 25 dolphins and four sea lions at the center and you will see them right away happily playing with the trainers and enjoying all the attention.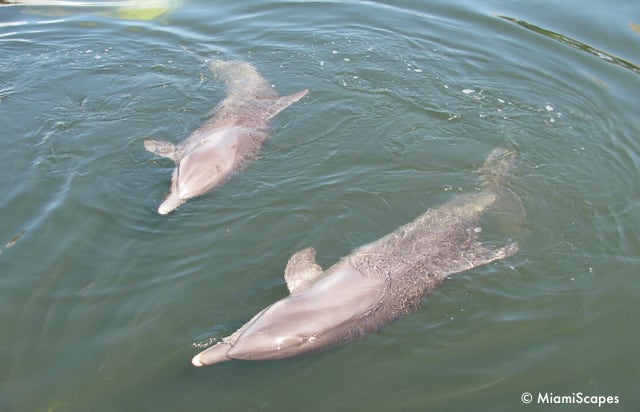 Dolphin Swims and Encounters at the DRC
The Dolphin Research Center offers several different programs where you get to play and interact with dolphins.
We opted for the "Dolphin Encounter" which was approximately 2 hours long from beginning to end, including approximately 25 minutes in the water with our dolphin "Pax".
Our program started with a short 20-30 minute talk where we learned some facts about dolphins.
For example, we learned that their blowholes are not only used for breathing. The sounds they produce are made by letting air through their blowholes.
At the briefing we were also instructed on how to handle the dolphins during our encounter and all the amazing things they are capable of doing and we were soon to find out...
They give you a kiss...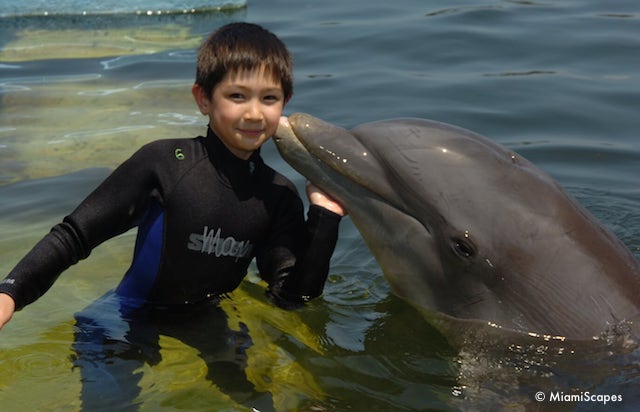 They shake your hand...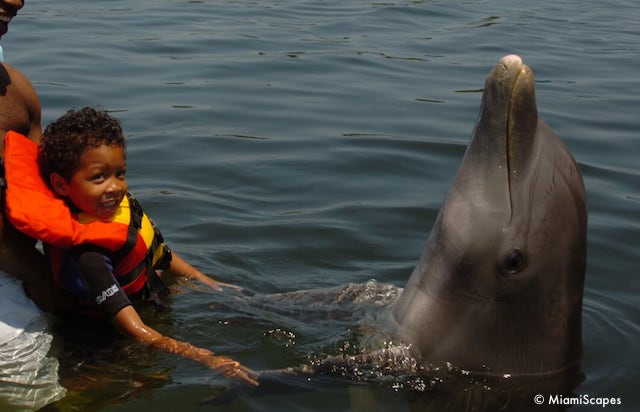 They take you for a ride...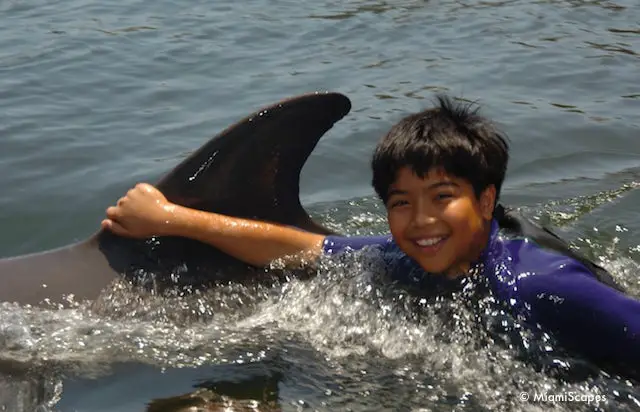 We learned and tried the different commands and games the dolphins love to play: spitting contests, dancing, turning around, and our favorites the water fight and the dorsal pull!
Watch this short clip, just over two minutes and fall in love with PAX, our dolphin that gave us such wonderful memories:
Pax was 11 years old, quite active and playful. Our trainer Daniel gave us excellent instructions and kept us out of trouble. We couldn't have asked for a better experience.
This is a great program for the entire family. Even the little ones can enjoy it when held by an adult and get their dolphin kisses and shake their flippers. Grandma and Grandpa were happy just snapping photos and videos and watching all the action topside from one of the platforms overlooking our lagoon.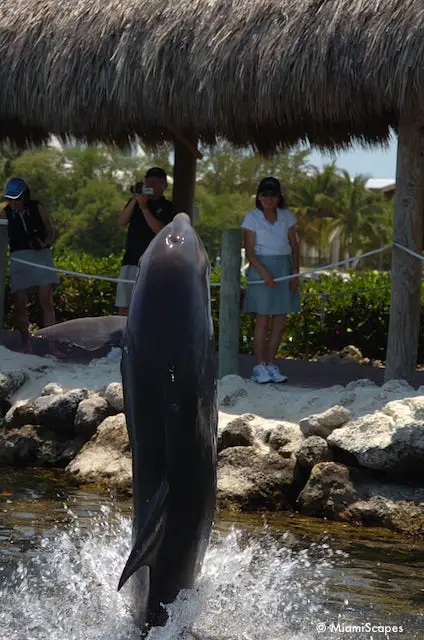 There are several other programs offered at the DRC, the "Dolphin Dip", "Play with a Dolphin", "Paint with the Dolphin", "Trainer for a Day" and "Researcher for a Day". Some are short 30-minute walk-in programs that require no reservation, and on the other end, some are very comprehensive all-day programs.
Dolphin Research Center at a Glance
Where?: 58901 Overseas Highway, Grassy Key FL 33050 Phone (305) 289-0002
The Dolphin Research Center is located in Grassy Key, between Islamorada and Marathon at Mile Marker 59 on US 1 or Overseas Highway. It will take you about two to two and a half hours to drive from Miami, depending on the stops you make along the way.
Hours: Open every day 9:00 am to 4:30 pm, closed on Memorial Day, Labor Day, Thanksgiving Day and Christmas Day
Entrance Fee: General admission (if not on one of the "encounter" programs") Adults $28, Children (4-12) $23, Children 3 and under FREE, Military/Veterans (present military ID): $25.00
Dolphin Encounter $199, other dolphin interaction programs from $25 plus entrance fee. For more on Swim With Dolphins Programs in Miami and nearby including program description, cost, age/height restrictions, etc. see our table here.
DRC More Info an reservations: www.dolphins.org. This is a non-profit organization dedicated to teaching, learning and caring of marine mammals and do a wonderful job at it. They rely on donations, revenue from the programs and volunteers to maintain the center.