French Reef
Pinnacles, Caves, Crevices, and Fish, Fish, Fish...
French Reef is another popular dive site in Key Largo. We love it for its swimthroughs and coral formations and the multitude of marine creatures they harbor.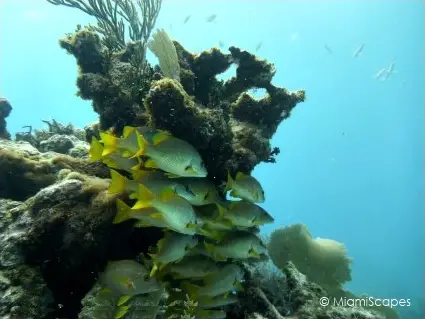 The dives here are also fairly shallow with a maximum depth at about 40 feet with hardly any current, which makes it perfect for beginners. The reef is beautiful and healthy, lots of soft corals, seafans and sea plumes cover every inch of it.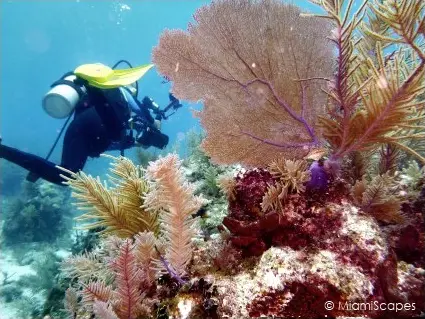 The many ledges, crevices and swimthroughs are fun to explore, they are full of marine life, beautiful coral formations as well as fish of all kinds, shapes and colors...
We typically see stoplight parrotfish, blue parrotfish, queen angelfish, butterfly fish, schoolmaster snapper, gray snapper, all kinds of grunt, damselfish, gray angelfish, tiny shrimp, arrow crabs...

There are about ten different sites at French Reef, all with their own particular attractions. Christmas Tree Cave gets its name from the many Christmas Tree worms all around the bommies surrounding the cave. We enjoy watching the Christmas Tree worms "blooming" all at once. (Check out the video below)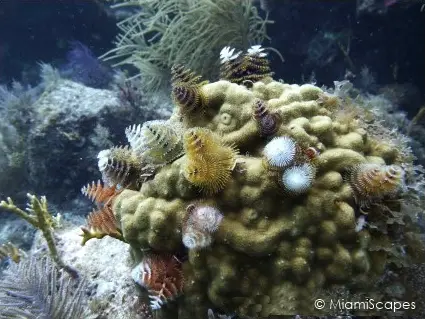 The "caves" are actually swimthroughs, the one here in particular is quite large, and you never know what you might find inside, perhaps a school of snappers, or some spadefish...
On this occasion we saw lobster in a crevice, many schooling fish, small-mouth grunts, snapper, snook darting by, christmas tree worms of course, schoolmasters...
At Turtle Ledges you might encounter besides turtles some of the larger pelagics, stingrays, black tip sharks, and then there is also Sand Bottom Cave and Hard Bottom Cave where we love the walls of silversides and the caves packed with glassy sweepers.
We have made many dives at these spots, every time is different, and always enjoyable.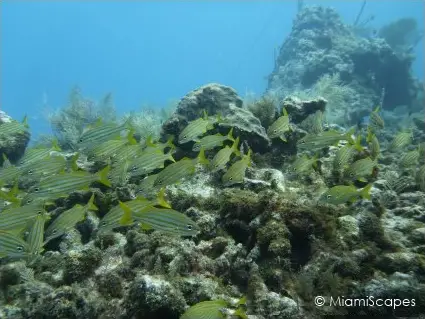 A school of small-mouth grunts swims by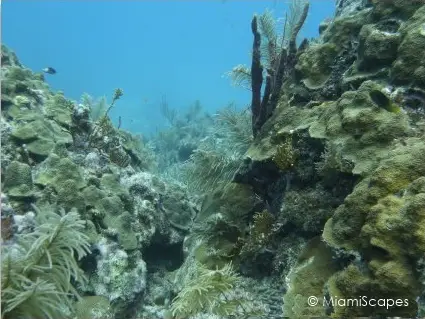 Beautiful Corals and Seaplumes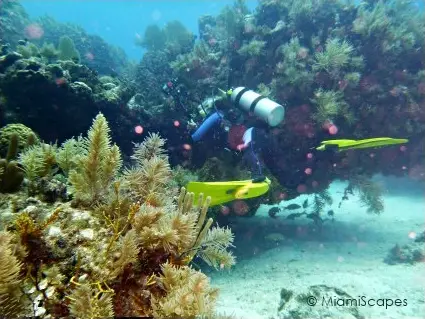 Some crevices at Christmas Tree Caves
Here's a short video of one of our latest dives at French Reef. We loved diving through walls and walls of silversides, also saw schoolmaster snapper, a hungry blue parrotfish, a graceful queen angelfish and many stoplight parrotfish, schooling small-mouth grunts, filefish, a black grouper, a scrawled file fish, what looked like a permit, and some glassy sweepers in the crevices right at the end. Enjoy!