Molasses Reef: Key Largo Scuba Diving and Snorkeling at its Best!
What will we see this time? Morays, Nurse Sharks, Angelfish...
Molasses Reef is one of the most stunning spots in Key Largo with a great variety of coral formations and marine life that inhabit the colorful ledges and boulders.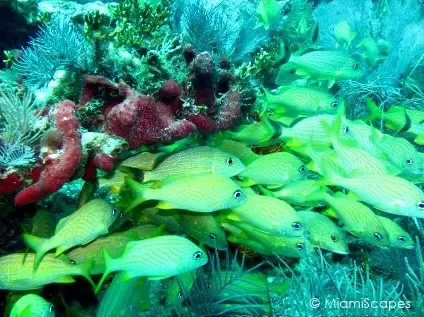 With depths ranging from 10 to over 70 feet, the site is great for divers, snorkelers and also the glass-bottomed boats that roam the area.
Rather than being one single reef, it consists of several reefs with over 30 mooring buoys, it is certainly one of the most visited dive spots in the Florida Keys.
Molasses was one of the very first spots I ever dove, and despite the amount of visitors it gets every year and the challenge this presents to the fragile ecosystem, it remains one of the most beautiful and thriving reefs with abundant marine life thanks to the efforts and protection of the Florida Keys National Marine Sanctuary.
What is there to see at Molasses Reef?
This is the one reef that you can dive or snorkel several times and it will never be the same, even in the same day, or the same spot.
There is always tons to see and lots of formations and caves full of reef inhabitants: green morays, lobster, a wandering nurse shark, rays and turtles gliding by or big groupers cruising along...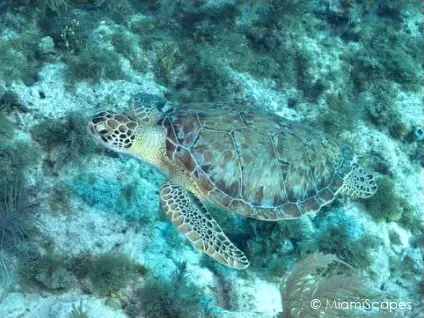 Sea Turtle swims along Molasses Reef
...and of course all the colorful tropical reef fish of the area, in all sizes, shapes, and colors: parrotfish, angelfish, snappers, filefish, big groupers, little sergeant majors, blue tangs, yellow grunts...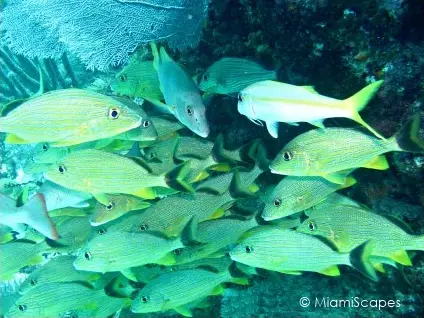 School of Blue-Striped Grunts under a ledge
The coral formations are beautiful. There is a profusion of soft and hard corals that make for a splendid panorama. Because the reef is relatively speaking a fairly shallow one, you don't lose as much of the brilliant colors that offer quite an enchanting contrast to the crystal clear blue waters.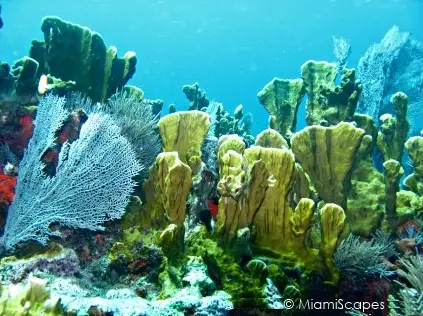 Beautiful seafans and leafy stinging coral carpet the reef
Check out this short video, we were diving at the Wellwood end of Molasses Reef. We saw plenty of schooling fish as we entered the water, snappers, yellow grunts, blue striped grunts, porkfish. Also parrot fish, sergeant majors, feathery corals, boulder star coral, a huge green moray under a ledge, lots of seafans and sea plumes as well as sponges...
Then a spotted eel showed up, some massive starlet coral, more schooling fish, this time some yellow goatfish, a banded coral shrimp and a scorpion fish on a rock, anemones and a big redish crab.
Towards the end, hanging around close to the boat were a pair of barracuda... Check it out!
We did a second dive also at Molasses in the opposite end at Permit Ledge, another beautiful shallow dive although we didn't see any permits or tarpon which are common at this spot, we did get to see a couple of huge groupers, either Nassau or Goliath groupers, bigger than the kids! Here's the video.
A school of small-mouth grunts welcomed us, many schools hanging around, gray snappers, yellow and blue-striped grunts.
Beautiful coral gardens with tons of sea whips, rods and seafans covering every inch of the reef... And more brain coral and the cute and pointy christmas tree worms.
A blue angelfish darted by as a flute fish hung near the sea plumes.
Then the highlight of our dive, one big Grouper under a ledge and another quite out in the open, huge...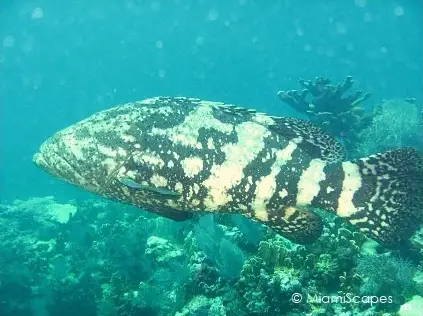 Goliath Grouper swims over...
A blue parrot fish swimming among the seafans and some leafy stinging coral, then little banded coral shrimps and a graceful scrawled file fish swam with us just toward the end of our dive.
Molasses Reef remains one of our favorite spots, we never tire of diving here and will be happy to share with you our latest sightings, so check back often!