Pokémon GO in Miami
Where to Catch 'Em All! Tips and Tricks
New Pokémon GO Holiday Event!
Here's what's happening in Pokémon GO this holiday season through Christmas, Hanukkah and New Year's:
From December 25, 2016 to January 3, 2017
FREE egg incubator each day at your first PokéStop spin, good for one use only, that's 10 free incubators!
Better chance (better than what?) of finding the eggs to hatch baby Pokémon for Togepi, Pichu, etc.
Special Pikachu with festive hat extended until January 3rd
From December 29, 2016 to January 8, 2017
The original starters Bulbasaur, Charmandar, Squirtle and their evolutions will appear more frequently
Lures will last 60 minutes rather than 30 minutes
So there you have it! Go catch 'em all!
Yes, those cute Pokémon Monsters are all over Miami! Where to go catch them? They are literally everywhere and you will see them whether you are on the water... In the sand...
...On a boat... On the trails...
So whether you are heading to the beach, or are out cruising around Biscayne Bay, or hitting the trails and boardwalks in the Everglades... There will be plenty of chances to catch Pokémon and keep on filling that Pokédex!
Like all other places around the world, all the "good stuff", uncommon pokémon and nests spawn in the popular, highly-frequented areas. Pokéstops and Gyms you find near shopping centers, schools, and parks.

What Pokémon Do You Catch In Miami?
The kind of Pokémon you catch will depend of course on the type of environment you are in:
Around the beaches, piers and marinas you will see all kinds of Water Type Pokémon. By the ports and docks and at the beach we found plenty of Psyduck, Tentacool, Magic Carp, Seel, Krabby, Horsea, Poliwag, Squirtle...
Around trails and boardwalks, Ground, Grass, Bug, and Rock Type Pokémon spawn right in front of you... We specifically love strolling on the Miami Beach Walk, a system of paver walks, boardwalks and paved and sandy paths that runs along the Eastern shore of Miami Beach, which can take you from the southern tip of the island all the way to the north. It is not only a gorgeous walk, one of the nicest in the city, it is full of critters to add to your collection.
We found some of the not-so-common Pokémon on this stretch: Sandshrew, Kabuto, Geodude, Cubone, Exeggcute, etc. Since you are going along the water, you will also have a chance to catch the water types, and all other types as well.
And of course, Normal Type Pokémon are everywhere, you find Eevee galore all around, we found Snorlax right around the corner from a friend's house... Fire Pokémon spawn at random, you are in a HOT place after all! We have seen plenty of Vulpix, Growlithe, Charmander, even Charizard!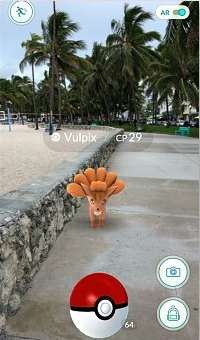 So where to go? Like all urban areas, Miami is loaded with PokéStops and Gyms, but here are some of our favorite places to go where you find a lot of Pokémon action.
Hanging Out in South Beach: Lincoln Road and Soundscape Park
South Beach is our top place to catch Pokémon and hit the PokéStops.
Two places to "hang-out" which have lots of PokéStops in high concentration so you can walk around to collect items non-stop are South Pointe Park and Lincoln Road Mall and next-door Soundscape Park.
PokéStops are all along the Lincoln Road Pedestrian Mall and throughout Soundscape Park. Gyms for battling along the mall as well. This is a very popular hangout, PokéStops are constantly lit with lures, one of the "hot" places where everything spawns, we have seen lots of Fire Types here, even Charizard...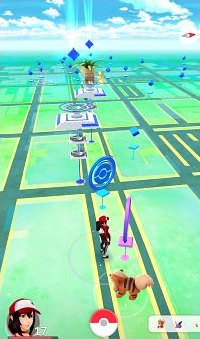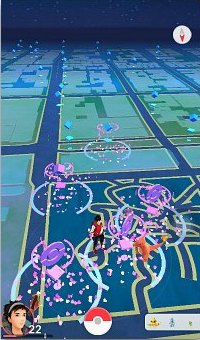 Hanging Out in South Beach II: South Pointe Park
PokéStops are all along the Cutwalk, all the way to the jetty and while you're at it, there is no shortage of spawnings, loads of water type Pokémon. Two Gyms, one on each end of the park and another just on the tip of South Beach.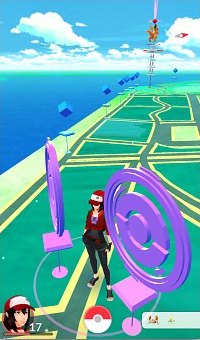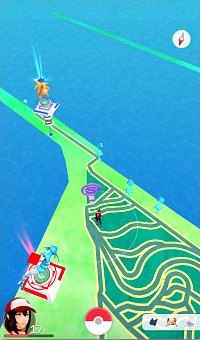 PokéStop Farming: How To Collect Tons of Items and Poké Balls
Now, all this catching will require lots of Poké Balls, so here's how to fill up your bag really quick!
PokéStops are lined along Miami's main thoroughfares:
Ocean Drive and Washington Avenue in South Beach
Collins Avenue in Miami Beach
Biscayne Boulevard in Miami
So a walk through some of our wonderful architecture through the Art Deco District basically brings you to loads of PokéStops as well.
One way to quickly fill up your bag with Poké Balls, is by taking the slow FREE trolleys, they go around the main avenues with PokéStops on every other street. You could for example take the trolley from Bayside all along Biscayne Blvd. to the Design District.
An alternative to the trolleys is the 25 cent shuttle in South Beach. It makes a loop and runs through Washington Avenue and Alton Road. You can take it from any of the stops along the route and it will bring you to the same spot, it takes about one hour to complete the loop and yes, it costs only 25 cents! The 25 cent shuttle is also a great way to get oriented when you first arrive.
Do make sure you have plenty of room in your bag. The original bags have space for 350 items. If you are running out of space, either delete some of the items you seldom use, or get a bag upgrade which gives you extra room for 50 items. You WILL fill up your bag quick if you take the shuttle or trolleys. On average, you hit a PokéStop at least every minute if not twice per minute (unless traffic is slow, then you should be in good shape to hatch some eggs!)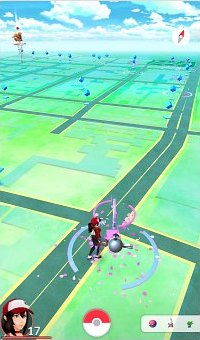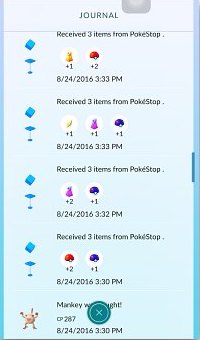 Are there PokéStops right ON the Beach?
If you are enjoying your day out on the beach, PokéStops are few and far between and most likely at the Lifeguard towers. Quite convenient to work on your suntan and collecting items every 5 minutes!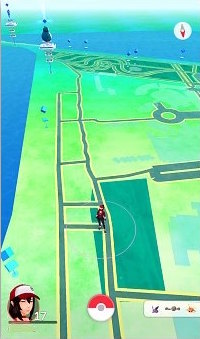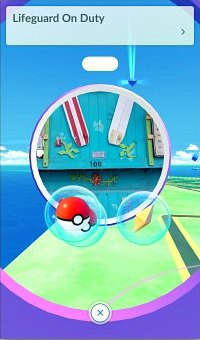 So there you have it, a little help to get you out and about, now GO CATCH 'EM ALL!