Miami 4th of July Weekend 2016 Celebrations
Picnics, Fairs, Live Entertainment, Cruises, Parades...
Justin Bieber in Concert and of course
Fireworks!
It's America's Birthday! Join in the parties and the celebrations, the 4th of July has long been a family tradition...
...The hot dogs and barbeques, outdoor concerts, parades, and a myriad of activities which all culminate with a brilliant splash over the city skies.
The 4th of July fireworks in Miami are spectacular, watching the sky lit up above the water in a stunning array of colors and sparks is a mind-blowing and affecting way to end the day, a stirring reflection of what our country stands for.
Independence Day is of course a public holiday. Federal government offices are closed on the 4th of July, except for National parks.
You can expect the following to be open and closed during the holiday:

Closed
Government Offices
Schools
Post Offices
Banks
Public Libraries
Open
Shopping centers and malls
Grocery Stores
Restaurants
Federal, State, Regional Parks
Public Transportation, check for special holiday schedules
4th Of July Weekend Concerts
Justin Bieber Purpose World Tour 2016
Saturday and Sunday July 2 - 3, 2016
When? Saturday and Sunday July 2 - 3, 2016 7:30 p.m.
Where? American Airlines Arena
Future Now: The Tour Demi Lovato & Nick Jonas
Friday July 1st, 2016
When? Friday July 1st, 2016 - 7:30 pm
Where? BB&T Center, Sunrise, FL
4th of July Celebrations and Fireworks
We are celebrating the 4th of July with an array of family fun bashes througout the city going on all day way before the first fireworks lit the skies. Here are some great spots to come celebrate Independence Day this year:
America's Birthday Bash at Bayfront Park
What?: Music, Food and Drink, Kids' Zone, and one of the largest fireworks displays in the city overlooking beautiful Biscayne Bay.
When?: Park opens at 10:00 a.m.
Live music begins at 2:00 pm
Sam Adams Beer Garden opens at 2:00 pm
Kids Zone (ages 2-16): 3:00pm - 7:00pm
Fireworks: 9:00 pm (approx. 30 minutes)
Where?: Bayfront Park 301 N. Biscayne Blvd., Miami, FL 33132
How Much?: FREE
Where to Park?: There is limited, paid parking at Bayfront Park. You can also park at Bayside Marketplace nextdoor or take the Metrorail to the Government Center Station then transfer to the Metromover Inner Loop to Bayfront Park. You can watch the Fireworks from Bayside.
No bottles, cans, coolers or personal fireworks are allowed at the park.
More info: www.miami4thofjuly.com
Directions and Parking
Miami Beach Fire on the Fourth Festival
What?: An all-day festival with live entertainment, food trucks, yoga, DJs, fireworks and more.
When?: 9:00 a.m. - 9:00 p.m.
9:00 am: Green Monkey Yoga on the Beach
11:00 am: Food Trucks
12:00 pm: DJs
5:00 pm: Live Program Family Stone
7:30 pm: Live Program Grand Funk Railroad
9:00 pm: Fireworks

Where?: North Shore Park Bandshell, Collins Avenue and 73 Street.
How Much?: FREE
Free Shuttles: Two park and ride locations where drop-off/pick-up will be taking place (North Shore Bandshell Park and 42 Street/Sheridan Ave). Free shuttles may be flagged down at any MDT stop along this route. Service will be from 11 a.m. to 10 p.m. Headways will be 30 minutes.
More info and shuttle route: City of Miami Beach Fire on the Fourth
Key Biscayne 4th of July Parade and Fireworks
What?: Jets flying over, marching bands, marching golf carts.. red-white-and-blue floats and tons of special entertainment!
When?: Parade starts at 11:00 am
Where?: Crandon Boulevard, from Harbor Drive to West Enid Drive.
Kiwanis Picnic on the Village Green following the parade.
Fireworks: 9:00 pm, watch from the Village Green or anywhere with a view of the Atlantic Ocean.
How Much?: FREE
Where to Park?: Key Biscayne is a small community, there are many shopping centers, grocery stores, etc along Crandon Blvd. Make sure you arrive early as the streets might be blocked. OR, make it a day outing. Park at Crandon Park Beach, it's only a half-mile from the southern end of the beach to the start of the parade, then spend the rest of the day relaxing at the park, bring a picnic, have a bar-b-que... After sundown the city of Key Biscayne puts on a spectacular fireworks display.
More info: Key Biscayne 4th of July Parade
City of Coral Gables July 4th Fireworks Celebration at the Biltmore Hotel
What?: Special concert by the Greater Miami Symphonic Band, concessions and a spectacular fireworks display. CBS4 evening newscast anchors, will act as the Masters of Ceremony at this year's Independence Day celebration.
When?: Grounds open at 5 p.m., live concert at 7 p.m. and fireworks show at 9 p.m.
Where?: Biltmore Hotel, 1200 Anastasia Avenue
How Much?: FREE fireworks viewing on golf course
Where to Park?: The City will offer free parking and continuous shuttle service throughout the evening to and from the Biltmore Hotel. Shuttle service begins at 5 p.m. from the following locations:
University of Miami – Ponce garage and BankUnited Center surface lot
Coral Gables Youth Center – 405 University Drive
Garage 4 - 345 Andalusia Avenue
Last shuttle departs for the fireworks at 8:30 p.m.
More info: City of Coral Gables 4th of July Celebrations
Coconut Grove 4th of July Celebrations
The Barnacle Old Fashioned 4th of July Picnic
What?: Bring a picnic or purchase burgers and hot dogs from The Barnacle Society, live music, lawn, table and board games, kids' crafts, a scavenger hunt, make and fly a kite and more! Music by the J Street Revival.
When?: 11:00 am to 4:00 pm
Where?: The Barnacle Historic State Park at 3485 Main Highway, Coconut Grove
How Much?: Adults $5, children 6-11 $3, under 6 free
More Info: www.thebarnacle.org

CocoWalk's Annual Independence Day
What?: Live music and fun activities for the entire family, face painting, appearance by Lady Liberty, and of course, the annual hot dog eating competition. Bring picnic, lawn chairs and blankets, coolers, no alcohol please.
When?: 3:00pm - 7:00 pm, hot dog eating contest at 6:00 pm
Where?: CocoWalk at 3015 Grand Avenue, Coconut Grove
How Much?: FREE
More Info: www.cocowalk.net
Picnic and Fireworks at Peacock Park
What?: Bring picnic, lawn chairs and blankets and enjoy the fantastic fireworks show
When?: 6:00 to 9:00 pm Fireworks at 9:00 pm
Where?: Peacock Park at 2820 McFarlane Road, Coconut Grove
How Much?: FREE
Where to Park?: Street parking will be tight. There are a couple of City Lots nearby on Bayshore Drive, otherwise try the Parking Garages on Oak Ave. or Coco Walk. See map here.
Follow www.coconutgrove.com.
City of Homestead Celebrations "Race to the 4th" at Miami Speedway
What?: A family event and a community tradition featuring live music, rides and rock walls for children, foodtrucks and drink vendors, games and of course fireworks!
When?: 6:00 pm to 10:00 pm
Where?: Homestead Miami Speedway, One Speedway Blvd, Homestead FL
How Much?: FREE
Limited number of VIP "4th of July Champions Club" tickets which include food and drinks, VIP parking at the stadium and preferred viewing for the fireworks, adults $20, children 7-12 $10, call the Parks and Recreations Department at (305) 224-4570.
Where to Park?: Parking on Homestead-Miami Speedway property is free of charge. For inbound directions to general parking click here.
More Info: City of Homestead
Black Point Park Marina 4th Of July Spectacular
What?: All-day family fun! Enjoy the great outdoors while exploring the park's bikeways, scenic jogging trails, or 1.5 mile long jetty into the Bay. Grab a delicious bite to eat and raise a glass to Old Glory at Black Point Ocean Grill, the dockside restaurant and bar; or bring a blanket or lawn chair and enjoy a family picnic. End the day with the spectacular fireworks display!

When?: Park and Marina Hours - Open 24 hours,
Fireworks: 9:00 pm
Where?: Black Point Park and Marina at 24775 SW 87th Avenue Miami
More Info: Black Point Marina
More 4th of July Weekend Parties and Events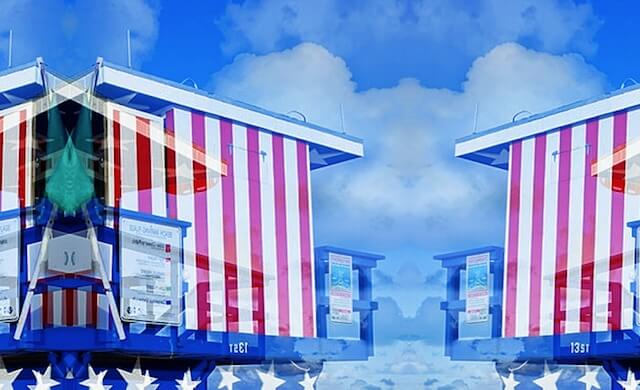 IndepenDANCE July 4th Beach Party
What?: IndepenDANCE Music Week, Miami's true homegrown celebration of red, white and cool, returns to the sands of the world famous Nikki Beach for what will be an amazing day and evening featuring the best DJ talent from around the world.
When?: Monday July 4th, 2016 12:00 pm to 5:00 am
Where?:Nikki Beach at One Ocean Drive, South Beach
How Much?: $19 + Ages 21 and over
More Info and Tickets: www.nikkibeach.com
Special Offers and Half-Price Tickets for 4th of July Weekend Events in Miami
Fourth of July Weekend Pool Party at the Surfcomber South Beach
No Life Guard on Duty
The Party: a poolside dance party in the heart of South Beach
The Guests: performers include international DJs, producers, dancers, and more
The Vibe: upbeat and exciting
When?: Sunday July 3, 2016 starts 1:00 pm
Where?: Surfcomber Miami, South Beach - a Kimpton Hotel at 1717 Collins Avenue, Miami Beach, FL 33139
How Much?: $44.19 $19 More details at Groupon
Fourth of July Rooftop Party at Naked Taco in South Beach
Rooftop party at Highbar on top of Naked Taco
American BBQ buffet and 4-hour open bar
View of Miami Beach's fireworks display from the rooftop bar
Located in the heart of Miami's South Beach
When?: Monday July 4, 2016 starts 5:00 pm
Where?: Highbar at the Dream Hotel at 1111 Collins Avenue, Miami Beach, FL 33139
How Much?: $125 $75 More details at Groupon
Miami's Fourth of July Bacon and Beer Crawl on Saturday, July 2, 2016
Miami's Bacon and Beer Crawl:
The occasion: the weekend before Independence Day
The theme: bacon and beer, two of the more delicious ingredients in the American dream
What to expect: a leisurely stroll to a number of delightful locations, with plenty of refreshments along the way
What's Included: General Admission plus a bacon or beer sample at each location
When?: Saturday July 2, 2016 at 3:30 pm
Where?: Blue Martini Lounge at 900 S Miami Avenue #250 Miami, FL 33130
How Much?: $33.64 $15 More details at Groupon
Fourth of July Dinner And Firework Cruise Offers
2017 Offers TBA
---