New Year's Eve 2015 Events and Celebrations in Miami
Big Orange, Fireworks, and Pitbull's New Year Revolution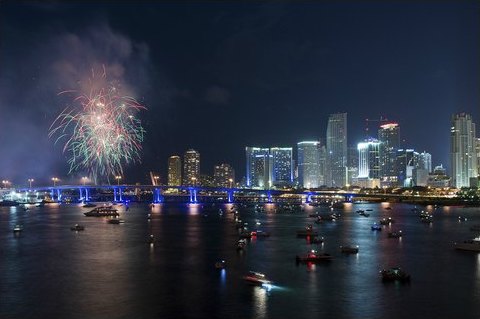 New Year's Eve is coming right behind the Christmas and holiday blitz and there are plenty of happenings and celebrations to help ring in the New Year.
Miami might not be Times Square, but we do have our very own "Ball Drop", fireworks and new this year, a smashing LIVE New Year's Eve event featuring Miami's global superstar Pitbull and many of today's big-name artists.
Pitbull's New Year's Revolution and the countdown to 2015 will be broadcast live on FOX, from the freshly opened Thompson Miami Beach Hotel.
In addition to a host of parties, cruises and concerts to ring in the new year, we get to welcome 2015 in balmy 70 degree weather... on the beach... what could be better?!
Check out what's on this year to welcome 2015 with a bang:
Big Orange "Ball Drop" and Fireworks at Bayfront Park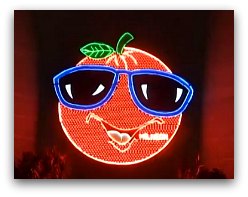 Miami's signature celebration is Big Orange, the city's answer to New York's Ball Drop and one of America's official countdowns.
"Big Orange" is a 35-foot neon icon that is the centerpiece of the countdown to the New Year.
The celebrations begin early at Bayfront Park on New Year's Eve with live musical entertainment and the start of the Big Orange ascent.
Big Orange slowly creeps the 400 feet up the side of the InterContinental Hotel which is adjacent to the park, and the show culminates with the countdown and Big Orange reaching the top of the building at the stroke of midnight while fireworks explode all around to add that magical sparkle to our lovely Biscayne Bay.
When?: December 31, 2014. Festivities start at 8:00 pm, countdown one minute to midnight, fireworks at midnight.
Where?: Bayfront Park 301 N. Biscayne Blvd., Miami, FL 33132
How Much?: FREE!
Where to Park?: There is limited, paid parking at Bayfront Park. You can also park at Bayside Marketplace nextdoor or take the Metrorail to the Government Center Station then transfer to the Metromover Inner Loop to Bayfront Park.
No bottles, cans, coolers or personal fireworks are allowed at the park.
More info: www.bayfrontparkmiami.com
Pitbull's New Year's Revolution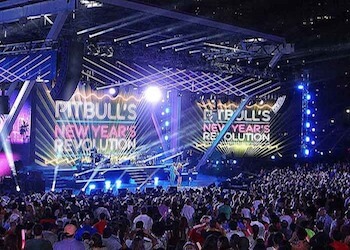 What better way to ring in the New Year in Miami than with Mr. 305 himself?
Yes, Pitbull "the King of Calle Ocho" will be toasting 2015 with a dynamite show in the Magic City this New Year's Eve once again, and for the first time, this mega party will be broadcast live on Fox from the freshly opened Thompson Miami Beach Hotel.
Pitbull's New Year's Revolution and the countdown to 2015 will feature many of today's big-name artists. The guest list includes Enrique Iglesias, Fall Out Boy, The Band Perry, Fifth Harmony, and Becky G.
When?: New Year's Eve December 31, 2014
Where?: Tune in to FOX which will start broadcasting live from the Thompson Miami Beach Hotel, from 8:00 pm to 10:00 pm, followed with a break for local news, returning from 11:00 pm to 12:30 am, including the countdown to 2015.
Unfortunately, this is a private event, i.e. you cannot buy tickets; HOWEVER, Thompson Miami Beach Hotel is hosting a giveaway on its Facebook page for a lucky fan including admission for two plus a bottle of champagne! Hurry, winner will be announced December 29!
For the latest on Pitbull's New Year's Eve Revolution follow Pitbull on Facebook or Twitter
Miami Beach Ocean Drive New Year's Eve Celebration and Fireworks
On a normal day, or rather night, South Beach and Ocean Drive are a happening place, you can imagine what this turns into on New Year's Eve as the city goes all out to throw one colossal street party complete with a splendid fireworks display on the beach:
When? Live music and entertainment 9:00 pm to 2:00 am. Fireworks at midnight.
Where? Lummus Park at 8th St. and Ocean Drive in South Beach, street will be closed off to traffic
Where to Park?: It will be challenging unless you come early. Several options, metered parking on street or city lots and parking garages, see Parking in South Beach.
Free shuttles to/from North Beach.
More info: www.miamiandbeaches.com
How Much? FREE!
Orange Bowl 2014 - Mississippi State vs. Georgia Tech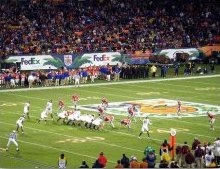 This is the first year of the College Football Playoffs, the BCS is history, and now bowl bids are a bit different.
There is no more BCS Bowls, instead we have the "New Year's Six" bowls: Sugar Bowl, Rose Bowl, Cotton Bowl, Orange Bowl, Fiesta Bowl, Peach Bowl.
The Semi-Final games will be hosted by all six bowls on a rotation basis over three years. If this sounds confusing is because, well, it is. Here's a much better explanation of the whole New College Footbal Playoff system by ESPN.
So who will be coming to the Orange Bowl? Welcome to Miami Mississippi State and Georgia Tech!
When? December 31, 2014 - 7:30 pm
Where? Sun Life Stadium (Formerly Dolphin Stadium), Miami Gardens, FL
How Much? $28 +
Find Tickets for the Orange Bowl here.
Phish New Year's Eve Bash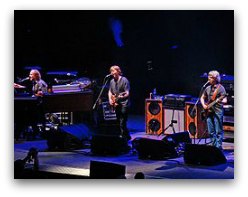 Phish will play Miami's American Airlines Arena on December 31 and remain in town for three more dates at the venue, through January 3rd.
When? December 31, 2014 - 8:00 pm, January 1-3, 2015 7:30 pm
Where? AmericanAirlines Arena
How Much? $40 + and 4-day passes available. Find Tickets.
Hot Clubs, Parties and Cruises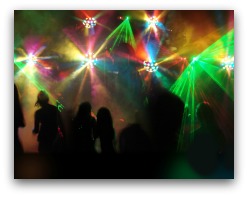 If you are the party type, talk about being in the right place at the right time. Miami's nightlife is legendary and New Year's is the time to go all out.
From formal lofty affairs with fancy gowns to the latest swanky, celebrity-laden club or a breezy New Year's dinner aboard a mega yacht, New Year's Eve in Miami will be a very memorable experience.
There is much to choose from, but do yourself a favor and book early!
To help you sift through the pile of options, here are a couple of comprehensive handy guides with some of the most popular offerings for Miami New Year's Eve parties and celebrations to welcome 2015:
We at Miami Travel Attractions want to take this opportunity to thank you for your support and wish you and your family a wonderful year ahead.
Happy New Year!!!