Ocean Drive South Beach: Lummus Park
A Beach With An Attitude...
Ocean Drive is South Beach's main thoroughfare that runs parallel to the Atlantic Ocean and is home to our legendary beach dotted with the iconic lifeguard towers.
This is one of the most energetic and highly charged beaches, the action takes place between 5th and 15th Streets, the section referred to as "Lummus Park".
So here is where you come for a day in the sun and more. A vivid blue ocean, wide sandy beaches that stretch for miles, gentle waves... and a highly charged atmosphere.
Although being a magnet to Miami's young and trendy, you find in its people an international melting pot from all walks of life, all enjoying the South Florida warmth and alluring spirit of this corner of the world.
Plenty of Beach Action...
There is plenty of activity to enjoy or enjoy watching, in and out of the water.
From wave-runners, parasailing, boating, volleyball games, biking...
A little beach action... wave runners, boats, jet-skis, paddle-boards, swimming, sunning...
Chances are there will be a volleyball game underway, you're welcome to join in
Want a different perspective? Try parasailing for some awesome views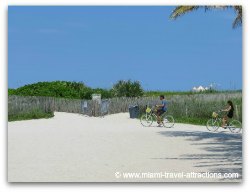 Or if you prefer to stay land bound, explore the surroundings on a bike
There is an endless promenade for strolling, rollerblading, or biking, which connects for miles from South Pointe Park to the boardwalk in North Miami Beach.
And accross the street on Ocean Drive, the outdoor cafes, lively clubs and bars that are the legendary all-night party grounds.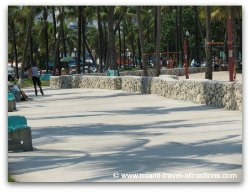 The Promenade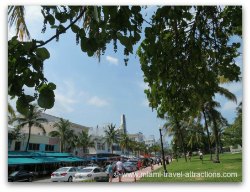 Ocean Drive
Anything goes in South Beach. This is not a nude beach but expect to see lots of skin, topless bathers, body builders flexing their muscles, and the "in" crowd showing off their suntans.
It is not unusual to see camera crews around and photo shootings.
The section around 12th Street is Miami's best known Gay beach.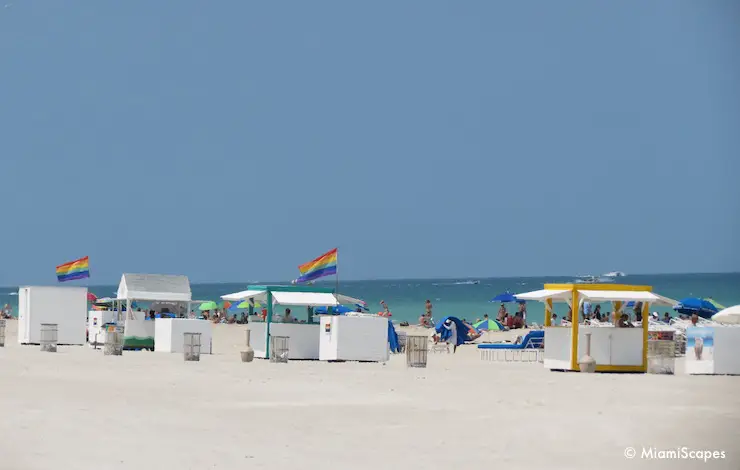 And South Beach is of course home to the iconic Lifeguard Towers, the multi-colored structures in an array of fun shapes and styles that quickly became a symbol of Miami and its revival after the devastation of Hurricane Andrew in the early 90s.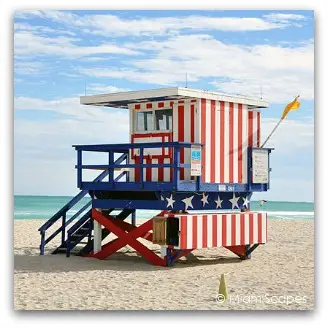 Lifeguard Tower at 13th Street
Beach Access and Facilities
Lummus Park beach is the main stretch on Ocean Drive located between 5th and 15th Streets.
A nice shaded palm-tree lined park with plenty of benches and walking paths, lays between the street traffic, the restaurants and bars just accross and the white expanses of white sand beaches just on the other side.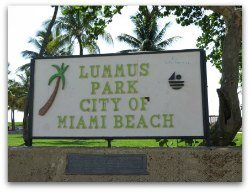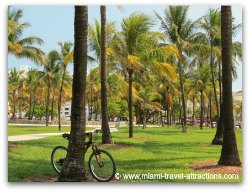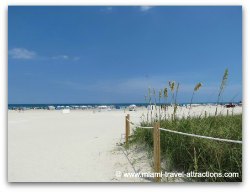 There are plenty of paths that provide access to the beach, some are wheelchair and stroller friendly.
You will also find plenty of showers and restroom facilities at the park along the beach, and concessions for umbrellas and beach chair rentals, and of course all kinds of gear and watersport activities.
South Beach at Lummus Park at a Glance
Where?: Ocean Drive between 5th and 15th Streets
Parking: Challenging unless you come early. Several options, metered parking on street or city lots and parking garages, see Parking in South Beach.
Restrooms and Showers: Plentiful
Other ammenities: Many offerings for watersports, biking, rollerblading, volleyball
This is a place to experience at least once during your stay... a beach with an attitude. Come on and find out what the fuss is all about!