Bal Harbour Beach
Bal Harbour Beach is a quiet and relaxing beach just up from the lively electrifying swirl that is South Beach.
This is a beautiful mile-long white sand beach, it has a very exclusive feel to it, lined with luxury resorts and condos, Bal Harbour attracts its share of celebrities.
Although a public beach, there are no public facilities or lifeguards. Most of the facilities such as beach chair and umbrella rentals and a variety of watersports are available through the resorts, and as you can imagine, it all comes with a price.
It is a strikingly beautiful beach though, the sand dunes and paths are very well-maintained, with charming landscaping all throughout.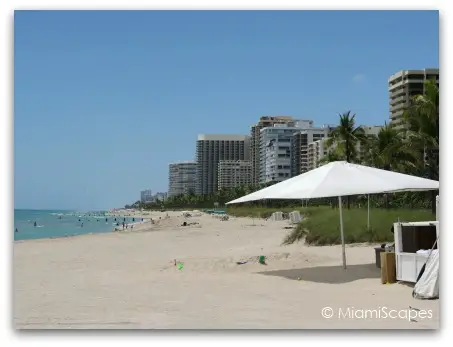 Luxury Resorts and Condos line the shore...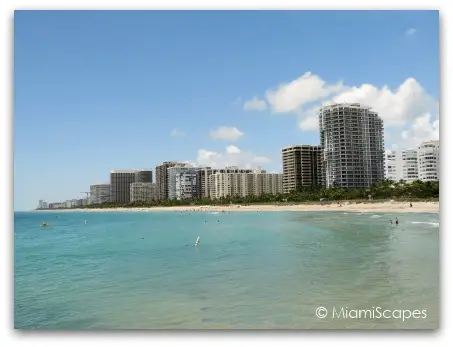 But there is no lifeguard at Bal Harbour beach...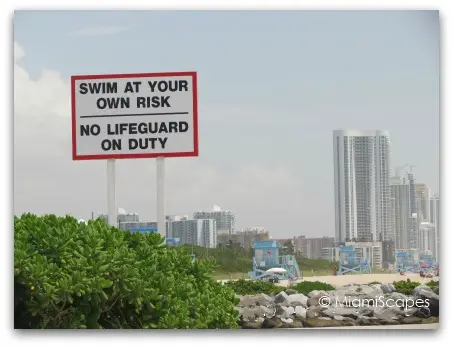 A jetty at the north end of the beach is great for fishing...
And lots of vegetation and greenery and well maintained dunes and paths...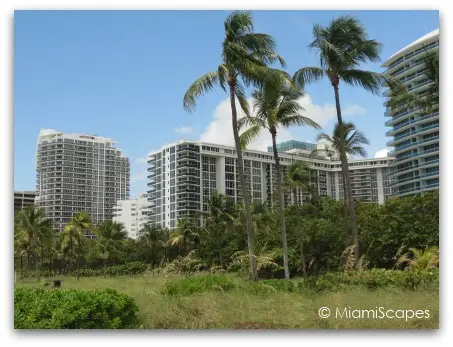 If sunning and swimming is not your thing, there is a walking or jogging path that goes all along the beach and is great for a stroll with stunning views of the water and the ritzy high-rises on the other side.
Bicycling is allowed on the service road, there are no bikes allowed on the jogging path.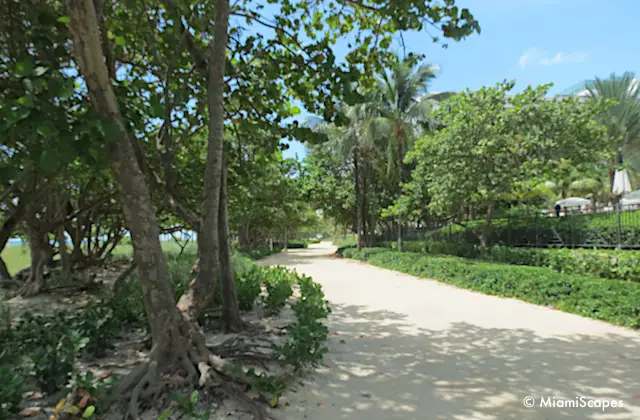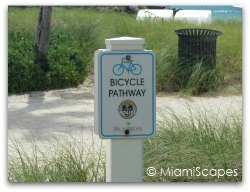 At the north end at the edge of the Haulover channel, the beach curves around and gives way into a concrete jetty that is open for fishing. You will see plenty of folks casting their lines.
Watersport gear is available through the many resorts on shore, there are kayaks and jet skis available for rent.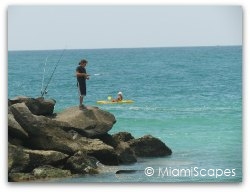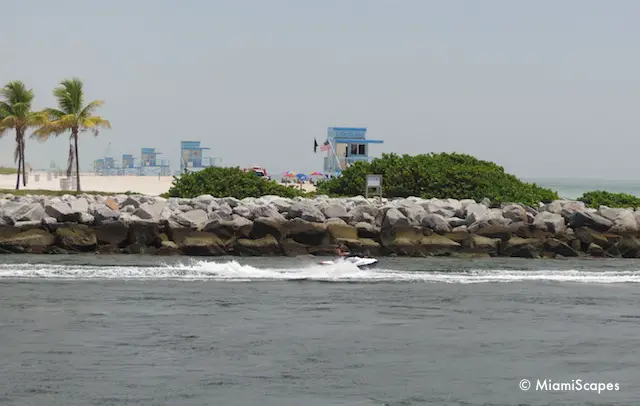 Parking on the street is a bit challenging, but there is metered parking at the north end under the Haulover bridge, as you drive northbound on Collins it is the last turn to the right before going over the bridge.
The beach access is through a path that runs alongside the Haulover channel with great views of Haulover and Sunny Isles just beyond.
Had enough action for the day? Head out right accross to Bal Harbour Shops, with names like Chanel, Versace, Jimmy Choo, Tiffany and so on, this is Miami's premier mecca for luxury shopping.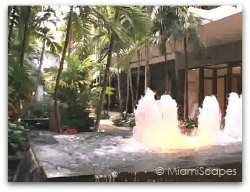 Bal Harbour Beach at a Glance
Where?: Collins Avenue from 96th Street upwards to the end of Miami Beach Island between the Haulover Beach inlet and Surfside Beach
Parking: Street parking is difficult, better try the metered parking under the Haulover Bridge at the north end. One hour is only a dollar.
Lifeguards: No
Restrooms and Showers: No
Other ammenities: Walking and jogging path, beach chair and umbrella rentals as well as watersport rentals at the many hotels that line the beach
Bal Harbour Village offers a FREE shuttle around the city and down to South Beach