Hobie Beach at Key Biscayne
Miami's Windsurfer Paradise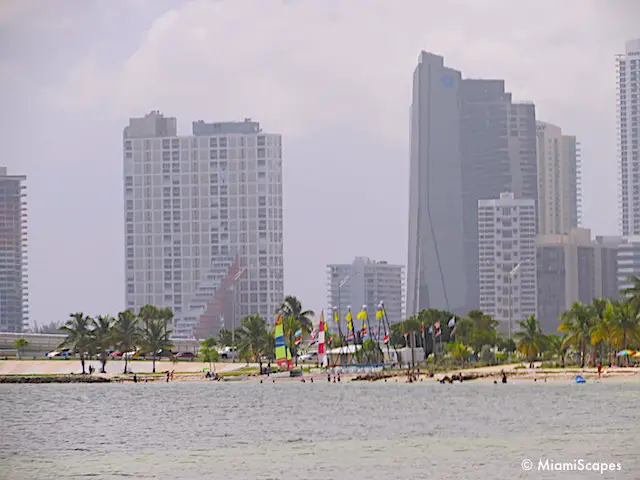 Hobie Beach is Miami's most popular beach for windsurfers and dog lovers and is located in a narrow strip along the Rickenbacker Causeway as you enter Key Biscayne.
This is not your typical beach with wide white sand beaches and crystaline waters, but it makes up in the action department. This is where you come to learn how to wind-surf, take out a hobie cat for a ride around the bay, or paddle on a kayak from skyscrapers to historical mansions and mangrove estuaries.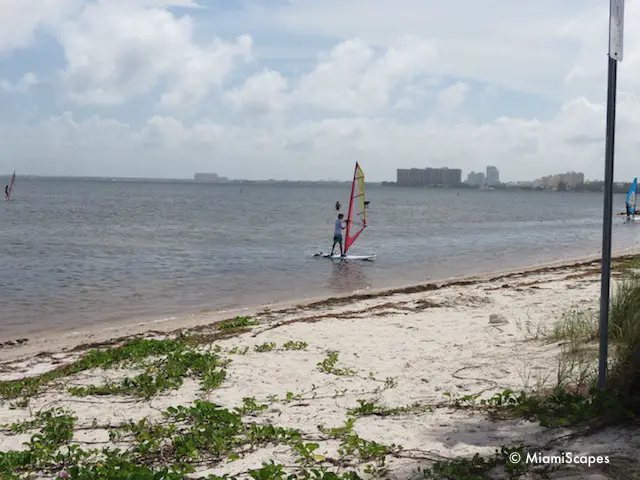 And more, this little stretch of beach has some of the most striking views of the Miami skyline you could possibly get.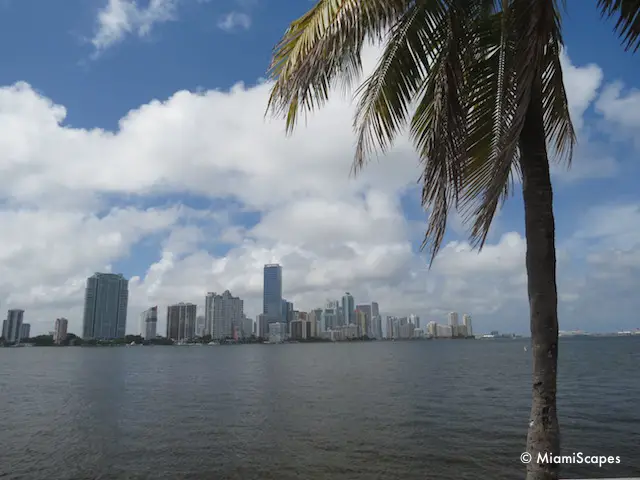 The rentals are conveniently located along the beach, there are beach chair and umbrella rentals as well as watersports rentals.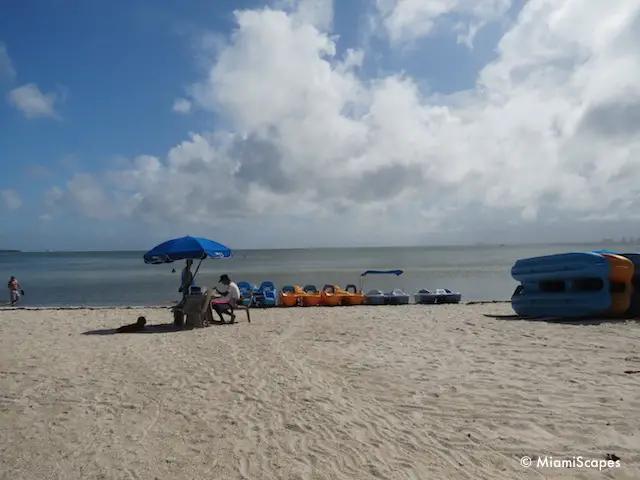 Quad Water Bikes for rent on the beach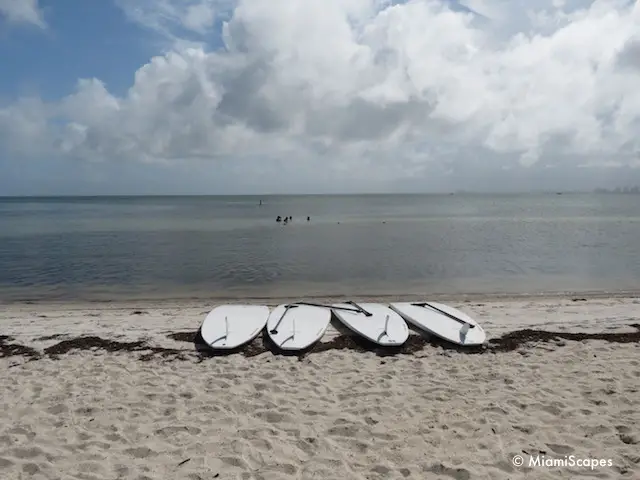 As well as SUP Paddleboards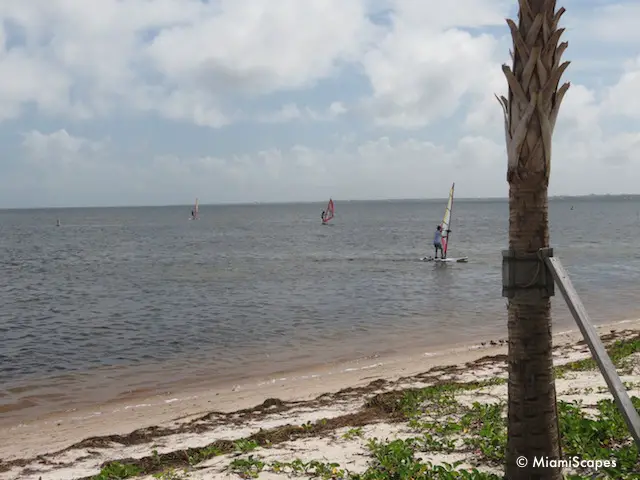 Windsurfer Rentals and Instruction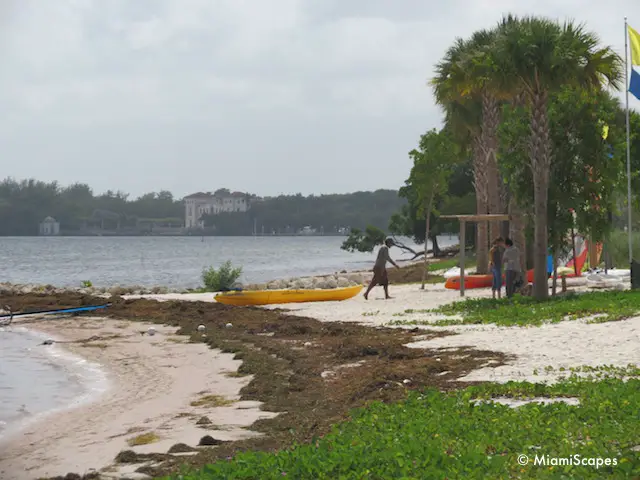 And Single or Double Kayaks
The Doggie Beach
Hobie Beach or Windsurfer Beach is also known as the "Doggie Beach" since this is one of the very few Miami beaches where dogs are allowed.
Although they must be on a leash, doggies and their owners can enjoy scampering in the water and have a fun day in the sun.
Remember to bring lots of fresh water. The strong sun and salt water will make doggies very thristy.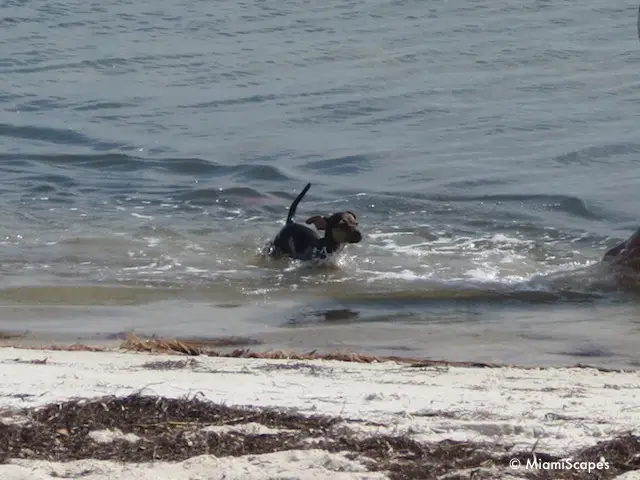 Getting to Windsurfer Beach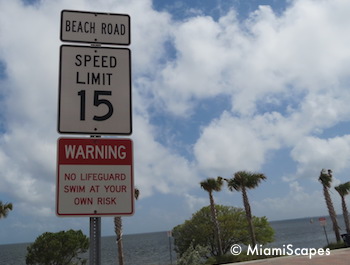 Hobie Beach is located off the Rickenbacker Causeway which is the bridge that brings you to Key Biscayne.
It will cost you $1.50 to cross the causeway, you only pay once when entering Key Biscayne.
There are gorgeous views of the Miami skyline and the bay as you cross the bridge which alone are just worth the toll price.
As soon as you go accross the bridge, you will see the first beach road entrance on your right.
There is also a second parking lot following this one.
Facilities have been recently re-done. Now there is a proper "parking lot" with plenty of spaces, bathroom and shower facilities and security patrolling the area.
The beach is literally steps away from the parking lot, this is a very narrow stretch, which makes it very convenient when hauling a lot of stuff, but there isn't much beach to speak of.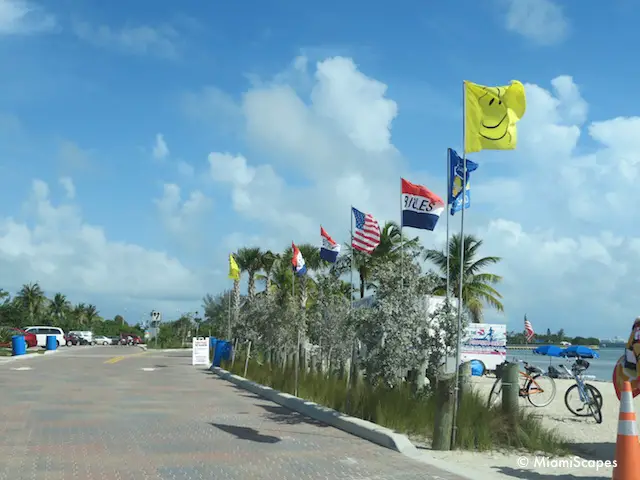 Many parking spaces, but tight on weekends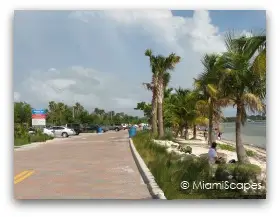 A very narrow beach, but easy in and out.
Hobie Beach Map
Hobie Beach at a Glance
Where?: Both sides of the Rickenbacker Causeway
Parking: Plentiful, but tight on weekends
Entrance Fee: Free
Lifeguards: No
Restrooms and Showers: Yes
Other ammenities: beach chair and umbrella rentals, water bike and kayak rental, paddleboards and wind surfing rentals and instruction.
Most concessions and facilities are on the South Side of the Rickenbacker Causeway.